Waterline: Fall 2015

Editor:

Stew Thornley
---
Subscribe to The Waterline newsletter. An e-mail notice is sent out each quarter when a new edition is posted to the web site.
---
On this page:
Governor Dayton Announces Drinking Water Annual Report

Governor Mark Dayton, with Minnesota Department of Health (MDH) Commissioner Ed Ehlinger behind him, introduced the department's drinking water annual report at a press conference May 6. The governor focused on the report's theme on the impact of nitrate on Minnesota waters. Ehlinger noted that this year's annual report generated more interest than usual because of the growing threat of nitrate contamination and the expense of treating to remove nitrate from areas with elevated levels in the source water. He called for a "strong emphasis on source water protection efforts," along with "agricultural best management practices, such as buffer strips near streams."

Dayton hailed the continued attention to the issues and challenges of water quality in Minnesota. "We can take on these challenges or turn our back on them and be certain they will get worse."

Ehlinger emphasized that the "vast majority of communities [in Minnesota] meet all the requirements of the federal Safe Drinking Water Act," adding, "Safe drinking water is the cornerstone of public health and critical to the state and our economy."

Go to > top
Important News about the 2016 Metro School - Registrants to be Capped at 240
The Metro District of Minnesota American Water Works Association and Minnesota Department of Health have been alternating the locations of the Metro District School between the Ramada Mall of America in Bloomington and the Ramada Plaza in northeast Minneapolis. However, the Ramada Plaza is limited in size; as a result, the 2016 school will be limited to the first 240 people to register. Please register early. A registration form will be in the Winter 2015-2016 Waterline. The Metro District will no longer hold its annual training at the Ramada Plaza after 2016.
Go to > top
Metro Transit Helps Saints Save Water in New Ballpark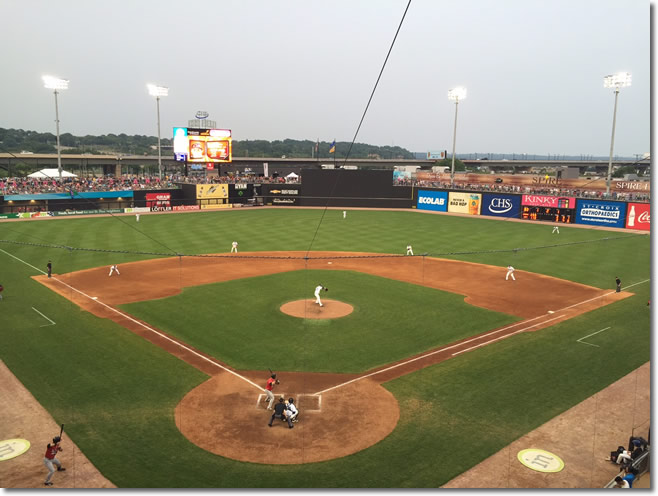 The St. Paul Saints opened CHS Field in the Lowertown part of the city in May and are using water from the roof of the adjacent Metro Transit light-rail Green Line Operations and Maintenance Facility. The water is treated inside the ballpark and used to irrigate the field and flush toilets in the restrooms beyond the center-field fence.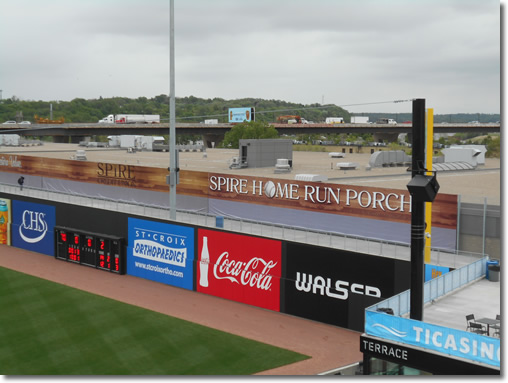 Sports arenas and ballparks strive for a fan-friendly experience as new structures are erected.  The owners and designers also value sustainability in the construction.
In 2010 the Minnesota Twins moved from the sterile atmosphere of the Metrodome, with its roof and artificial turf, into an outdoor ballpark with real grass.  The grass wasn't the only green feature.  The Twins worked with several partners to make sure their new home, Target Field, was green in an environmental sense.
Target Field was built with a system designed to capture and treat stormwater and use it for irrigation and cleaning.  Because of these and other efforts, Target Field became only the second major professional stadium to become LEED (Leadership in Energy and Environmental Design) Silver Certified by the U. S. Green Building Council.
Since that time the St. Paul Saints baseball team and the city of St. Paul have constructed CHS Field, which opened in the spring of 2015 in the Lowertown area of the city.  Similar to the Twins at Target Field, the Saints incorporated a system of using rainwater for irrigating their field. 
In this case, the rainwater comes from the roof of the adjacent Metro Transit light-rail Green Line Operations and Maintenance Facility (OMF).  This building, which opened in 2014, incorporates a number of sustainable features, such as automated heating and cooling controls as well as exhaust systems with energy-recovery technology.  With CHS Field being built to the north of the Metro Transit facility, the groups got together and found a way to transfer rainwater from one facility to the other.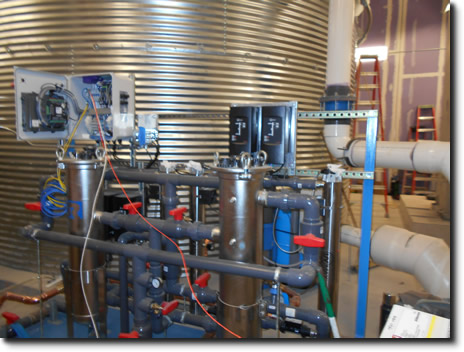 The treatment system within CHS Field.

The north-central part of the OMF roof (an area covering about ¾ of an acre) has drains to capture the water, which is cleaner than water running off streets and parking lots.  Pipes under the OMF roof transfer the rainwater through the walls of the maintenance facility and the ballpark.  Within CHS field is a 27,000-gallon cistern, which stores the water.  A vortex filter removes large particles.  Another filter takes care of smaller particles after the water is pumped out of the cistern.  The water is then disinfected with ultraviolet light.  The treated water is used for watering the baseball field, which includes two acres of sod, and for flushing toilets in the center-field area.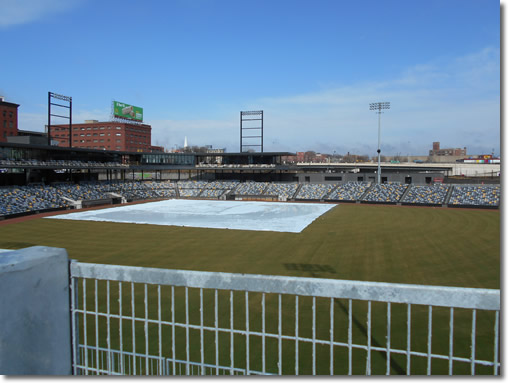 A view of CHS Field from the roof of the Metro Transit Green Line Operations and Maintenance facility.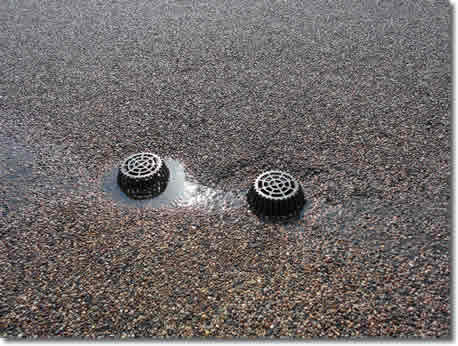 Drains (above) on the roof of the Green Line Operations and Maintenance Facility take the water to pipes beneath the building, which transfer it to CHS Field.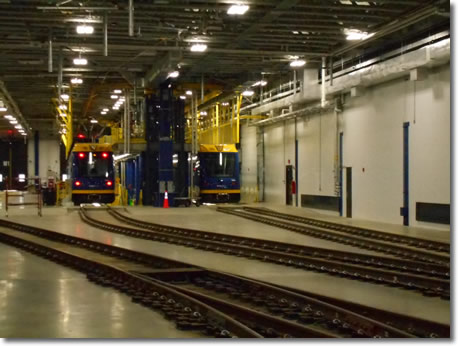 In addition to saving approximately 450,000 gallons of municipal water every year, the system promotes the value of water conservation.  The Freshwater Society presented a Clean Water Champion 2015 award to the partners in the project, including the city of St. Paul, the St. Paul Saints, the Capitol Region Watershed District, and Metropolitan Council/Metro Transit.
Because of the expense, the Saints did not apply for LEED certification; however, Saints' co-owner Mike Veeck said they have a 3B rating from the state, which is similar to LEED status, and are able to claim the designation of the greenest ballpark in the country.
"Of course, every new ballpark gets to say that for nine months," Veeck added.  "Then another one comes along and gets to make that claim."
The cost of the rainwater harvesting system, funded through grants from the Minnesota Clean Water Land and Legacy Amendment funds, was approximately $300,000.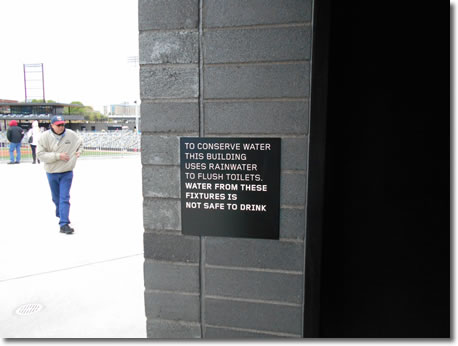 A warning sign for anyone tempted to drink from the toilet.
Go to > top
Lewis and Clark Reaches Minnesota

The explorers Meriwether Lewis and William Clark followed much of the Missouri River during their expedition in the early 1800s and did not travel into what is now Minnesota. However, the Lewis & Clark Regional Water System, more than 25 years in the making, crossed the state line in late May 2015, delivering water from beneath the Missouri River at Vermillion, South Dakota, to Rock County Rural Water District outside Luverne.
The project was conceived in 1988 as a way of serving water-challenged areas in South Dakota, Iowa, and Minnesota, and the articles of incorporation were filed in early 1990. However, it wasn't until 2003 that the Finding of No Significant Impact (FONSI), the final environmental hurdle, was completed, and the project went from the authorization to the construction phase. Ground was broken for the first pipeline that August.
A lime-softening treatment plant in Vermillion was first planned for 23.5 million gallons per day (MGD), but its capacity is increasing. Being built in phases, the plant has four solid contact basins and is now at 36 MGD. Troy Larson, the executive director of the Lewis & Clark Regional Water System, said the addition of another basin will enlarge the plant to 45 MGD and that all parts of the system, including pipes and the plant, will allow for expansion to 60 MGD, if needed. "You need to build for expansion," Larson said.
Twenty members put money up front to reserve certain amounts of water at reasonable prices. The partners in Minnesota are Rock County Rural Water District, Lincoln-Pipestone Rural Water System (LPRWS), and the cities of Luverne and Worthington. "All of our water is reserved," said Larson, adding that they will not increase the number of members. Additional customers, such as cities, could be served, but these customers will receive
water only if it is available and will not be guaranteed any amounts.
In July 2012 the system's first water was pumped, to Sioux Falls and several smaller communities along the way and to Rock Rapids, Iowa. Larson said a challenge in Minnesota was convincing people of the need for water in the Land of 10,000 Lakes. However, the southwestern part of the state has quantity and quality issues, and the Lewis & Clark project is a way to alleviate these problems.
The Minnesota members are also the farthest from the source, which is why it has taken so long for the project to reach them. Rock County Rural Water District will eventually get water to another of its connections, this one near Magnolia, and Luverne will get connected in December 2015.
Lincoln-Pipestone and Worthington will be among the last of the partners to get water, but Larson pointed out the impact this will have. "It will affect more than just Rock and Nobles counties [where the Minnesota partners are]. Lincoln-Pipestone serves a far-flung area, as far north as Dawson in Lac qui Parle County, and the Lewis & Clark supply will free up their other water for these customers." Mark Johnson, manager of Lincoln-Pipestone Rural Water System, said they serve 38 communities in 10 counties.
Most of the project members, including the Minnesota ones, are on an 80-10-10 system, meaning 80 percent of the project is financed by federal money, 10 percent by the state, and 10 percent by members. This spring the Minnesota legislature approved a $19 million federal funding advance. Larson said the money will allow Lewis & Clark to extend its pipeline to LPRWS's connection near Adrian and get the transmission line between Adrian and Worthington "shovel-ready" in terms of design and easements. However, none of the $19 million may be used for construction of this line.  
"Our goal is to have water flowing to LPRWS's connection near Adrian by the fall of 2017," Larson said. "Hopefully during the 2016 legislative session, which is a normal bonding bill year, we will receive the final advance needed to reach Worthington by the fall of 2018."

Go to > top
Revised Total Coliform Rule
By Simon McCormick, Minnesota Department of Health engineer
In 2013, a revision to the Total Coliform Rule,the Revised Total Coliform Rule (RTCR), was finalized. The rule will go into effect on April 1, 2016. Public water systems (PWS) need to be made aware of this new rule as it brings new requirements. These new requirements bring changes to maximum contaminant level (MCL) violations, changes to reduced monitoring, and require PWSs to "find and fix" causes of contamination by performing assessments of the water system.
With the current rule, PWSs incur a violation for exceeding the maximum contaminant level (MCL) for total coliform or E. coli. A total coliform MCL violation requires public notification within 30 days and an E. coli (acute) MCL violation requires public notification within 24 hours. The RTCR eliminates the total coliform MCL violation and thus the required public notification, but instead requires a Level 1 assessment. Acute MCL violations are continued with the RTCR, but, in addition to the public notification, a Level 2 assessment is required. Also, any missing repeat sample will now trigger a Level 1 assessment or a Level 2 assessment and acute MCL violation.
Monitoring schedules for all PWSs will be the same with the RTCR, but stricter requirements will be placed on those systems on reduced monitoring (those that sample once per quarter). Reduced systems will have to sample once per month for at least 12 months if it incurs any of the following in a rolling 12-month period: two Level 1 assessments, a single Level 2 assessment, a treatment technique violation (failing to conduct required assessments or corrective actions), two monitoring violations, or if they no longer have a state-certified operator. After at least a year, a system may go back to reduced monitoring if it meets certain requirements.
Level 1 and Level 2 assessments are essentially an investigation to discover and correct the cause of contamination and differ in scope of the investigation of the water system. While a Level 1 assessment can be narrowed down to a review of certain elements, a Level 2 assessment requires a review of all five of the elements of a water system as well as a physical inspection where appropriate. The five elements include events that may have impaired water quality, changes in the distribution system operating and maintenance, source and treatment considerations, existing water quality monitoring data, and inadequacies in sample sites, sampling protocol, and sample processing. Level 1 assessments will be performed by a district engineer for systems 1,000 and less in population and by the PWS for systems greater than 1,000 in population. Level 2 assessments will be performed by a district engineer for all populations. MDH will provide an assessment form, which must be completed and submitted to the state for review within 30 days. Any sanitary defects found during the assessment must also be corrected within 30 days. A sanitary defect is defined as, "a defect that could provide a pathway of entry for microbial contamination into the distribution system or that is indicative of a failure or imminent failure of a barrier that is already in place." District engineers may contact you to develop a sample site plan for your routine samples under the RTCR.
The purpose of the RTCR is to improve public health protection by reducing the pathways through which pathogens can enter the distribution system by enacting this "find and fix" approach. PWSs need to be aware and be ready for the RTCR to ensure a smooth transition to the new rule. If you have any questions, contact me, Simon McCormick, at 651-201-5180 or at simon.mccormack@state.mn.us.

Go to > top
MDH Women Participate in Discussion on the "Invisible Truth about Minnesota's Groundwater Future"
Minnesota Department of Health (MDH) women gathered with 150 others in April to talk about Minnesota groundwater at an annual Women's Breakfast hosted by the Minnesota Center for Environmental Advocacy. The panel on the "Invisible Truth about Minnesota's Groundwater Future" featured moderator Deb Swackhamer (University of Minnesota Humphrey School of Public Affairs professor) and panelists Kris Sigford (Minnesota Community Education Association senior water quality director), Mindy Erickson (U. S. Geological Survey Water Science Center hydrologist and groundwater specialist), Peggy Knapp (Fresh Water Society director of programs), and Rebecca Flood (Minnesota Pollution Control Agency assistant commissioner).
The presentations focused on the basics of groundwater, groundwater governance in Minnesota, improvements planned for the future, and ways to make groundwater less invisible by connecting people and stewardship. A lively question-and-answer session opened up with the audience and the panelists. Drinking water was brought up as a shared priority among Minnesotans and an opportunity to connect people with groundwater. Attendees discussed how public perception is increasingly important in addressing the economic challenge of the low cost, but high value, of water.
"The expert panel was quick to connect the concerns of women in the environmental movement with drinking water and our shared ability to make a difference," said Tannie Eshenaur, planning director for the Drinking Water Protection Section at MDH. "Clearly, these women care about health, children, and the legacy we leave for future generations."
Back row, left to right: Kris Klos, Pamela Shubat, Emily Hansen, Sarah Fossen Johnson, Katie Nyquist, Emily Berquist, Karen Voz, Nancy Laplante, Helen Goeden. Front row, left to right: Virginia Yingling, Julie Kadrie, Emmy Waldhart, Pat Bailey, Carrie Raber, Leslie Winter. Tannie Eshenaur not pictured.

Cross-Connection Control - Part 8 in a Series
The Minnesota Office of Administrative Hearings Administrative Law Judge has determined that proposed plumbing code rulemaking—repealing the existing Minnesota Plumbing Code, adopting most of the 2012 Uniform Plumbing Code (UPC) by reference, and adopting amendments—contained no negative findings. It was recommended on June 29, 2015 that the proposed amended rules be adopted. The Plumbing Board may proceed to adopt the new rules. The rules must be approved by the governor.
The new plumbing code will be adopted as Minnesota Rules, Chapter 4714. It will adopt most of the 2012 UPC by reference and add Minnesota amendments. Since this official rule will not contain the text of the UPC, the Plumbing Board plans on publishing an (unofficial) electronic version, which contains the adopted UPC text and the Minnesota amendments.
The latest Revisor's draft of the proposed rule amendments, found at the Department of Labor and Industry (DLI) website, contained some revisions of importance to community public water systems (PWSs) with respect to their cross-connection control programs:
Subp. 5. Section 603.5.23.1 Notification of Installation. The administrative authority shall be notified before installation of a testable backflow prevention assembly. The public water supplier shall be notified of the installed testable backflow preventer assembly within 30 days following installation on a community public water system.
603.5.23.3 Inspection and Records. Written records of testing and maintenance shall be maintained and submitted to the administrative authority and to the public water supplier within 30 days of testing if installed on a community public water system.
603.5.23.4 Notification of Removal. The authority having jurisdiction, in addition to the public water supplier, shall be notified within 30 days following removal of a testable backflow prevention assembly from a community public water system.
Downloadable copy of final report:
Go to > top
Cold Spring: More Than Just Beer
The city of Cold Spring (where Cold Spring beer is brewed) is featured in a U. S. Environmental Protection Agency (EPA) publication, Communicating the Value of Drinking Water Services. In 2011 Cold Spring shut down two wells because of high nitrate levels (7 to 9 parts per million) and had three other wells at risk from contamination. The city began working with farmers and the public on ways to reduce nitrate.
Cold Spring encouraged farmers to plant alfalfa north and south of the contaminated wells. With the public, the city promoted turf management techniques and held an event at a park, which was divided into plots with fertilizer applied at different rates in each plot. A turf specialist measured the nitrogen loss in the different plots and then demonstrated proper application methods of fertilizer and water.
Through these wellhead protection efforts and education, the city has achieved a 28 percent reduction in nitrate levels.
Go to > top
There's Got to Be a Better Way to Collect a Bill
Three generations got together to deliver a message to an unidentified man who refused to pay his water bill in Wyoming County in West Virginia. The man said he wasn't paying Covel Water Works, owned by Pete McBride, because his service was interrupted. According to a criminal complaint, McBride blocked the road when the man was leaving church. McBride's daughter, Anita Cecil, approached the man's car, reached through the window, and hit him. Cecil followed him home at attacked him again, this time joined by her son, who allegedly yelled, "I'll kill you for talking to my grandpa that way."
The mother-son combo were arrested and charged with battery. The news story, by Cody Neff in the Register-Herald Reporter, did not note if these dunning techniques were effective in getting the bill paid.

Go to > top
New! The Water Utility Response On-the-Go Mobile Website
By Jon Groethe, Minnesota Department of Health engineer
The next time you find yourself facing a drinking water emergency or a natural disaster affecting your utility, navigating all the important steps in the field just got easier. The U. S. Environmental Protection Agency has just released the Water Utility Response On-the-Go mobile website—a versatile and easy-to-use web-based tool that helps field staff complete a wide range of critical response activities during the initial stages of an event. The On-the-Go Mobile website builds upon the water industry's widening integration of mobile devices for accessing, tracking, and sending information in real time as an event unfolds. It enables utility responders to quickly transition from one simple central menu to a large suite of other interactive websites during emergencies.
The first expandable tab on its homepage menu is Tracking Severe Weather. Here, you can access the National Weather Service's emerging weather conditions, predicted rainfall, hazard alerts, and flooding information from any number of selectable river observation stations in the state, all occurring in real-time. There is a trove of other maps and weather-related data as well, from selectable locations across the nation.
The second tab, Contact Response Partners, links to the various home pages for primary first responder agencies in any of the 50 states.
On-the-Go's third tab, Respond to Incidents, displays selectable types of incidents (flooding, extreme cold and winter storms, wildfires, tornadoes, and other events). Here, activity checklists are provided for many of the important actions needing to be taken during phases of a certain event, whether it's pre-planning, mitigation of damage during the event, or remediation occurring afterward.
The next tab on the menu, Take Notes and Record Damage, is extremely useful. To obtain FEMA reimbursement after an event, field staff must immediately record and report on damage observed in the field. The On-the-Go Mobile Website allows you to complete a generic damage assessment form while in the field, email it back to your office, and later use the information to populate your state's official damage assessment form. All information inputted or accessed on this mobile website is stored locally on your device. Photos taken with your smartphone can be inserted into each damage assessment report. Also, latitudes and longitudes of location are automatically inputted into each site report, ensuring locational accuracy.
On-the-Go's fifth tab, Inform Incident Command, allows field staff to access, review, populate, and share Incident Command System (ICS) forms with the Incident Command Team. Simply click on the appropriate ICS form, fill out information for each area, and then save. Now that the information has been populated into the standard ICS form, your form is ready to be sent via email to appropriate ICS personnel or another contact. Also, when you expand the Inform Incident Command tab, two of the more commonly used ICS forms are already displayed with their own tabs. They are General Messages (ICS 213) and Activity Log (ICS 214).
Lastly, the Additional Planning tab places a host of incident resources and emergency guidance for planning, response, and recovery at your fingertips. Once you bookmark the Water Utility Response On-the-Go website on your mobile device, you can become more familiar with its many capabilities and features. It's a great new tool and one you're sure to use. 
Go to > top
New EPA Tools
The U. S. Environmental Protection Agency has new tools designed to help water and wastewater utilities of all sizes determine vulnerabilities to both natural and human-made hazards and evaluate potential improvements to enhance security and resilience. The Vulnerability Self-Assessment Tool (VSAT) and Water Health Tool and Economic Analysis Tool (WHEAT) can not only help identify security concerns associated with natural disasters, acts of terror, but can also be used to determine costs associated with loss/failure of critical assets or the cost-benefits of improvements.
The features of the tools include that they:
Meet water sector standards (ANSI/AWWA J100-10) and can be used to conduct or update existing all-hazards risk assessment;
Have a Safety Act Designation; systems using this tool may be able to apply for Safety Act protections which limit liability for claims resulting from acts of terrorism.
Can be used to meet certain eligibility requirements for some U. S. Department of Agriculture Rural Development grants.
Replace RAMCAP, the former federal approach for vulnerability analyses of human-made hazards.
These and other tools and video training are available free: EPA Tools and Technical Assistance. The Minnesota Department of Health has had two staff members from the Drinking Water Protection Section who have completed training using VSAT and WHEAT. To arrange for assistance in using these tools, contact Anna Schliep or David Rindal.

Go to > top
MDH Fluoridation Rule Revision and Variances Following Federal Recommendation Update
On May 21, 2015, MDH used its electronic GovDelivery system to inform municipal public water system owners and superintendents about this discretionary variance option. Community public water systems are encouraged to submit a variance request. Variance requests were suggested to be similar to the expected rule revision proposal, which would require fluoride at 0.7 mg/L within the range of 0.5 to 0.9 mg/L.
On April 27, 2015, the United States Department of Health & Human Services (HHS), along with the Centers for Disease Control and Prevention (CDC), finalized new guidance that recommends a single national fluoride level of 0.7 milligrams per liter (mg/L) that community public water systems should use for fluoridation. The new recommendation reflects two key facts:
Americans have access to more fluoride sources—such as fluoride toothpaste and mouth rinse—than they had in 1962, when the previous recommendation was made.
Research shows children consume fairly consistent amounts of water across all U.S. regions, regardless of climate. This is contrary to the belief in 1962 that water consumption varied in different regions, upon which a fluoride recommendation range (0.7 to 1.2 mg/L) was developed.
The updated HHS recommendation was based on recent U.S. Environmental Protection Agency and HHS scientific assessments to balance the benefits of preventing tooth decay while limiting potential negative health effects of fluoride, such as dental fluorosis. Dental fluorosis is a change in the appearance of tooth enamel that is caused by excessive exposure to fluoride. Typically, dental fluorosis in the U.S. is a mild, cosmetic condition that leaves faint, white streaks on tooth surfaces but does not affect the health or function of teeth.
In light of this new optimal fluoride concentration in drinking water recently proposed by the HHS and CDC, MDH will begin a formal rulemaking process to make changes to Subpart 2 of Minnesota Rule 4720.0030, which states:
Fluoride content: The fluoride content of the water shall be controlled to maintain an average concentration of 1.2 milligrams per liter; the concentration shall be neither less than 0.9 milligrams per liter nor more than 1.5 milligrams per liter.
In the meantime, MDH is allowing systems to apply for a variance to the current rule as allowed by Minnesota Statute 14.055, which states that "a person or entity may petition an agency for a variance from a rule adopted by the agency, as it applies to the circumstances of the petitioner." It also states:
Discretionary variances: An agency may grant a variance if the agency finds that:

application of the rule to the petitioner would result in hardship or injustice;
variance from the rule would be consistent with the public interest; and
variance from the rule would not prejudice the substantial legal or economic rights of any person or entity.

Go to > top
Water Reuse in Minnesota
By Anita Anderson, Minnesota Department of Health
An article in the Spring Waterline talked about water reuse in Minnesota and mentioned that various agencies, including the Minnesota Pollution Control Agency, Department of Natural Resources, Department of Health, and Department of Labor and Industry, play some role in reuse, whether as regulators of management and disposal of wastewater and storm water, water appropriations, standards for contaminants in ground or surface water, or infrastructure. The agencies are working to provide a framework for municipalities, industries, and other parties interested in water reuse and recently received funding from the Clean Water Fund to support this effort. Specifically, the legislation provides funding "to prepare a comprehensive study of and recommendations for regulatory and nonregulatory approaches to water reuse for use in the development of state policy for water reuse in Minnesota".
Earlier this year the agencies partnered with the Minnesota Technical Assistance Program to survey various groups in relation to water reuse. While results are still being tabulated, a few sneak peaks at the water utility responses will be shared here. Utilities were asked whether they would consider implementing indirect potable reuse (augmentation of a drinking water source with reclaimed wastewater or treated stormwater followed by an environmental buffer that precedes drinking water treatment), and it was a 50/50 split between yes and no. The primary reason to say yes was for water sustainability. The primary reason for no was public perception, followed closely by having an adequate supply of source water and water quality concerns with reuse. When asked if the utility would consider implementing direct potable reuse (use of highly treated wastewater direct to customers), this time 20 percent said yes and 80 percent no, with similar reasoning as above. These responses reflect national trends, with states with larger source water quantity concerns working hard to overcome the barriers of public perception and how to ensure water safety and quality.
Many comments in the survey indicated how water reuse could potentially positively or negatively affect water utilities. As part of the Clean Water Fund project, a stakeholder group will be formed in order to make sure affected parties have a voice in the study. While the process for choosing members has not been finalized, if you have any interest or just have any opinion to voice about water reuse that you didn't include in the survey, please call me, Anita Anderson, at 218-302-6143. More results to come in a future issue!

Go to > top
Surface Water Cryptosporidium and E. coli Monitoring - Round 2
The Long Term 2 Enhanced Surface Water Treatment Rule (LT2ESWTR), which aims to reduce the risk of disease caused by Cryptosporidium and other microbial pathogens, requires two rounds of source water monitoring at public water systems that use surface water or groundwater under the direct influence of surface water. In Minnesota, Round 1 of monitoring occurred between October 1, 2006 and September 30, 2009. The second round began on January 1, 2015 and will continue through June 30, 2018. Results from this screening will be used to calculate new Cryptosporidium bin concentrations and bin classifications. Ultimately, bin classification recalculation will act to update additional treatment requirements.
As shown in the table, monitoring has been broken up into four staged schedules. Filtered public water systems (PWSs) serving at least 10,000 people must collect Cryptosporidium and E. coli samples at least monthly for 24 months. Filtered PWSs serving fewer than 10,000 people must collect E. coli samples at least once every two weeks for 12 months. In all cases, field turbidity measurements are required with each sample set (surface water PWS operators are encouraged to update and review their turbidimeter calibration and verification procedures).
Contact David Rindal at 651-201-4660 with questions regarding this monitoring.
| | | | | | |
| --- | --- | --- | --- | --- | --- |
| LT2 ESWTR Schedule | Surface Water PWS Population | Number of Community Surface Water PWSs | Analytes | Begin Source Water Monitoring | End Source Water Monitoring |
| 1 | 100,000+ | 2 | Cryptosporidium, E. coli, Turbidity | January 1, 2015 | December 31, 2016 |
| 2 | 50,000 - 99,999 | 3 | Cryptosporidium, E. coli, Turbidity | July 1, 2015 | June 30, 2017 |
| 3 | 10,000-49,999 | 4 | Cryptosporidium, E. coli, Turbidity | July 1, 2016 | June 30, 2018 |
| 4 | 25-9,999 | 15 | E. coli, Turbidity | July 1, 2017 | June 30, 2018 |
Go to > top
Reminder to All Water Operators
When submitting water samples for analyses, remember to do the following:
Take coliform samples on the distribution system, not at the wells or entry points.
Write the Date Collected, Time Collected, and Collector's Name on the lab form.
Write the Sample Point on lab forms for bacteriological and fluoride samples.
Attach the label to each bottle (do not attach labels to the lab form).
Include lab forms with submitted samples.
Do not use a rollerball or gel pen; the ink may run.
Consult your monitoring plan(s) prior to collecting required compliance samples.
Notify your Minnesota Department of Health district engineer of any e-mail changes for contact people.
If you have questions, call the Minnesota Department of Health contact on the back of all sample instruction forms.
Go to > top
Words to Live By
Age to a person's filters is like fluorocarbon to the ozone layer.
—Stew Thornley
It's better than perfect, it's done.
—Peggy Knapp
Never mistake activity for achievement.
—John Wooden
Go to > top

Calendar
Operator training sponsored by the Minnesota Department of Health and the Minnesota AWWA will be held in several locations this spring.
Go to > top