Waterline: Fall 2016

Editor:

Stew Thornley
---
Subscribe to The Waterline newsletter. An e-mail notice is sent out each quarter when a new edition is posted to the web site.
---
Smithsonian Institution Water/Ways Opens in Minnesota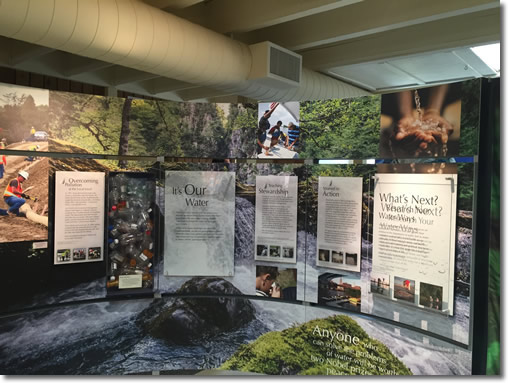 The Smithsonian Institution's Museum on Main Street program began its Water/Ways series of exhibits in Minnesota June 25 at the Prairie Woods Environmental Learning Center outside Spicer. Minnesota was one of five states selected by the Smithsonian Institution to launch these traveling exhibits, which reveal the central nature of water in our lives and explore how water unites communities and how Americans care for our water and protect this valuable resource for the future, while seeking active solutions to real water problems.
As part of the Water/Ways exhibit, a companion exhibit, We Are Water MN, has been developed to tell the Minnesota story and will accompany the traveling exhibit.
Minnesota Department of Health (MDH) assistant commissioner Paul Allwood (below) spoke at the ribbon-cutting ceremony and said, "The Smithsonian exhibit gives us new understandings and new opportunities to learn about water."
The exhibit moved to Saint Peter in August and will be there until September 25.
The rest of the schedule for Water/Ways:
Red Wing, October 1 to November 13, 2016
Sandstone, November 19, 2016 to January 1, 2017
Lanesboro, January 7 to February 19, 2017
Detroit Lakes, February 25 to April 9, 2017

Below: A citizen stares in awe at one of the Water/Ways exhibits.
Go to > top
Bacteriological Sampling Plan Requirements and Guidance
Sample Site Locations
Public water systems (PWSs) must collect total coliform samples at sites which are representative of water quality throughout the distribution system, and the samples must be analyzed by an MDH accredited laboratory.
Use easily accessible sites (24/7 access, if possible).
Spread sites throughout the distribution system.

Divide system into segments/quadrants and choose sites from each area.
Use sites in different pressure zones.
Use sites in areas that serve sensitive populations.
Use sites fed by different storage facilities.

Use sites that have an available upstream and downstream site within 5 service connections.
Sample from taps that are in good condition (avoid bathrooms, outside taps, taps close to the ground, etc.).
Use sites that get a fair amount of use on a regular basis (avoid seasonal sites or large diameter service connections that aren't used regularly).
Avoid dead-end sites.
Sample Scheduling
PWSs must collect samples at regular time intervals throughout the month, except that a system that uses only groundwater and serves 4,900 persons or fewer may collect all required samples on a single day if they are taken from different sites.
Systems may choose to use the same site location more than once a month, but the samples should be collected at least one week apart.
Systems can collect more samples than required by the federal Safe Drinking Water Act.
Use the guidance below if rotating sample sites throughout the month (or quarter).
1 sample/quarter: use 2-4 sites.
2-5 samples/month: use 5+ sites.
5-10 samples per month: use 5-10 sites.
10-20 samples per month: use 10+ sites.
20-50 samples per month: use 10-25 sites.
Go to > top
Oddibe a Water Bill
Baseball-reference.com is a popular site for statheads and other fans. It can tell you Bert Blyleven's FIP and Yogi Berra's Rtot/yr. Did you know you can also find information on a player's water usage? In this case, it's just one player, Oddibe McDowell, who played for several teams between 1985 and 1994 and may be best remembered for the Bermanism (word plays on names from Chris Berman) of Oddibe "Young Again" McDowell.
But thanks to some hacking done a few years ago, the alternative website Deadspin.com began reporting McDowell's water, wastewater, and storm water bills. The angle ended when Broward County, Florida, finally protected its site with a password. In the meantime, McDowell's utility bill was open for anyone to view (it appears he was a responsible water user) and lives on at the bottom of McDowell's baseball-reference.com page.
Go to > top
Kris Wenner Joins MDH
Kris Wenner has joined the Minnesota Department of Health, succeeding Cristina Covalschi, in overseeing the grants program for the Source Water Protection Unit. Kris also conducts audits of wellhead protection plans and tracks enforcement actions against public water suppliers. She previously worked for the Minnesota Department of Agriculture.
Kris's home in Shoreview—where she lives with her husband, Gerry, and their son, Robert—has a back yard that is part of a public waterway. Kris has been active in her community, volunteering with Shoreview's Adopt a Trail and the Boy Scouts as well as serving as an election judge.
Her hobbies include biking, gardening, and painting wildlife and flowers for porcelain art.
Go to > top

Bloomington Kicks Glass at AWWA
Bloomington, Minnesota, has the best tasting water anywhere, according to judges for the "Best of the Best" Tap Water Taste Test at the American Water Works Association Annual Conference and Exposition in Chicago in June.
Brent Massmann (above) accepted the award and celebrated his utility's victory in a field that had more than 20 entries, all regional winners from water-tasting competitions across North America.
The city of Bloomington utilities employs more than 50 people to run the water treatment plant, perform field maintenance, and serve customers. The utility processes clean water at the water treatment plant and distributes it to the city's more than 85,000 residents.

Go to > top
Clean Water Fund Water Reuse Project Seeking Stakeholder Input
The Fall 2015 Waterline had a story about a workgroup of state agencies and other interested parties that are working to advance safe and sustainable reuse in Minnesota. Efforts include making recommendations for clarifying the regulatory pathway for water reuse and evaluating resources needed for successful implementation of water reuse. The workgroup is beginning the process of stakeholder input. Changes in water reuse policy may affect Minnesota's public health, environment, infrastructure, and water management system, so it's important that the group hears from key stakeholders to make sure sound recommendations are delivered to agency leaders and the legislature.
There will be a 25-member Stakeholder Advisory Group representing interested parties that will meet four times between September 2016 and April 2017. Members were invited to participate on the advisory group because they represent organizations and entities that have a role in water reuse. Jon Eaton from the city of Eagan will represent water utilities. Even if you are not on the advisory group, you can still come to both stakeholder and workgroup meetings or provide input through the workgroup's email at health.water.reuse.mn@state.mn.us. The initial advisory group meeting is scheduled for Monday, September 26, 2016 from 1:30 to 4:30 p.m. in the Minnesota Pollution Control Agency Board Room, 520 Lafayette Road in St. Paul. Learn more about this Clean Water Fund project, sign up for project updates, and find the group's meeting schedule and opportunities for input at the project website.
Go to > top
Larry Cole, Formerly of Minneapolis Water Works, Dies
Larry Cole, who worked for Minneapolis Water Works for nearly 40 years, died May 17. He was 73. Larry began as a chemist with the utility in 1966 and in 1976 became supervisor of water treatment plants and the laboratory, a position he held until retiring in October 2005. Larry was instrumental in ushering in the second century of Minneapolis Water Works (which began in 1867), involved in piloting the softening process and overseeing the water quality and adjustments for the entire treatment process. Over his five different decades of service, the treatment plants went from entirely manual operations to SCADA systems for real-time control and monitoring. "Larry's desk was always covered with one to two feet of books, mail, periodicals, reports, etc., but the stacks were always well organized," recalled longtime co-worker Jay Whitaker, who added, "He seemed to mostly eat lunch at his desk and enjoy ridiculously healthy foods."
Larry was active in the North Central (later Minnesota) Section of the American Water Works Association. He served as the section's chair in 1995, received the Leonard N. Thompson Award in 1982, and for many years was the co-editor of the section's quarterly magazine, the Breeze.
Go to > top
Words to Live By
You can discover more about a person in an hour of play than in a year of conversation
—Plato
I consider it my job to start the uncomfortable conversations.
—John Linc Stine, Commissioner, Minnesota Pollution Control Agency
Go to > top
Reminder to All Water Operators
When submitting water samples for analyses, remember to do the following:
Take coliform samples on the distribution system, not at the wells or entry points.
Write the Date Collected, Time Collected, and Collector's Name on the lab form.
Write the Sample Point on lab forms for bacteriological and fluoride samples.
Attach the label to each bottle (do not attach labels to the lab form).
Include lab forms with submitted samples.
Do not use a rollerball or gel pen; the ink may run.
Consult your monitoring plan(s) prior to collecting required compliance samples.
Notify your Minnesota Department of Health district engineer of any e-mail changes for contact people.
If you have questions, call the Minnesota Department of Health contact on the back of all sample instruction forms.
Calendar
Operator training sponsored by the Minnesota Department of Health and the Minnesota AWWA will be held in several locations this spring.
Minnesota Water Operators Training Schedule
Go to > top