Waterline: Winter 2015 - 2016

Editor:

Stew Thornley
---
Subscribe to The Waterline newsletter. An e-mail notice is sent out each quarter when a new edition is posted to the web site.
---
On this page:
Minneapolis Institute of Art Decorates Water Towers

The Minneapolis Institute of Art extended its 100th birthday year celebration by bringing art experiences outside museum walls and into the communities. The effort included three water towers in the Twin Cities. New Hope had its tower at U. S. Hwy 169 and Medicine Lake Road adorned with Katsushika Hokusai's Under the Wave off Kanagawa (above), the Minnetonka tower at Minn. Hwy. 7 and Williston Road had Frank Stella's Tahkt-I-Sulayman Variation II (below), and the tower in the heart of Chisago City (way below) was decorated with Vincent van Gogh's Olive Trees. The art was on the towers from the spring to fall of 2015.
Go to > top
Important News about the 2016 Metro School - Registrants to be Capped at 240
The Metro District of Minnesota American Water Works Association and Minnesota Department of Health have been alternating the locations of the Metro District School between the Ramada Mall of America in Bloomington and the Ramada Plaza in northeast Minneapolis. However, the Ramada Plaza is limited in size; as a result, the 2016 school will be limited to the first 240 people to register. Please register early.The Metro District will no longer hold its annual training at the Ramada Plaza after 2016.
In August the Southwest District of Minnesota AWWA held a two-day school in Mankato in conjunction with the Minnesota Wastewater Operators Association. Rick Myskewitz demonstrated hydrants, and operators also had the chance to attend a Minnesota Vikings practice in the evening.

Go to > top
Water Success Stories
National Park Service Takes the High Road as Others Try to Stay Low
The National Park Service is taking a strong stand on discouraging the sale of bottle water at its parks despite pressure on Congress from the International Bottled Water Association (IBWA) to cut off federal money the Park Service is using to install bottle filling stations as an alternative to bottled water.
Four years ago Park Service director Jonathan Jarvis told parks they could eliminate the sale of disposable plastic water bottles if they replaced them with refilling stations and sales of reusable bottles. The impetus for this directive was the amount of garbage and recycling costs the parks were facing. In the spring of 2015, the IBWA began lobbying to halt the Park Service's sustainability efforts.
Lisa Rein, in the Washington Post, quoted IBWA president and chief executive office Joe Doss: "My thought would be, you certainly don't want to be doing things that Congress has indicated they don't want you doing. It would seem prudent, if one were a Park Service official, to see that if there's a clear sense of Congress, you'd have to take that into consideration and you don't do what goes against that."  
Rein also reported that the Park Service will call on its network of friends groups and concessionaires to provide the funding for the filling stations, if necessary.
Closer to Home, Minneapolis Promotes Tap Water to People with Fears of It
Blong Yang of the Minneapolis City Council is concerned about the amount of money Hmong families in his city are spending on water because they are leery of what comes out of their tap.
"It's this transference of their knowledge from, let's say, Thailand or Laos or some other country, maybe a Third World country," Yang told Curtis Gilbert for a story in the August 17, 2015 Minneapolis Star Tribune. "Back in the home country, we didn't trust it. We drank from the bottle. It's just habit now."
Promoting trust in Minneapolis water is one way Yang sees to reduce the income disparities between Hmong families and others in the city. He recently arranged a tour of the Minneapolis Water Works water treatment facility to show visitors the sophisticated treatment the water receives after it comes out of the Mississippi River. Plant superintendent Annika Bankston and water quality manager George Kraynick demonstrated to the visitors how water from an impure source is transformed into water that is safe to drink. Kraynick said, "We want people to see what we do, and have you know where your water comes from, and have confidence in that water coming out of your tap. That's the safest thing in your house. Safer than the food, safer than anything else. That tap water, every drop has been tested."
Yang said he thought the tour was successful in demonstrating to citizens, especially those from other parts of the world, that tap water is as safe as bottled water and definitely cheaper. He added, "If I can crusade in some ways to get immigrant groups, especially Hmong folks but other folks as well, to not buy their water from the store and to use their tap water, we will save people countless amounts of money, and that's a good thing."
Go to > top
Mobile Art Lab Focuses on Water
For the second summer in a row, Pubic Art St. Paul conducted its mobile art lab with a focus on water in Western Sculpture Park in St. Paul. Director of education Mary Johnson said the art lab and workshops "have demonstrated water quality concepts to participants and have had an added focus on eco-friendly art-making practices and environmentally friendly behaviors as a whole." The 12 workshops in 2015 drew 597 kids and their families. "We will continue to shape a more beautiful, vital, and just city," said Johnson. "We believe that art can transform our community and inspire our lives."

Go to > top

MDH Lab Reprocessing Water Sample Data
In September the Minnesota Department of Health (MDH) Public Health Laboratory discovered that imperfect quality assurance procedures were used when processing some water testing data over the past couple of years. This might have affected the interpretation of a small portion of the data the lab generated on behalf of MDH and the Minnesota Pollution Control Agency for environmental health work.
While MDH determined that the possible lapse did not lead to an immediate increased risk to public health, it raises questions about the reliability of some water testing data. MDH is responding by ensuring the calibrations are correct and reprocessing potentially affected samples. The initial focus is on the 2,200 sample analyses in question, which were conducted between May 2013 and May 2015. Special priority is being given to reprocessing samples from public water systems.
MDH has arranged for an external contractor to review the reprocessed data to ensure accuracy. The results considered most sensitive for public health are being reanalyzed first, and the top-priority group includes five municipal water systems, Edina, St. Louis Park, Spring Park, Kasota, and Brooklyn Center. The timeline for the completion of the work will be posted on the MDH website when all steps for the reprocessing work are in place.
Go to > top
St. Paul Wins State Fair Taste Test
St. Paul Regional Water Services general manager Steve Schneider (on the left, next to an unidentified gate crasher) accepts first prize in the Great Minnesota Tap Water Taste Test held at the State Fair. LeSueur, Maple Grove, Minneapolis, and St. Paul made the final four in the competition with the latter two reaching the finals. Schneider was gracious after edging out Minneapolis, saying, "They both have great water."

Go to > top
Bacteriological Laboratory Changes for Very Small Communities
Beginning January 1, 2016, community public water systems (PWSs) serving fewer than 1,000 people will be assigned the MDH Public Health Laboratory (PHL) in St. Paul for quarterly bacteriological analyses. PWS operators should prepare for logistical changes as well as likely increases in shipping costs and sample rejections.
The MDH PHL will continue to provide sample kits, mailers, and analysis of water samples at no cost. Instructions for sample collection and mailing will be provided. PWS operators will notice a change in sample bottle volume as the PHL transitions to using 150 milliliter (mL), double-fill-line bottles (shown below). However, as before, PWSs are free to choose to use (and pay for) a private, certified laboratory instead of the PHL. In those cases, the chosen labs must have the ability to report results electronically to the MDH.
Overnight shipping will be necessary to ensure samples arrive at the PHL within 24 hours of sample collection so they can be analyzed within the required 30-hour hold time. Shipping costs will continue to be the responsibilities of PWSs. The combination of larger distances from a designated laboratory and faster shipping requirements are expected to increase shipping expenses for these community PWSs.
In addition, sample rejection rates are expected to increase due to samples not meeting the 30-hour hold time. The affected PWSs are encouraged to take the following steps to prepare for this change:
Determine a best shipping method that can deliver samples to the MDH PHL within 30 hours.
Thoroughly read the MDH PHL chain of custody forms and instructions upon receipt in December 2015.
Inspect and become familiar with bottles required for MDH PHL sample collection.
Prepare for occasional replacement samples in schedules and budgets.
150-mL bacteriological sample bottles (left: empty; right: filled)

Go to > top
Water Bar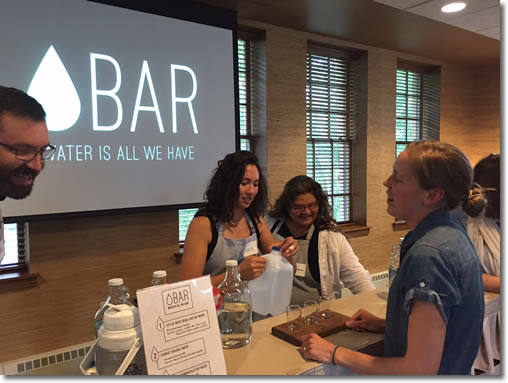 Bellying up to the bar for a selection of tap water from across Minnesota is a project of the of the Works Progress Studio. Look for it around the state in the coming year.

Go to > top
Minnesota Department of Natural Resources Water Supply Planning
Every 10 years, all public water suppliers in Minnesota that serve more than 1,000 people must have a water supply plan approved by the Department of Natural Resources (DNR). This requirement, in place since the 1990s, is designed to encourage communities to deal proactively with providing sustainable drinking water for citizens, businesses, and industry. Having an approved water supply plan also creates eligibility for funding requests to the Minnesota Department of Health for the Drinking Water Revolving Fund.
The third generation of the plan updates will be due between 2016 and 2018. Starting last October, the DNR has been notifying the 360 water suppliers by email as to when their specific water plan is due. The new DNR Water Supply Plan web page (http://www.mndnr.gov/watersupplyplans) is also available. The DNR will be providing water suppliers with an easy-to-use template and guidelines for completion. Plans will now be submitted electronically through the Minnesota Permitting and Reporting System, where most water use reporting takes place.
The Local Water Supply Plan template has four sections: inventory, emergency planning, water conservation, and metropolitan area (when relevant). The plan includes stronger conservation measures to meet demand reduction requirements.
All communities in the seven-county metropolitan area, even those of fewer than 1,000 people, must also fill out an additional section relating to the Metropolitan Council's Master Water Supply Plan.
The DNR and Metropolitan Council have been working together to update the template to make it quicker and easier for communities to complete. There are no major changes from the last template, but the format will include more standards for water conservation.
New this year are workshops with neighboring water suppliers to discuss local water supply issues and water conservation strategies. Fourteen workshops were completed in October and early November, and more will be held over the next two years.   "Many areas of Minnesota are blessed with abundant water," said Carmelita Nelson, DNR water conservation consultant. "However, groundwater resources are not limitless, and in some areas we are hitting the limits. We are seeing more instances where withdrawal is impacting sensitive natural areas, interfering with other wells, or affecting drinking water quality."
Approximately 75 percent of Minnesotans depend on groundwater for their drinking water. The remaining 25 percent obtain their drinking water from surface sources. "In the last 10 years, groundwater specialists have learned a great deal about aquifers, and we are collectively going through an evolution in the way we look at appropriation and sustainability," said Steve Thompson, DNR hydrogeologist. "In the past, we have made decisions on well permit requests individually. In the future, we will need to start looking at water appropriation requests cumulatively, using modeling to ensure that wells are sustainable."
"In next ten years, conserving our drinking water sources will become more and more critical," added Nelson. "We will all need to implement more water reuse and conservation."
For more information on water supply plans: Carmelita Nelson at 651-259-5034.

Go to > top
Drinking Water Institute in Minneapolis
The annual Drinking Water Institute for Educators drew 25 teachers for a three-day workshop at the Minneapolis Water Works ultrafiltration plant in Columbia Heights. Water operators and superintendents Danyell Lundell of Woodbury, Lauren McClanahan of Columbia Heights, Roger Dingman of Apple Valley, Jay Hall of St. Louis Park, Eric Volk of Elk River, Mark Peine of Hastings, and Jim Bode of St. Paul attended on one of the days to meet with teachers from their cities.

Go to > top
Closing the Gap on Water System Security
By Jon Groethe, Minnesota Department of Health
Next year, 2016, will kick off the "Close the Gap" campaign for water-system security. Over the last decade, Minnesota's water sector has made notable progress toward physically securing much of its critical infrastructure across the state. With the challenges the future may bring, now would be an excellent time to assess the security measures we currently have in place and to explore additional security measures that would raise the bar on our existing physical security—measures that are targeted, effective, and practical.
The Minnesota Department of Health will be renewing its efforts during the upcoming year to encourage and assist Minnesota water systems to close the gap by identifying and improving physical barriers as well as by checking and upgrading security equipment and operational procedures aimed to deter, detect, and respond. We will also be providing updated training and review of response procedures for a variety of unintentional events (severe weather, plant malfunctions, etc.) at our district water schools. Finally, we want to pass along the most recent security and emergency response tools that are currently out there for you to use.
You can help! We want to hear about your ideas and security successes. Together we can compile a clearinghouse of proven and innovative security solutions which in turn can be shared and assimilated across Minnesota's water sector.
Please contact me with your thoughts and questions at 320-223-7339, jon.groethe@state.mn.us.

Go to > top
Nitrate Source Water Monitoring Beginning in 2016
By David Rindal, Minnesota Department of Health engineer
Beginning January 1, 2016, the MDH Community Public Water Supply Unit will initiate a statewide investigation into nitrate trends for community public water systems (PWS) wells and aquifer sources. Community PWSs with one or more source wells known to have nitrate levels of at least 3.0 milligrams nitrogen per liter (mg-N/L) will be asked to collect investigative quarterly source samples. The information will assist PWSs and MDH with nitrate trend analyses and will also help MDH collaborate with the Minnesota Department of Agriculture in implementation of the state Nitrogen Fertilizer Management Plan.
Analysis of results from the MDH General Water Chemistry Project showed approximately six percent of sampled groundwater sources had nitrate results of at least 3.0 mg-N/L.
That concentration was chosen as the primary criteria due to its association with anthropogenic sources as well as the practicality of monitoring 140 wells per quarter. Over time, the MDH expects that number to change as wells either encounter nitrate issues, are newly identified as having nitrate issues, are sealed and abandoned, or experience improvements in response to remediation or natural processes.
As with most monitoring, the MDH PHL will provide sample kits, mailers, and water sample analyses for free. The main difference from regular compliance monitoring will be the need to collect raw water samples from specific wells rather than finished water samples from designated entry points. Instructions for sample collection and mailing will be provided, although shipping costs will continue to be the responsibilities of PWSs. A row entitled "Source Nitrate" will appear in the 2016 Annual Monitoring Schedule of any community PWS asked to participate in this monitoring, as shown below.

Go to > top
99th Annual Minnesota AWWA Conference
David Rindal of the Minnesota Department of Health scanned the horizon to make sure the harbor tour was on course during the 99th annual Minnesota American Water Works Association (AWWA) conference in Duluth in September. Paula McIlwaine, AWWA deputy chief executive officer, came in from Denver to greet the throng.
The big awards presented were to, above, Pete Moulton (Leonard N. Thompson Award) and, below, Bert Tracy (George Warren Fuller Award).
Smiling Bert Tracy with a cranky-looking Volunteer of the Year.
Serious Bert Tracy presents Brian Dahl with the Operator Meritorius Service Award.
Brent Massmann (right) gets the trophy from Kirk Peterson for Meter Madness.

Go to > top
Reminder to All Water Operators
When submitting water samples for analyses, remember to do the following:
Take coliform samples on the distribution system, not at the wells or entry points.
Write the Date Collected, Time Collected, and Collector's Name on the lab form.
Write the Sample Point on lab forms for bacteriological and fluoride samples.
Attach the label to each bottle (do not attach labels to the lab form).
Include lab forms with submitted samples.
Do not use a rollerball or gel pen; the ink may run.
Consult your monitoring plan(s) prior to collecting required compliance samples.
Notify your Minnesota Department of Health district engineer of any e-mail changes for contact people.
If you have questions, call the Minnesota Department of Health contact on the back of all sample instruction forms.
Go to > top
Carnac
Deduce the Question from the Answer
Answer: Kumquat
Question: What do you say when calling your quat?
Answer: A, B, C, D, E, F, G
Question: What were some of the earlier forms of Preparation H?
Answer: An unmarried woman
Question: What was Elizabeth Taylor between 3 and 5 p.m. on June 1, 1952?
Answer: Dustin Hoffman
Question: Describe someone cleaning his Hoffman.
Answer: Leave it to Beaver
Question: What did the dead raccoon say in his will?
Answer: Mop and Glow
Question: Which floor wax was used by the Three Mile Island cleanup team?
Answer: Timbuktoo
Question: What comes after Timbuk-one?
Answer: Catch 22
Question: What would the New York Mets do if you hit them 100 fly balls?
May your Perrier be secretly bottled in Tijuana.
Go to > top
Awesome Analogies
When she tried to sing, it sounded like a walrus giving birth to farm equipment.
She grew on him like she was a colony of E. coli and he was room temperature Canadian beef.
She walked into my office like a centipede with 98 missing legs.
The revelation that his marriage of 30 years had disintegrated because of his wife's infidelity came as a rude shock, like a surcharge at a formerly surcharge-free ATM.
The little boat gently drifted across the pond exactly the way a bowling ball wouldn't.
The red brick was the color of a brick-red crayon.
The lamp just sat there, like an inanimate object.
He was as tall as a six-foot-three-inch tree.

Calendar
Operator training sponsored by the Minnesota Department of Health and the Minnesota AWWA will be held in several locations this spring.
Go to > top