Waterline: Winter 2016 - 2017

Editor:

Stew Thornley
---
Subscribe to The Waterline newsletter. An e-mail notice is sent out each quarter when a new edition is posted to the web site.
---
Metro School to Feature Stand-Alone Exam Prep for Class A & B Licenses
The 2017 Metro District School, conducted by the Minnesota Department of Health (MDH) and the Minnesota Section of American Water Works Association (AWWA), will be held from Monday to Wednesday, April 3-5, 2017 at the Earle Brown Heritage Center in Brooklyn Center.
The school will include an exam prep for those taking the Class C & D exams. However, the exam prep for Class A & B licenses will be held separately, on Friday, March 24, at the the Bloomington Public Works Training Facility.
"I hope that this will encourage all of us to better prepare for testing and the implications it has associated with a certification. In turn we can concentrate on the school content," said MDH certification officer Mark Sloan.
The three-day school will feature technical and leadership classes with specialized sessions on system business solutions, treatment, distribution, and succession planning.
The planning committee is also promoting Gimmicks and Gadgets. "If you have created a gadget or gizmo that helps you at work, bring it to the school," says committee member Brent Massmann. "There will be an opportunity for the creator of the item to demonstrate how it is used."
A separate Granular Media Filtration workshop will be held on Thursday, April 6 at the Bloomington Public Works Training Facility, which is at W. 98th Street and James Avenue.
More information on the exam prep, three-day school, and the follow-up workshop will be in the Spring 2017 issue of the Waterline.

Go to top
Bacteriological Sampling Plan Requirements and Guidance
Sample Site Locations
Public water systems (PWSs) must collect total coliform samples at sites which are representative of water quality throughout the distribution system, and the samples must be analyzed by an MDH accredited laboratory.
Use easily accessible sites (24/7 access, if possible).
Spread sites throughout the distribution system.

Divide system into segments/quadrants and choose sites from each area.
Use sites in different pressure zones.
Use sites in areas that serve sensitive populations.
Use sites fed by different storage facilities.

Use sites that have an available upstream and downstream site within 5 service connections.
Sample from taps that are in good condition (avoid bathrooms, outside taps, taps close to the ground, etc.).
Use sites that get a fair amount of use on a regular basis (avoid seasonal sites or large diameter service connections that aren't used regularly).
Avoid dead-end sites.
Sample Scheduling
PWSs must collect samples at regular time intervals throughout the month, except that a system that uses only groundwater and serves 4,900 persons or fewer may collect all required samples on a single day if they are taken from different sites.
Systems may choose to use the same site location more than once a month, but the samples should be collected at least one week apart.
Systems can collect more samples than required by the federal Safe Drinking Water Act.
Use the guidance below if rotating sample sites throughout the month (or quarter).
1 sample/quarter: use 2-4 sites.
2-5 samples/month: use 5+ sites.
5-10 samples per month: use 5-10 sites.
10-20 samples per month: use 10+ sites.
20-50 samples per month: use 10-25 sites.
Click on the image above to view a larger version.
Go to top
New Brighton Still Facing, Overcoming Water Challenges
The water professionals at the city of New Brighton have long dealt with challenges that were not of their own making.
Operations at the Twin Cities Army Ammunition Plant (TCAAP), just north of New Brighton, created a robust plume contaminated with trichloroethylene and other volatile organic compounds that contaminated the city's water supply. In the 1980s New Brighton and the U. S. Army reached a landmark litigation settlement agreement. The Army paid for a water treatment facility using granular-activated carbon to remove the contaminants. In addition, the innovative pump-and-treat approach provided residents with a safe supply of drinking water while also cleaning up the aquifer.
Under the settlement agreement, New Brighton pumps and treats a specified volume of water from the contaminated aquifer sufficient to contain migration of contaminants to other parts of the aquifer and to hasten the remediation process. The treated water is consumed by New Brighton residents, and excess water is delivered to Fridley. The agreement represents Minnesota's largest groundwater cleanup process.
The pump-and-treat process has now been put on hold as the city addresses another issue; low levels of 1, 4 dioxane originating from TCAAP have been detected in some of New Brighton's wells. The city conducted a pilot study and plans to add a new treatment process to its existing plant to remove dioxane to levels well below the Minnesota Department of Health (MDH) health risk limit.
In the meantime, New Brighton has switched to water from Minneapolis Water Works. The transfer of the water was easy in one sense. Minneapolis has reservoirs with a combined capacity of 74 million gallons in New Brighton (on the highest point in the Twin Cities), approximately five blocks east of the utility's Columbia Heights ultrafiltration treatment plant and only 700 feet from the New Brighton plant. Minneapolis tapped into a 48-inch line next to its reservoir and installed a 24-inch line to send water to New Brighton.
Another aspect of the operation required close scrutiny. As seen from the disaster in Flint, Michigan, a water system switching sources must pay attention to the effect of the change, especially with corrosion control.
In the 1990s Minneapolis added an ortho/polyphosphate blend to its water, a means of providing a protective coating to insulate the water from absorbing materials such as lead and copper from the pipes.
New Brighton planned for the switch in water and made sure there were no negative ramifications from it.
"New Brighton and Minneapolis worked together to ensure that the water from the two systems would be compatible before the transition," said MDH engineer Anna Schliep. "New Brighton not only added the same corrosion inhibitor that Minneapolis uses but ensured that it was working to coat the pipes, did additional lead and copper monitoring in addition to other water quality parameters during the transition period, and planned communications to residents, including how they would respond to any customer complaints. MDH assisted in reviewing plans and data to provide feedback and technical assistance to New Brighton."
The result was that, by the time the switch in water source occurred in July 2016, New Brighton's water was insulated from materials in the pipes.
The plan is for New Brighton to use Minneapolis water for two years until the new dioxane treatment system is added to its plant and normal pump-and-treat operations can be resumed. It means New Brighton residents can continue to be assured of safe drinking water; however, it also means that the pumping to reduce the contaminated plume has been put on hold.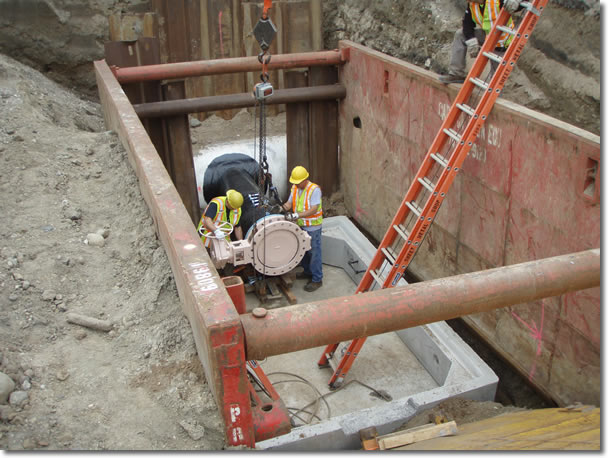 Top: Crews connect the Minneapolis 48-inch supply line to the 24-inch pipe to New Brighton. Bottom: Construction on the
distribution control station building, which will house the permanent booster pumps.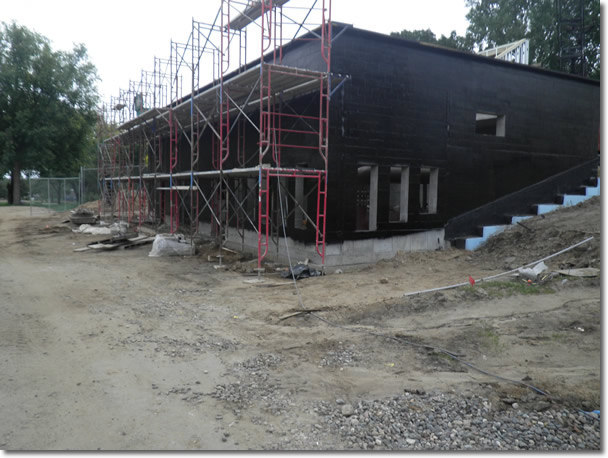 Go to top
Deaths in the Water Industry
Jerry Neagbour, a senior utility operator for the city of Bloomington and a city employee since 1989, died September 7 at the age of 52. According to a utility representative, "Jerry was someone his co-workers considered the 'go-to guy' whenever there was a problem with the pumps or controls at any of the 28 sanitary lift stations throughout the city. It was not uncommon for his co-workers to call Jerry after hours or on weekends to pick his brain regarding problems they were encountering and couldn't quite figure out how to fix. Jerry was said to be always helpful and accommodating, providing his co-workers the information and knowledge they needed to solve the issues they were dealing with." Neagbour is survived by his wife, Laurie, and two daughters.
Robert Hintgen, the utility supervisor for the city of Richfield, died August 13. He was 46. Described as a "human dynamo" by one of his colleagues, Robert worked for the city for 20 years. He is survived by his wife, Sara, and two children.
Go to top

St. Cloud Sweeps Doubleheader in State Fair Taste Test
A member of the Minnesota Section of American Water Works Association (AWWA) is flanked by WCCO Radio personalities Jordana Green and John Williams following the Great Minnesota Tap Water Taste Test, which was held on the Sustainability Stage in the Eco Experience building at the State Fair. This year, St. Cloud water edged out Saint Peter for the championship, with Lino Lakes and North St. Paul making the final four. The St. Cloud water was brought to WCCO's State Fair studio and put through another competition. WCCO employees and audience members sampled water from a number of different cities and once again picked St. Cloud as the best tasting. Minnesota AWWA has been holding this contest for a number of years and hopes to continue going on WCCO Radio after each competition in the future. (Update: St. Cloud stayed on a roll and also won the Best in Glass taste-test competition at the Minnesota AWWA conference in Duluth in September.)

Go to top
Clean Water Fund Water Reuse Project Seeking Stakeholder Input
A workgroup of state agencies and other interested parties is working to advance safe and sustainable water reuse in Minnesota. Efforts include making recommendations for clarifying the regulatory pathway for water reuse and evaluating resources needed for successful implementation of water reuse.
The workgroup is in the process of gathering stakeholder input. Changes in water reuse policy may affect Minnesota's public health, environment, infrastructure, and water management system, so it's important that the group hear from key stakeholders to make sure sound recommendations are delivered to agency leaders and the legislature.
A Stakeholder Advisory Group representing interested parties has been meeting and will continue to meet until April 2017.
Members were invited to participate on the advisory group because they represent organizations and entities that have a role in water reuse. Jon Eaton from the city of Eagan is representing water utilities.
Even those not on the advisory group may still come to both stakeholder and workgroup meetings or provide input through the workgroup's email.
More information on the Clean Water Fund project, the group's meeting schedule, and opportunities to provide input are available at the project website.
Water utilities are also encouraged to subscribe on GovDelivery for information on water reuse. Go to the project website and click on "Subscribe to water reuse updates."
Go to top
Lewis & Clark Project Reaches Magnolia
The last piece of 16-inch pipe is installed for the Magnolia service line as overall completion nears on the Lewis & Clark Regional Water System. Conceived in 1988 as a way of serving water-challenged areas in South Dakota, Iowa, and Minnesota, the Lewis & Clark project takes water from beneath the Missouri River at Vermillion, South Dakota, to communities as far as 125 miles away. The project will serve approximately 300,000 people when it is completed. The pipes crossed into Minnesota last year and in September 2016 reached Magnolia, which is a connection point to Rock County Rural Water System. Magnolia is also a connection point to Lincoln-Pipestone Rural Water, which serves a wide area that includes 38 cities in 10 counties. Next up is to extend the pipes to east of Adrian, another connection point to Lincoln-Pipestone, and then to Worthington. It's anticipated that Lincoln-Pipestone will begin receiving water from the project in 2017. Carstensen Contracting Inc. of Pipestone, Minnesota, has installed all of the pipe in Minnesota. Construction of the entire system is now 67 percent complete; the entire service area will cover 5,000 square miles (approximately the size of Connecticut).

Go to top
Mobile Art Lab
For the third summer in a row, Public Art St. Paul conducted its mobile art lab with a focus on water in Western Sculpture Park in St. Paul. "Making a difference in your own backyard: Rain gardens for water conservation and pollinators" was the theme for the summer, which featured 12 weekly workshops. Director of education Mary Johnson said the art lab and workshops "have demonstrated water quality concepts to participants and have had an added focus on eco-friendly art-making practices and environmentally friendly behaviors as a whole."

Go to top
New Coliform Sample Drop-off Site in International Falls
Certain community public water systems are required to collect a monthly or quarterly total coliform sample and send the sample to a designated laboratory for analysis. There has been an increase in total coliform samples shipped from International Falls and the surrounding area that are not arriving at Pace Analytical in Virginia, Minnesota, within the required 30-hour hold time. As a result, the sample cannot be analyzed and must be recollected. This delay is likely due to changes with the United States Postal Service distribution centers located throughout the state. In addition to using an overnight courier service, a new option is now available for submitting samples to the laboratory.
Pace Analytical will now pick up samples from the Koochiching County Public Health Office in International Falls at noon every Wednesday. Those interested may collect the sample on Wednesday morning and deliver it by noon with the completed lab form to:
Koochiching County Public Health and Human Services
Forestland Annex
1000 5th Street
International Falls, Minnesota 56649
This new option will guarantee that the sample arrives at the lab the same day it is collected.
The pickup charge is $15.00, payable either with the exact amount in cash or by a check payable to Pace Analytical (noting "sample pickup charge" in the memo section). Samples cannot be dropped off at the county health office without payment.
Contact information for the drop-off location: Debra Polkinghorne, 218-283-7070.
Go to top
Drinking Water Institute
Dave Goergen of Edina, Jon Eaton of Eagan, George Kraynick of Minneapolis, and Jodi Wallin of St. Paul address teachers at the annual Drinking Water Institute for Educators, conducted in Eden Prairie in 2016. Held since 2001, the Institute brings in science teachers from around the state to develop action plans to create inquiry-based activities that they can integrate into their existing science curriculum. The 2017 Institute will be in Lakeville. More information is available on the Drinking Water Institute website.
Go to top
Minnesota AWWA Holds 100th Annual Conference
Duluth was the setting for the 100th annual conference of the Minnesota Section of American Water Works Association (AWWA). Below, section director Uma Vempati poses with Wanky the Water Drop.
Competitions, including pipe tapping (above) and hydrant hysteria (below), were among the attractions at the conference.
Above: Section chair Jim Sadler (left) presented the Leonard N. Thompson award to Myron Volker of Owatonna. Below: AWWA executive director David LaFrance presented the George Warren Fuller award to Carol Blommel Johnson of Apple Valley.
Go to top
Truths for Mature Adults
There is a great need for a sarcasm font.
Bad decisions make good stories.
I hate when I just miss a call by the last ring (Hello? Hello? Doggone it!), but when I immediately call back, it rings nine times and goes to voice mail. What did you do after I didn't answer? Drop the phone and run away?
I keep some people's phone numbers in my phone just so I know not to answer when they call.
Even under ideal conditions people have trouble locating their car keys in a pocket, finding their cell phone, and Pinning the Tail on the Donkey, but I bet everyone can find and push the snooze button from 3 feet away, in about 1.7 seconds, eyes closed, first time, every time!
Is it just me or do high school kids get dumber and dumber every year?
Go to top
Words to Live By
You can make more friends in two months by becoming interested in other people than you can in two years by trying to get people interested in you.
—Dale Carnegie
Wisdom is the reward you get for a lifetime of listening when you'd have preferred to talk.
Life is not a matter of holding good cards but of playing a poor hand well.
—Robert Louis Stevenson
Two sorts of writers possess genius: those who think and those who cause others to think.
—Roux
Do not ruin an apology with an excuse.
—Benjamin Franklin
Go to top
Reminder to All Water Operators
When submitting water samples for analyses, remember to do the following:
Take coliform samples on the distribution system, not at the wells or entry points.
Write the Date Collected, Time Collected, and Collector's Name on the lab form.
Write the Sample Point on lab forms for bacteriological and fluoride samples.
Attach the label to each bottle (do not attach labels to the lab form).
Include lab forms with submitted samples.
Do not use a rollerball or gel pen; the ink may run.
Consult your monitoring plan(s) prior to collecting required compliance samples.
Notify your Minnesota Department of Health district engineer of any e-mail changes for contact people.
If you have questions, call the Minnesota Department of Health contact on the back of all sample instruction forms.
Calendar
Operator training sponsored by the Minnesota Department of Health and the Minnesota AWWA will be held in several locations this spring.
Go to top