Community Conversations on Advancing Health Equity
November 2018 Community Conversation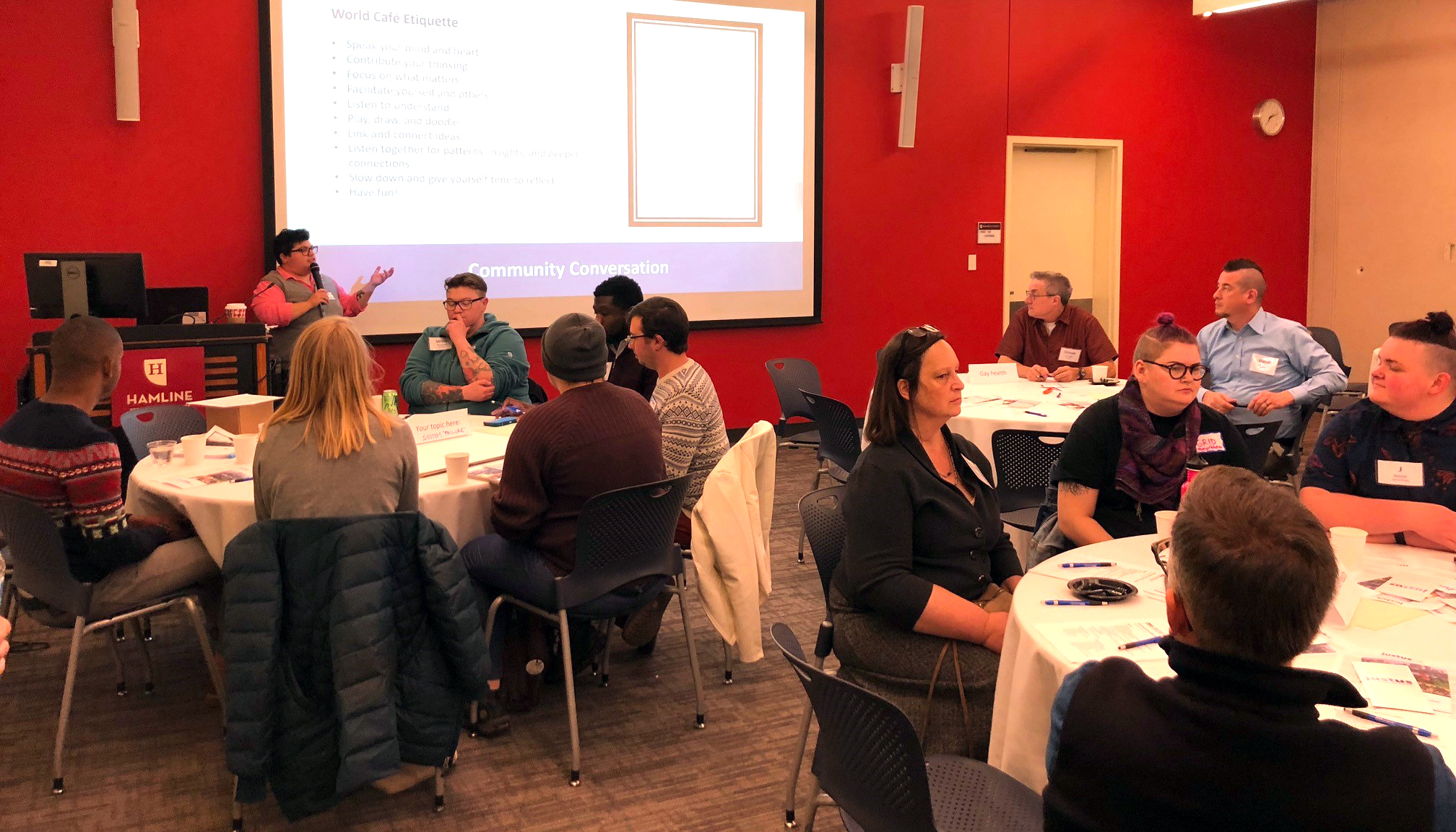 The Center for Health Equity was honored to co-host a community conversation in November 2018 with JustUs Health at Hamline University in Saint Paul. The convening brought together community members to discuss the state of lesbian, gay, bisexual, trans and queer (LGBTQ) health in Minnesota.
Our community conversation took the form of a World Café style discussion. Tables were set up with categories to indicate different LGBTQ health topics. Participants could also create their own table topics. Conversations took place at each of the tables to address the following questions for each topic:
What are important or salient issues that are impacting health for this community?
What are the conditions that are impacting those health issues?
One person at each table took notes for the group. The notes from each table are included in the LGBTQ community conversation notes (PDF).
We would like to thank all of the participants who joined us at the event for their thoughtful engagement, and we look forward to continuing to work with LGBTQ communities in Minnesota to advance health equity.
September 2017 Community Conversation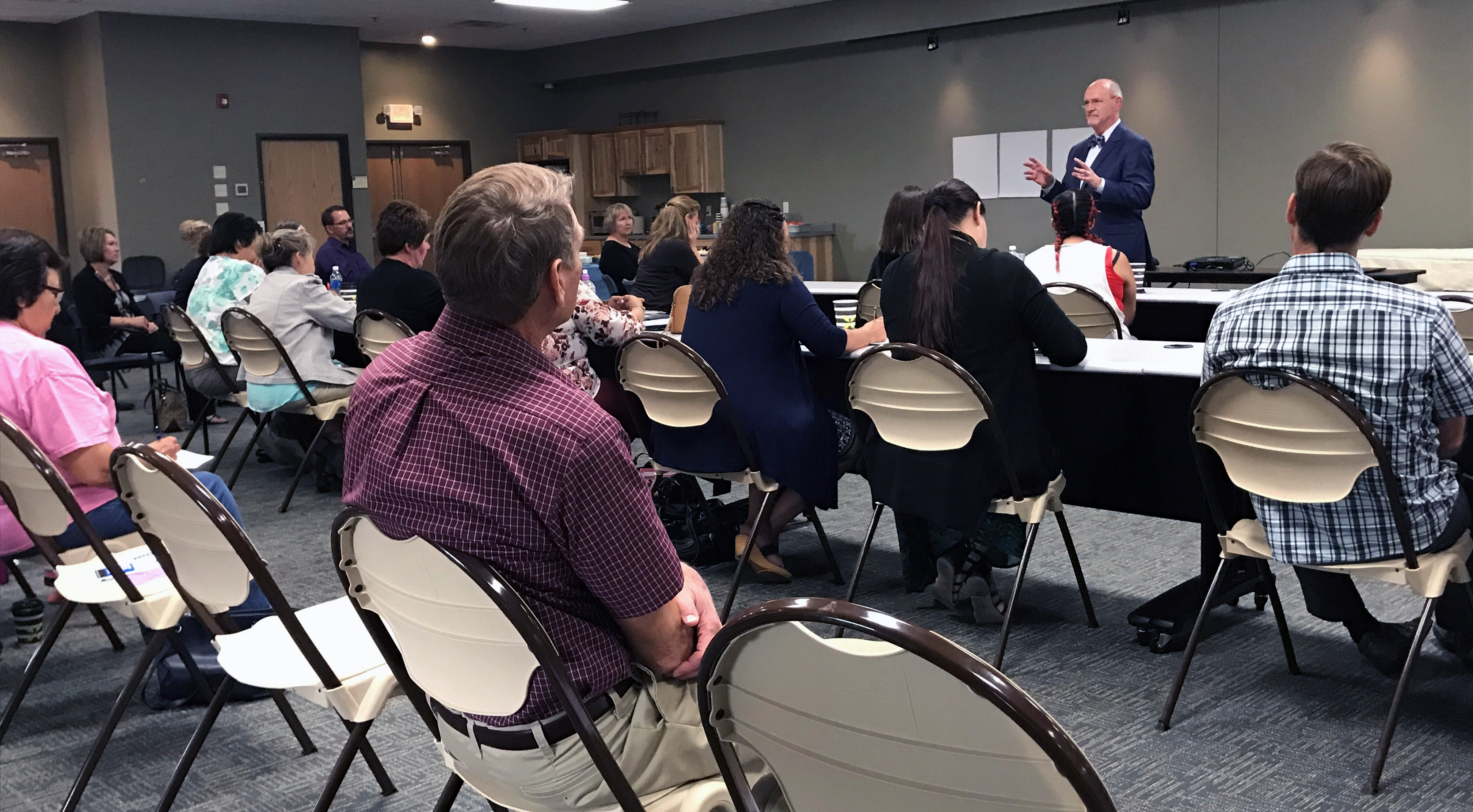 We had the privilege of joining many American Indian community members in conversation at the Northwest Indian Community Development Center in Bemidji on September 13, 2017. Commissioner Ehlinger and CHE Director Bruce Thao shared updates on the agency's progress in advancing health equity while also hearing from community members and leaders about their needs and concerns. We heard stories that attest to both the pervasiveness of inequities within the American Indian community and the enduring resilience of community members through generations of trauma. We also heard community members say that the challenges to achieve health and wellness cut across not just health systems, but also transportation, employment, housing and mental health, and that indigenous traditions, medicine and practices are key to healing.
We would like to extend a sincere thank you to our friends at the Northwest Indian Community Development Center for inviting us into your community space and for co-hosting the event. For a brief synopisis of the discussion, please refer to the Bemidji community conversation notes.
June 2017 Community Conversation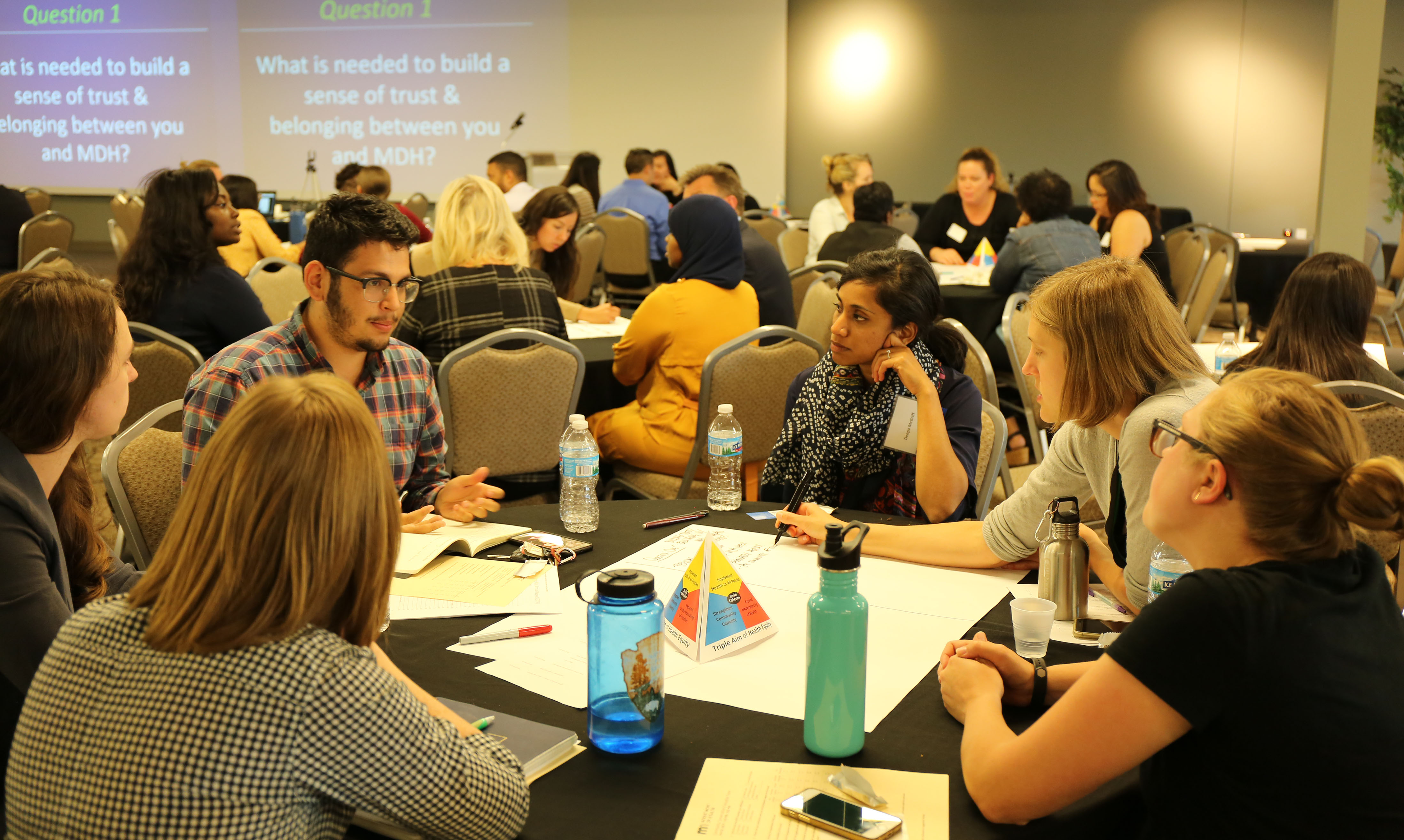 "It was a joy to be in conversation and community with everyone. The room was packed with passionate advocates and individuals from across our diverse communities and much wisdom was shared. This will inform our work and our engagement with community moving forward. I look forward to continuing the conversation."
- Center for Health Equity Director, Bruce Thao
Overview
MDH held a second community conversation on advancing health equity at the TIES Event Center in St. Paul on Monday, June 26, 2017. Commissioner Dr. Ed Ehlinger and Center for Health Equity Director Bruce Thao hosted the event.
With nearly 180 participants, the event began with traditional American Indian drumming and song. The evening's conversation focused on using collaboration and relationship building to advance health equity. Participants took part in World Café-style discussions centered around three key questions:
What is needed to build a sense of trust and belonging between you and MDH?
Think about a time you were in a collaborative or partnership where you felt truly valued, heard and respected. What made this possible?
Imagine MDH as a true partner to you and your community. What would MDH be doing?
The discussions produced many valuable takeaways for the department and will be used to inform our work in partnership with communities moving forward. After the event, MDH staff compiled the notes that were taken by table hosts to make them available to staff and partners.
Attendees of the event were also asked to write on flipchart paper what they can offer MDH and what they need from MDH. The responses are summarized in a list of offers and needs.
We sincerely thank everyone who participated, whether in person or through Facebook live. Thank you for sharing your time and perspectives, and for your ongoing commitment to advancing health equity.
The Facebook live video of the event is archived on the MDH Facebook page (running time, 41 minutes).
Presentation
Bruce Thao's PowerPoint presentation (PDF)
Questions?
If you have a question or comments please email us at: health.equity@state.mn.us or call 651-201-5813.
November 2016 Community Conversation
Overview
MDH held a community conversation on advancing health equity in Minnesota in November 2016. This event was hosted by Commissioner Dr. Ed Ehlinger, Assistant Commissioner Jeanne Ayers, and Sara Chute, Acting Director of the MDH Center for Health Equity.
The purpose of this event:
To provide an update on MDH's efforts to advance health equity since the 2014 Advancing Health Equity Report.
To provide a forum for community-based organizations and other champions to share stories of their efforts to advance racial equity and health equity.
To continue a dialogue about the challenges facing our collective efforts, so we may engage in collaborative problem-solving.
This event was designed for health equity champions in Minnesota, including but not limited to: community-based organizations including organizations led by people of color, American Indians and/or LGBTQ people, representatives of advocacy organizations, community-organizing groups, members of the Healthy Minnesota Partnership, tribal communities, local public health and others.
The program included remarks from the Commissioner of Health, stories highlighting recent progress on advancing health equity shared by MDH staff and community partners, and facilitated small-group discussions.

Small group discussions
The purpose of the small group discussions was to gather ideas from the community on how MDH can further advance recommendations from the 2014 Advancing Health Equity report. MDH staff in attendance were asked to listen and take notes during the small group discussions.
The following topics were developed from the questions submitted on the event registration form. Each discussion group considered how to strengthen these areas to advance health equity.
Elevating health considerations in policy development
Exploring MDH's role in strengthening community capacity
Informing MDH's policy and program decisions
Improving MDH's grant making procedures and practices
Sustaining cultural practices that support health
Identifying institutional changes needed at MDH
Improving data collection of health disparities and health inequities
Measuring progress of health equity efforts
General discussion group
Handouts
Advancing Health Equity: A Community Conversation Commitment Form (PDF)
Selected MDH Stories of Advancing Health Equity (PDF)
Summaries of Notes
Individual Question-group Highlights
Group Discussion Highlights and Trends
Questions?
If you have a question or comments, please email us at: health.equity@state.mn.us or call 651-201-5813.
M
Last Updated:
10/03/2022