State Opioid Oversight Project (SOOP)
The State Opioid Oversight Project (SOOP) intends to include "Justice-Involved Populations" as a focus area for statewide prevention efforts. SOOP defines justice-involved populations as individuals who have contact or interaction with courts, jails, or prisons including drug-courts, child protection cases, probation, jail, prison, and workhouse.
There has been a movement to decriminalize substance use disorders. Chemical health is like other chronic health conditions (e.g. diabetes, cancer), in that people need medication, treatment, and long-term support to heal, recover, and maintain recovery. Despite efforts to decriminalize substance use disorders, thousands of Minnesotans are incarcerated every day with an active drug sentence. There is a stark racial disparity in incarceration rates for drug offenses, especially within the Native American and African American community. The racial disparity in incarceration rates is a product of structural racism, social determinants of health, intergenerational trauma, and other factors that disproportionately impact communities of color.
One example of the racial disparity is within Minnesota's prison system. The Department of Corrections publishes a daily census of each of Minnesota's 11 prisons. The drug offense charges include possession and use, as well as distribution or intent to sell.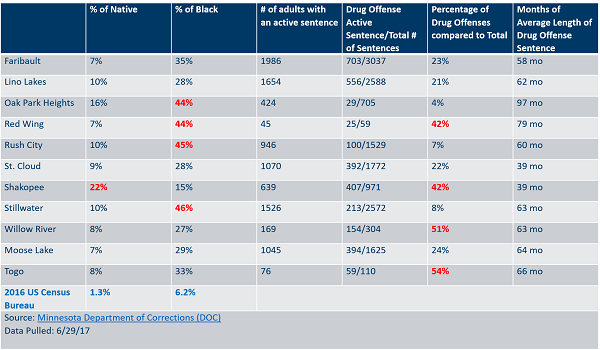 An average of 27 percent of people have an active drug offense within the Minnesota prison system.
The average length of sentence ranges from 39 to 97 months, depending on which prison facility.
Native American people make up 1.3 percent of the general Minnesota population; Minnesota prisons have a range of 7 to 22 percent Native American offenders.
African American people make up 6.2 percent of the general Minnesota population; Minnesota prisons have a range of 15 to 46 percent African American offenders.
At Shakopee, a female-only prison, almost a quarter of the inmates are Native American and almost half of the offenders have an active drug offense.
At Willow River and Togo, over half of the offenders have an active drug offense.
Some of the prisons provide a wider spectrum of chemical health services than others, which may account for some of the differences in the rate of drug offense per prison. For example, the Challenge Incarceration Program (CIP) is operated within Willow River, Togo, and Shakopee.
A 2017 Pew analysis on drug imprisonment and drug problems found no evidence that stiffer prison terms deter drug use and related crimes. Some of the substance use disorder prevention efforts within the criminal justice system include:
Increasing the use of drug courts;
Increasing access to medication assisted therapy during incarceration;
Providing naloxone upon release from jail or prison.
Treatment courts are commonly called Drug Courts. Treatment Courts include strategies of working closely with stakeholders, such as prosecutors, public defenders, probation officers, social workers, and other justice system partners, to develop a strategy that will lead an offender to completing a treatment program and lead them to refrain from repeating the behaviors that brought them to court. Minnesota completed a statewide Drug Treatment Court Evaluation in 2012 with a follow up report in 2014. Results from these evaluations indicate that drug courts reduce recidivism rates, produced lower conviction rates, promoted social engagement, and reduced total incarceration costs by $4,288 per person over 4 years. Review full data on Minnesota treatment courts.
A team of staff from the Department of Corrections, Department of Human Services, and Department of Public Safety identified four main goals to reduce recidivism and overdose deaths:
Improve opioid use disorder treatment effectiveness, including access to MAT
Develop and implement comprehensive release plans, including Naloxone and access to recovery supports
Provide staff education and training on the opioid epidemic and MAT
Optimize the use of data, including tracking inmate's release

Please visit the Opioid Dashboard for more information on opioid overdose death, nonfatal overdose, use, misuse, substance use disorder, prescribing practices, supply, diversion, harm reduction, co-occurring conditions, and social determinants of health.
Last Updated:
10/03/2022