Neonatal Abstinence Syndrome
People who use substances during their pregnancy are at risk for giving birth to an infant that experiences neonatal abstinence syndrome (NAS). NAS is a group of health issues that can impact newborns who are exposed before birth to certain substances including opiates, stimulants, barbiturates, and benzodiazepines. Infants exposed to opioids before birth are at risk for a specific type of NAS called neonatal opioid withdrawal syndrome (NOWS).1 If an infant is exposed to multiple substances before birth including opioids and other drugs, they could be diagnosed with both NAS and NOWS.
What is NAS?
If a pregnant person is using substances, the drugs can pass through the placenta to the baby. Then, when the baby is born, they no longer receive these substances and experience withdrawal symptoms. Infants are not born addicted to substances, rather they have prenatal substance exposure and physiological dependence.
All infants born to a person who has used substances during their pregnancy are at risk for NAS, but not all infants born to people that used substances during pregnancy will have NAS. It is estimated that between 55% and 94% of newborns whose mothers used substances consistently while pregnant, either through illicit use or medication therapies while pregnant, will develop NAS.2
The symptoms of NAS range from mild to severe and can include:3
Body shakes (tremors)
Excessive crying and fussiness
Fever
Diarrhea
Seizures
Trouble sleeping
Poor feeding
Breathing problems
The initial symptoms of NAS usually begin shortly after birth (within 2-3 days) and can last for up to six months. Most babies need therapeutic care from their parent(s) or nurse. Parents and caregivers can soothe babies with NAS symptoms through:3
Swaddling
Breastfeeding
Skin to skin contact
Rocking gently
Speaking in a soft voice
Staying in the same room as the baby (rooming in)
Some infants with NAS require medical treatment in the hospital to manage their symptoms. This may result in a longer hospitalization for the newborn than for the birthing person.
Research is beginning to show that there might be long-term impacts of NAS including:3
Higher risk for ear infections
Speech problems
Learning difficulties
Memory issues
Hyperactivity
However, it has been difficult for researchers to determine if the longer-term health outcomes are because of NAS or other factors in an infant's environment. For example, ongoing parental substance use, mental illness, domestic violence, and limited access to health care can have negative impacts on a baby's health and development. Infant health outcomes improve when parents receive and maintain treatment for substance use disorder, live in a stable place, and have parenting support from friends, family, or professionals such as family home visitors.
NAS in Minnesota
Data on NAS in Minnesota are available in the Neonatal Abstinence Syndrome (NAS) Data Brief: Statewide and County Trends, 2012-2020 (PDF). Data on NAS in Minnesota is collected from hospital discharge data. A diagnosis of NAS can include infant withdrawal from any substance not including alcohol such as cocaine, amphetamines, opioids, and benzodiazepines. From 2012 to 2020, there were 3,251 NAS hospital-visits in Minnesota (Figure 1). This corresponds to a rate of 5.5 per 1,000 live births. The median rate (i.e., the rate in the middle of the overall range of rates for Minnesota counties) among counties in Minnesota was 3.5 per 1,000 live births (Figure 1). Information on NAS by region of the state and by sex of infant is available in the NAS data brief.
Figure 1: Rates of NAS have varied but have nearly doubled from 2012 to 2020.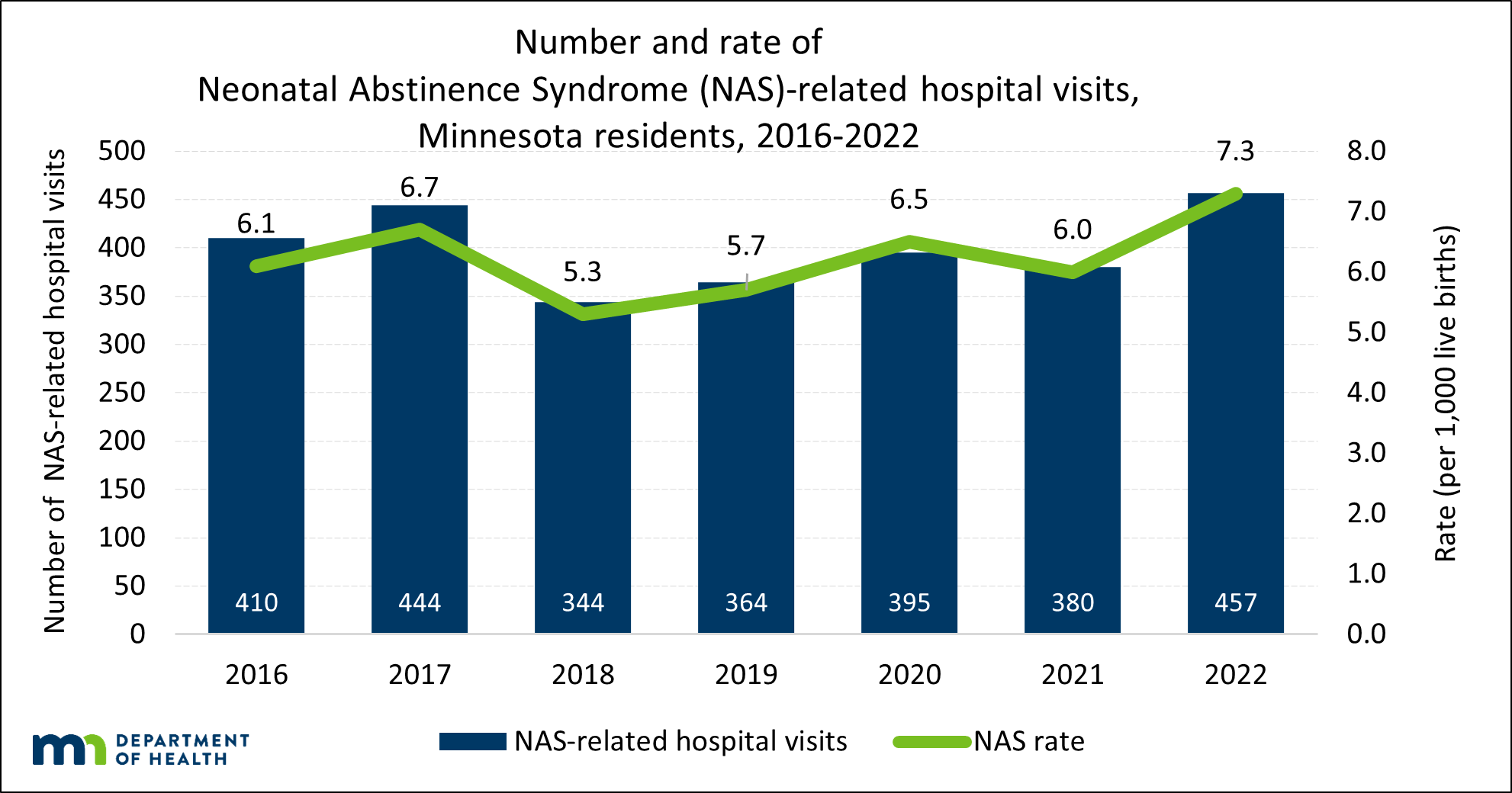 SOURCE: Hospital Discharge Data, Injury and Violence Prevention Section, Minnesota Department of Health, 2012-2020
Research from the University of Minnesota found that diagnoses of maternal opioid use disorder and NAS are increasing fastest among rural residents.4 Unfortunately, rural areas in the state have the fewest neonatal intensive care units (NICUs) and have seen the most closures of hospitals with obstetric services, meaning hospitals where babies can be delivered.
The Minnesota Perinatal Quality Collaborative (MNPQC), a partnership between the Minnesota Department of Health and the Minnesota Perinatal Organization, leads initiatives focused on improving maternal and infant health. The MNPQC is currently leading a maternal opioid use disorder initiative. The aims of this initiative are to decrease misuse of opioids, inform providers of alternatives to prescribing opioids, and increase identification and treatment of opioid misuse with an overall goal of reducing a specific type of neonatal abstinence syndrome that can impact babies born to people who used opioids during pregnancy called neonatal opioid withdrawal syndrome (NOWS).
To learn more about NAS in Minnesota, please refer to the Neonatal Abstinence Syndrome (NAS) Data Brief: Statewide and County Trends, 2012-2020 (PDF).
How can NAS be prevented?
The most promising approach for treatment of NAS is the evidence-based Eat, Sleep, Console (ESC) model of family-centered care.3 The ESC model emphasizes the mother's ability to provide care for their infant to reduce NAS symptoms through breastfeeding, swaddling, and skin to skin contact. Hospitals can adapt policies and protocols to support the ESC model by promoting rooming in, allowing mothers to provide the majority of infant care, and encouraging mothers to spend as much time with their infant as possible.
Mothers of infants with NAS can benefit from additional supports to provide care for their infant and reduce stress associated with caring for a newborn with NAS symptoms. These additional supports can include receiving prenatal/postpartum counseling on how to care for an infant with NAS, receiving substance use disorder and mental health treatment, and joining a support group for mothers with substance use disorder.
How can NAS be prevented?
Preventing NAS is best accomplished by intervening with a pregnant person's potential use during pregnancy. Preventing NAS requires an understanding that substance use is not simply an individual problem but is also shaped by factors such as community and family support, access to health care, and healthy relationships.
The best method of prevention and treatment of maternal opioid use and NAS is a whole-patient approach that includes a combination of medical, behavioral health, and community supports. People using opioids during pregnancy benefit from accessing comprehensive obstetric care that provides medications for opioid use disorder (MOUD) in addition to health monitoring and referral to recovery services.
Other prevention strategies include preventing substance misuse during pregnancy through changes in prescribing practices, using evidence-based screening tools to identify substance use and misuse during pregnancy, and increasing access to wraparound recovery support services.
Get Support
If you think that you are pregnant or might become pregnant and are currently using substances, it is important to discuss this with your doctor. Your doctor and other health care providers can provide you with information on how to safely reduce or stop substance use, provide referrals to substance use treatment, and support you in having a healthy pregnancy.
In 2021, a recent legislative change in Minnesota Statute 260E. 31 Subdivision 1 provides pregnant people with untreated substance use disorder the ability to disclose their use to health care providers without concern of an automatic report to child and protective services. Pregnant people with untreated substance disorder may still be reported if they do not continue seeking care during pregnancy after disclosing substance use, also called lost to follow-up. This change was recently enacted by the Minnesota Legislature to support pregnant people with substance use in seeking necessary medical and health care for themselves and their newborns.
Fast Tracker is a tool developed by the Minnesota Department of Human Services to connect people with substance use and mental health treatment in their communities.
Healthy Black Pregnancies is a culturally responsive service provider serving pregnant people in Ramsey and Hennepin counties. Healthy Black Pregnancies offers screening, referrals to health and social services, education for healthy pregnancies and babies, and peer support for expectant families.
Family Home Visiting can provide support during pregnancy and after birth. Home visitors can help connect people to substance use treatment and recovery resources, provide parenting education, and help monitor a parent and their baby's health. To find family home visiting in your area, search for family home visiting on minnesotahelp.info.
Reducing the number of babies born with Neonatal Abstinence Syndrome (NAS) is a benefit of medication assisted treatment. When babies are exposed to substances before birth, they can experience withdrawal symptoms after birth because they are no longer receiving the substances that they were exposed to before birth. To prevent this, expecting mothers who use substances should consider medication assisted treatment options and other methods to reduce or stop substance use including counseling by a licensed drug and alcohol counselor.
Learn more about NAS:
Children's Hospital of Minnesota have created fact sheets on Neonatal Abstinence Syndrome (PDF) and Opiate Use During Pregnancy (PDF).
March of Dimes Neonatal Abstinence Syndrome webpage has information on what NAS is, the symptoms of NAS, and methods of treatment.
The National Center on Substance Abuse and Child Welfare (NCSACW) has collected policy and practice resources, videos, and webinars on their Neonatal Abstinence Syndrome topic page.
The Substance Abuse and Mental Health Services Administration has developed Clinical Guidance for Treating Pregnant and Parenting Women with Opioid Use Disorder and Their Infants. This clinical guidance is designed for health care providers and details promising best practices for the prevention and treatment of maternal opioid use disorder and NAS.
Sources:
Centers for Disease Control and Prevention. (2021). About opioid use during pregnancy. https://www.cdc.gov/pregnancy/opioids/basics.html
McQueen, K. and Murphy-Oikonen, J. (2016). Neonatal abstinence syndrome. New England Journal of Medicine, 375, 2468-2479.
March of Dimes. (2019). Neonatal abstinence syndrome. https://www.marchofdimes.org/complications/neonatal-abstinence-syndrome-(nas).aspx
Kozhimannil, K.B., Chantarat, T., Ecklund, A.M., Henning-Smith, C., & Jones, C. (2018). Maternal opioid use disorder and neonatal abstinence syndrome among rural US residents, 2007-2014. The Journal of Rural Health 35,(1), 122-132.
For more information on NAS, questions about NAS data, and Minnesota Department of Health efforts to reduce NAS, please contact health.drugodepi@state.mn.us.
Please visit the
Opioid Dashboard
for more information on opioid overdose death, nonfatal overdose, use, misuse, substance use disorder, prescribing practices, supply, diversion, harm reduction, co-occurring conditions, and social determinants of health.
Last Updated:
10/03/2022