10 promising practices to reduce social inequities in health
Sudbury & District Health Unit
10 promising practices to reduce social inequities in health is a literature review for local public health practitioners, and summarizes promising practices to impact health equity.
This collection of documents developed by a local health jurisdiction in Canada provides a short summary of the evidence for promising practices to improving health equity (listed below). Each summary includes a short example, references, and bulleted responses to the questions "what helps me apply [this] in practice?" and "what makes [this] challenging?"
Targeting with universalism – Discusses that "universal" health programs should use a targeted approach to focus on priority populations.
Purposeful reporting – Discusses the need for intentional and public presentation of evidence about health inequities as part of a broader approach to change.
Social marketing – Discusses using social marketing to tailor behavior change interventions to priority populations, and to change stakeholder understanding and decision-making to support or take action on social determinants of health inequities.
Health equity target setting – Discusses target setting as a way to ensure the measuring of efforts to improve health equity. Encourages target setting as a community engagement approach.
Equity-focused health impact assessment – Encourages equity-focused HIA to address and consider the impacts of policies on those experiencing health inequities.
Competencies – organizational standards – Focuses on Canada's 36 core competencies for public health as building blocks for foundational public health practice.
Contribution to evidence base – Discusses challenges to growing evidence base and the need to evaluate local efforts and disseminate knowledge.
Early childhood development – Discusses importance of early childhood experiences in the context of health equity and lists evidence-based practices.
Community engagement – Discusses need to engage diverse community members in policymaking, which may lead to increased awareness and skills in the community and a greater likelihood of programs that are responsive to community needs.
Intersectoral action – Explains the need for cross-sector partnerships to build health in a community.
When to use
These documents could be useful to provide grounding for staff that are new to health equity. A director could also draw on the evidence listed in these fact sheets in order to make the case for any of the promising practices listed that they would like to implement in their departments. At a foundational level, it could also be used to guide or justify evidence-based practices at the local level.
Things to consider
These documents appear to have been last updated in 2012. The literature may have produced new evidence/best practices since these were published.
The information in these fact sheets is written in plain language—it could be used to help explain concepts/value to those outside of public health.
Use this resource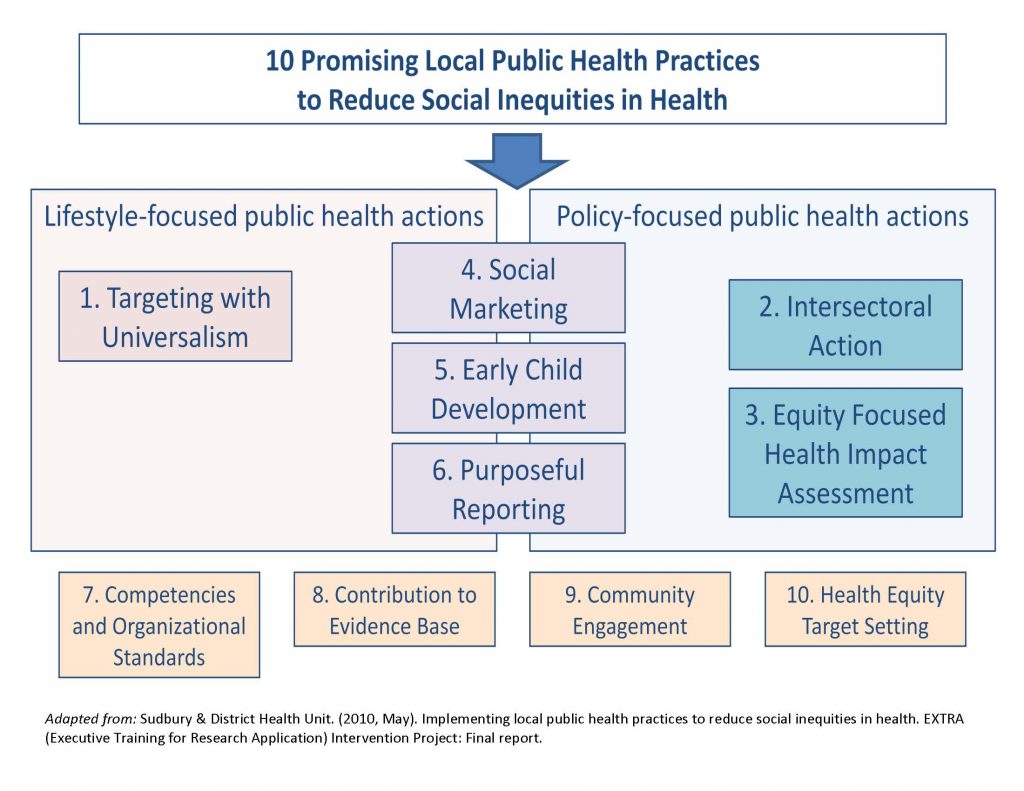 Find similar resources
Last Updated:
10/03/2022