Refugee Health Care Provider Resources
Spotlight
Contact Info
Infectious Disease Epidemiology, Prevention and Control Division
Contact Info
Infectious Disease Epidemiology, Prevention and Control Division
Clinical Decision Support for Newcomer Health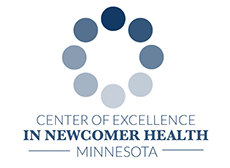 Health care, public health, and informatics professionals in Philadelphia, Denver, and Minnesota worked with national experts to identify opportunities for electronic health record (EHR) improvement and evidence-based, standardized care for newly-arrived refugees and other newcomers.
This Center of Excellence collaboration led to the creation of the Refugee Health Decision Support tools.
Refugee Health Decision Support
Order sets, documentation templates, and supporting resources available for download at no cost via the Clinical Decision Support (CDS) Connect repository from the Agency for Healthcare Research and Quality (AHRQ).
To learn more about the tools, visit PolicyLab: Providing Tools for Clinicians to Better Support Immigrant Health.
Please contact refugee.cds@email.chop.edu with any questions or comments.
DISCLAIMER: Development of the Refugee Health Decision Support Module was funded by Centers for Excellence in Refugee Health grant 5 NU50CK000459-02 (MN) from the U.S. Centers for Disease Control and Prevention. As a federally funded project, it is subject to federal copyright restrictions and open access policies.
While this artifact to build an Epic SmartSet is the work of partners funded by the US Centers for Disease Control and Prevention (CDC), this artifact is not the work of CDC nor of the Minnesota Department of Health (MDH). The selection, omission, or content of items in the artifact does not imply endorsement or any other position taken by CDC or MDH, and CDC and MDH assume no responsibility for accuracy. The artifact belongs to its authors and all questions should be directed to its authors. However, the "Guidelines for the U.S. Domestic Medical Examination for Newly Arriving Refugees" referenced in this artifact were developed by CDC to help state public health departments and medical professionals/clinicians in determining the best tests to perform based on evidence during routine post-arrival medical screening of refugees. These guidelines are only intended as recommendations and should not be construed as either mandates or medical advice. Refugee health care providers with any questions should contact their state refugee health coordinator.
Use of trade names and commercial sources is for identification only and does not imply endorsement by the U.S. Department of Health and Human Services. References to non-CDC sites on the Internet are provided as a service to readers on this site and do not constitute or imply endorsement of these organizations or their programs by CDC or the U.S. Department of Health and Human Services. CDC is not responsible for the content of pages found at these sites. URL addresses listed on this site were current as of the date of publication.
Last Updated:
10/20/2022