Safe Harbor
Services
Resources
Related Topics
Safe Harbor Youth Outreach Materials
If you need immediate help call 911!
If you need local shelter and supportive services
Contact the Day One Hotline 1-866-223-1111
The Safe Harbor outreach materials aim to build awareness of the Safe Harbor Program and motivate youth to reach out for help, when ready. Those who are in close contact with sexually exploited youth and at-risk youth can use the outreach materials to create awareness of the issue and the Safe Harbor Program.
Select materials are now available in Hmong, Somali, and Spanish.
Supporting Minnesota's Safe Harbor Program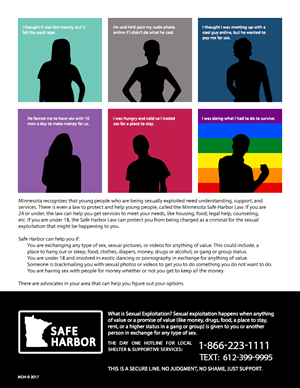 Minnesota recognizes that young people who are sexually exploited need understanding, support and services. For those 24 and under, the Safe Harbor Program can help sexually exploited youth get needed services like housing, food, legal help and counseling. For those 18 and under, the Safe Harbor Law can protect them from being charged as a criminal for the sexual exploitation happening to them.
If you suspect sexual exploitation
Be understanding. Even if a person does not identify as a victim, or may seem abrasive, they have been abused, traumatized and are in need of services. It can be dangerous for you and the victim to try to interfere directly with the trafficker. Do not try to rescue the victim. Get help. Call your local law enforcement, your Safe Harbor Regional Navigator, or the Day One Hotline 1-866-223-1111.
Basic Tips:
Stay calm and listen.
Be non-judgmental and kind.
Refer to a Regional Navigator, social worker or another trained advocacy group who understands sexual exploitation.
A protective factor for youth at-risk or those who have been exploited is having healthy relationships with adults.
You can be that person by:
Setting a high standard of love in your home.
Setting a high standard of love in your home.
Talking to your children about healthy relationships.
Talking about internet safety.
Pay attention to your children – monitor their internet use, be alert to friends who are much older, or who tend to isolate your child from others.
Talk honestly about pornography.
Safe Harbor materials and communications toolkit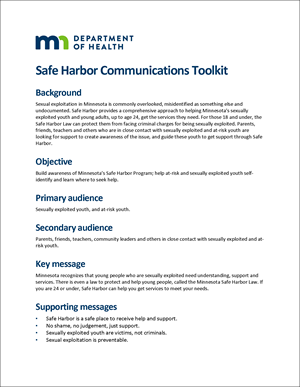 In human trafficking, those who are most vulnerable are often the most difficult to reach. The Safe Harbor materials were carefully designed with insight from youth who are or have been involved in sexual exploitation, and youth prevention peer advocates.
The Safe Harbor Communications Toolkit (PDF) is a guide to the outreach materials, and how you can use those materials to best reach at-risk youth.
Help us build awareness of Safe Harbor in your community. These materials are available free of charge.
For more information contact Safe Harbor Director, Caroline Palmer at caroline.palmer@state.mn.us.
Last Updated:
10/03/2022