Sage Cancer Screening
Related Sites
Sage Cancer Screenings Covered Services and Eligibility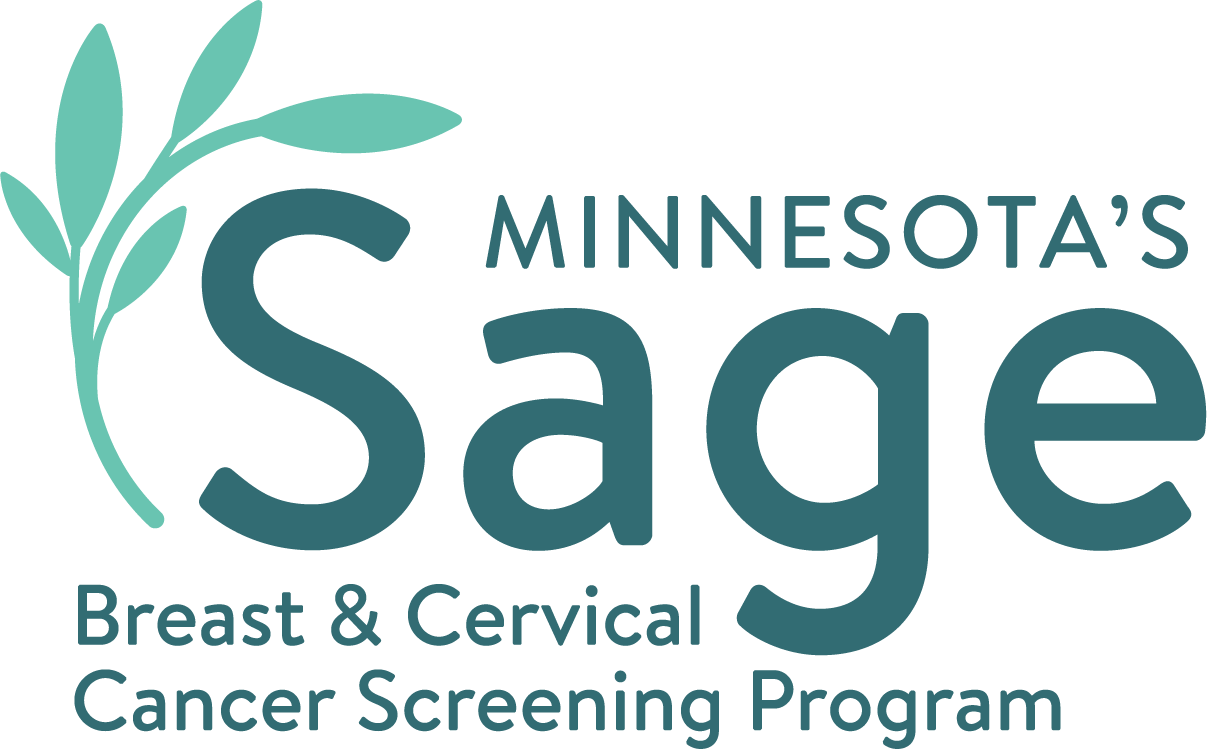 Updated Sage Provider Manual eligibility criteria: Eligibility (PDF)
For a detailed explanation of eligibility, see the Sage decision Trees (broken down by age): Sage Decision Tree (PDF)
Eligibility
Breast – Women 40 and older1,2
Cervical – Women ages 21 to 641

Understanding Eligibility

Do not have insurance
Have insurance that does not cover screening or has a deductible or co-pay
Have income within program guidelines

Help Sage improve our training by taking a short online survey.
Screening services
Office visit for breast and/or cervical exam, and/or breast health education
Screening mammogram
Pap smear every three years for people ages 21-64, or a Pap accompanied by HPV co-testing every five years for people ages 30-64
Diagnostic services
Office visit to review abnormal screening results
Breast surgical consult
Diagnostic mammogram
Fine needle aspiration of breast lump, including pathology reading
Colposcopy, including biopsy
Endometrial Biopsy (when done as a follow-up for a Pap with abnormal result of Endometrial cells or Adenocarcinoma)
High Risk HPV Panels (when done as a follow-up for a Sage-covered Pap with ASCUS or LSIL results)
Breast ultrasound
Breast biopsy
Note: Treatment for non-insured, Sage patients may be covered by the Medical Assistance for Breast or Cervical Cancer (MA-BC).
Income Eligibility 3
| | | |
| --- | --- | --- |
| Household Size | Monthly Income | Yearly Income |
| 1 | $3,038 | $36,450 |
| 2 | $4,108 | $49,300 |
| 3 | $5,179 | $62,150 |
| 4 | $6,250 | $75,000 |
| 5 | $7,321 | $87,850 |
| 6 | $8,392 | $100,700 |
| Add for each additional | $1071 | $12,850 |
Self-employed or farmers: use household net income (after business expenses)
Maximum allowable gross income (Effective January 1, 2023: Guidelines change yearly**)
Schedule a screening
If you are interested in receiving breast, cervical or colorectal cancer screening, or have questions call Sage at 1-888-643-2584 to see if you are eligible.
---
1 Sage age eligibility guidelines for breast and cervical cancer screening will be reviewed June 2023.
2 Age exceptions for breast services: If a woman under 40 has breast symptoms or a family history of breast cancer (self, parent, sibling, child) Sage may cover her office visit and any other breast screening testing. If further follow-up is needed, the woman could also have a diagnostic mammogram, breast ultrasound, breast surgical consult or outpatient breast biopsy.
3 Program income guidelines are based on the Federal Poverty Level. This is updated annually at the end of January. Sage's prior year guidelines remain in effect until then.
Last Updated:
06/06/2023