As we learn more about COVID-19, recommendations and guidance are updated frequently. Please check back often.
What MDH is Doing: Coronavirus Disease 2019 (COVID-19)
Health officials around the world are monitoring the situation carefully and are working hard to learn more about the virus. We are in contact with the Centers for Disease Control and Prevention (CDC), as well as other local and national partners to share information.
When new information becomes available, we will update health care providers around the state with current recommendations for screening, testing, and treatment for COVID-19.
Staying ahead of the virus
Minnesota has a strong disease surveillance system in place that includes partnerships with our hospital and clinic systems as well as local health departments. Finding cases quickly and responding to them effectively is key. That rapid response helps ensure that the ill person receives the care they need and it lessens the chance of other people getting sick.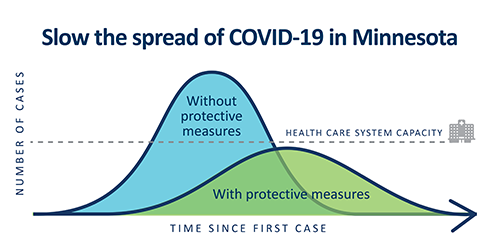 Quick and continued action during a disease outbreak slows the speed at which the disease spreads and reduces the overall number of those who become ill. Employed during outbreaks, these measures work effectively to mitigate the pandemic.
How we respond
It's helpful to think of a disease outbreak in phases.
Containment:
This is used to prevent the disease entering the U.S. and is only practiced when a disease is geographically isolated. In this case, the federal government limited travel into the country and screened all inbound travelers. Now that the disease is spreading throughout the U.S., we have expanded our approach.
Community Mitigation:
Once the disease is spreading in a community to people who are not known contacts, mitigation strategies are used to limit the exposure of community members. This is often referred to as social distancing. Measures that can be used to decrease and slow the spread of the virus in the community involve limiting pubic interactions. In Minnesota, this has meant closing schools, restaurants and other common spaces, asking employees to work remotely where possible, canceling large community events and gatherings, and asking meetings and faith services to be conducted virtually.
Pandemic Management:
Once the disease is widespread throughout the state strategies focus on resource management. We will continue to encourage self-isolation, good hygiene (hand washing, covering your cough), and we will monitor for community clusters. Annually, we practice pandemic management of seasonal influenza by encouraging self-isolation and hygiene, tracking cases and clusters and working with health care in monitoring hospital bed availability. This better prepares us to respond to this current situation.
Our response is based upon the current situation or phase we are in. Simultaneously, we are planning for the next phases.
We know information is changing quickly and that misinformation is circulating. Our website and CDC's Coronavirus Disease 2019 website are the best places to get the most accurate information.