As we learn more about COVID-19, recommendations and guidance are updated frequently. Please check back often.
For Community and Faith-Based Organizations


COVID-19 Vaccine Communication Toolkit
---
This toolkit is designed to help community and faith-based organizations educate communities about COVID-19 vaccine. Please note that as more information about COVID-19 vaccines becomes available, the resources on this page may be updated.
For more resources, visit CDC: Community Based Organizations COVID-19 Vaccine Toolkit.
About this toolkit
Who
Designed for staff of organizations serving communities affected by COVID-19. This includes:
Social service organizations
Faith-based organizations
School organizations (e.g., PTAs/PTOs)
Meal delivery services
Senior centers
Other community-based organizations (CBOs)
Purpose
Help organizations:
Educate community members about COVID-19 vaccines
Raise awareness about the benefits of vaccination
Address common questions and concerns
How to get started
Use these key messages when communicating with your community to help combat misinformation.
Print copies of the materials and use them as handouts.
Invite community members to post after-vaccination selfies on social media.
Adapt the key messages to the language, tone, and format that will resonate with your community. YOU know what works in your community.
Speaker request
If you would like someone from MDH to come and speak on COVID-19 vaccines at your organization, fill out the COVID-19 Vaccine Speakers Request Survey to request a speaker.
Find support in your community
COVID-19 Community Coordinators
COVID Community Coordinators support Minnesotans who need COVID-19 information specific to their communities, including in their languages and for their disability needs. Coordinators help community members find and get critical resources to deal with health concerns, employment, food access, housing, child care, and legal rights. Learn more at COVID-19 Community Coordinators.
Disability Hub
The Disability Hub is a valuable resource for information and COVID-19-related needs. For more information call 1-866-333-2466 or visit Disability Hub MN.
Refugee and Immigrant Resettlement Network
MDH is partnering with the Minnesota Department of Human Services (DHS) Refugee and Immigrant Resettlement Network to provide whole family support to refugee and immigrant communities impacted by COVID-19. Please share the Refugee and Immigrant COVID-19 Help Line flyers in your community! There are images below, in the social media section, that you can use to share information on the help line as well.
Refugee and Immigrant COVID-19 Help Line (PDF)
DHS Help Line flyer. Get help in your own language. Call 651-318-0989.
Toolkit contents
Tailor the below resources for your different audiences.
Vaccine safety
How COVID-19 Vaccines Are Made (PDF)
This handout explains how the COVID-19 vaccine processes and timelines were made more efficient compared to other vaccine development.
12/21/20
Vaccine Connector
The Minnesota COVID-19 Vaccine Connector helps Minnesotans find out when, where, and how to get a COVID-19 vaccine. This tool is for all Minnesotans 18 years of age and older who have not yet been vaccinated. Insurance and identification are not needed, and signing up is free.
Sample social media messages
Use these sample social media messages to help share more information about COVID-19 vaccines with your community members. Messages can be shared on your social media channels and link to more information. We encourage you to use your own photos or graphics to go along with the messages if you have something that is more relevant to your community.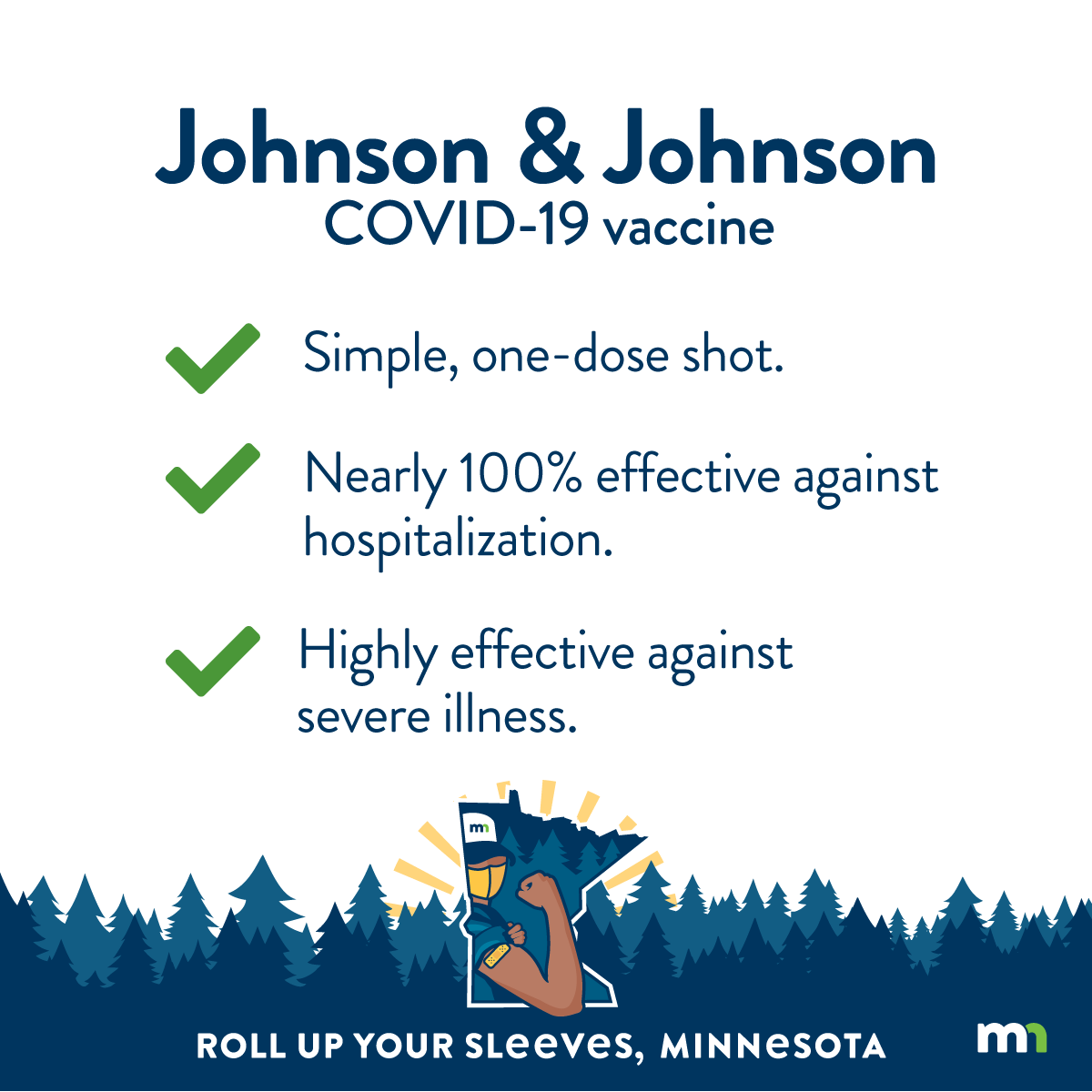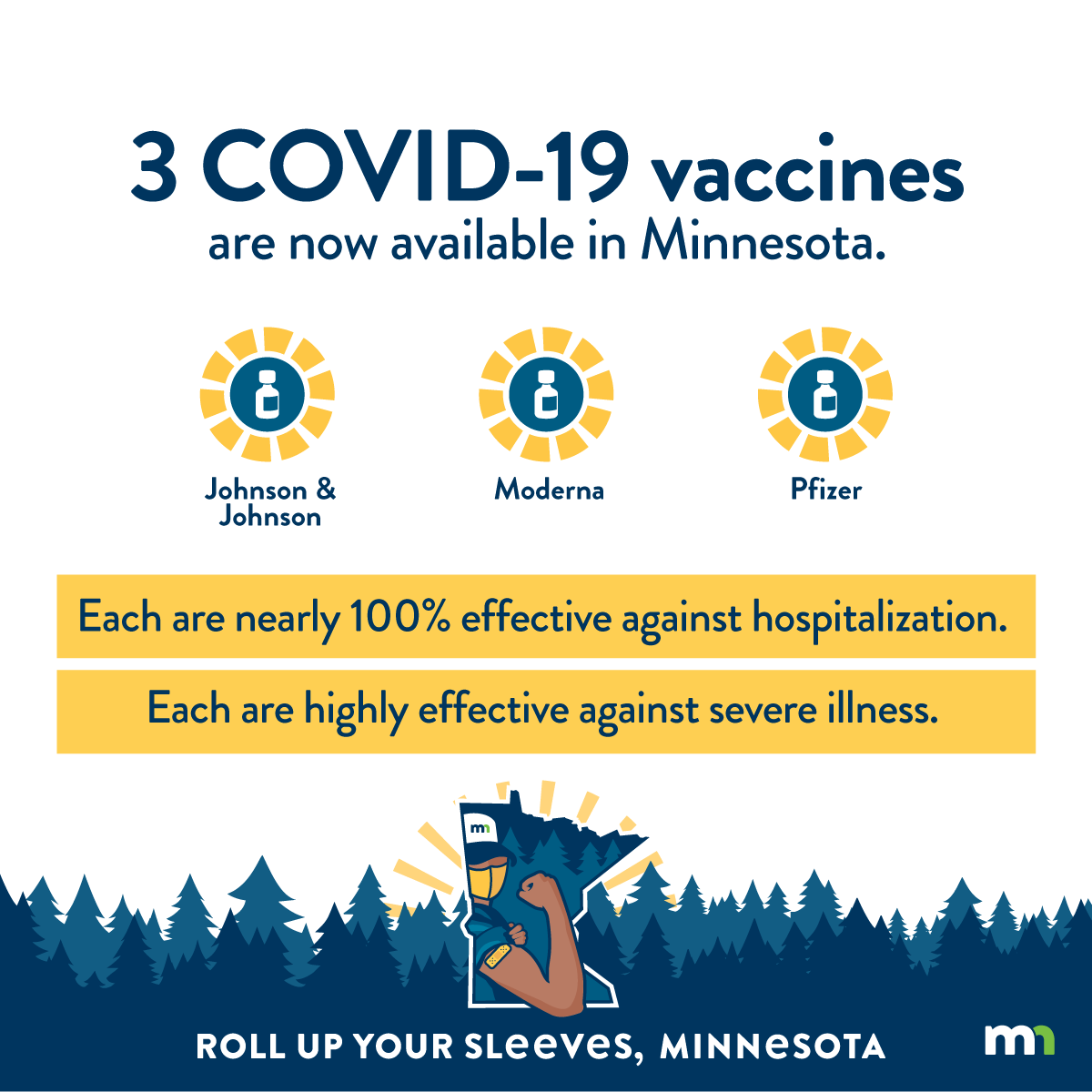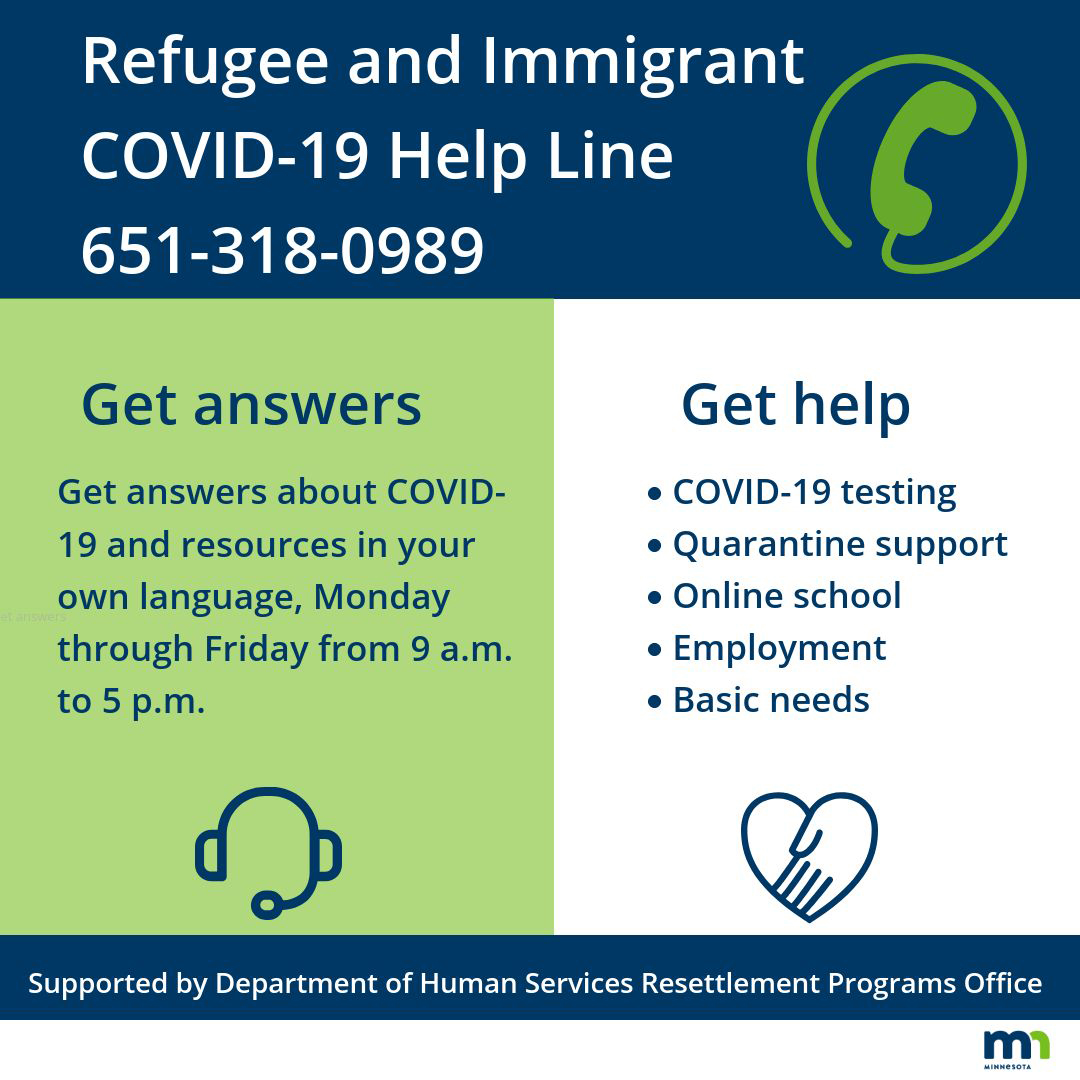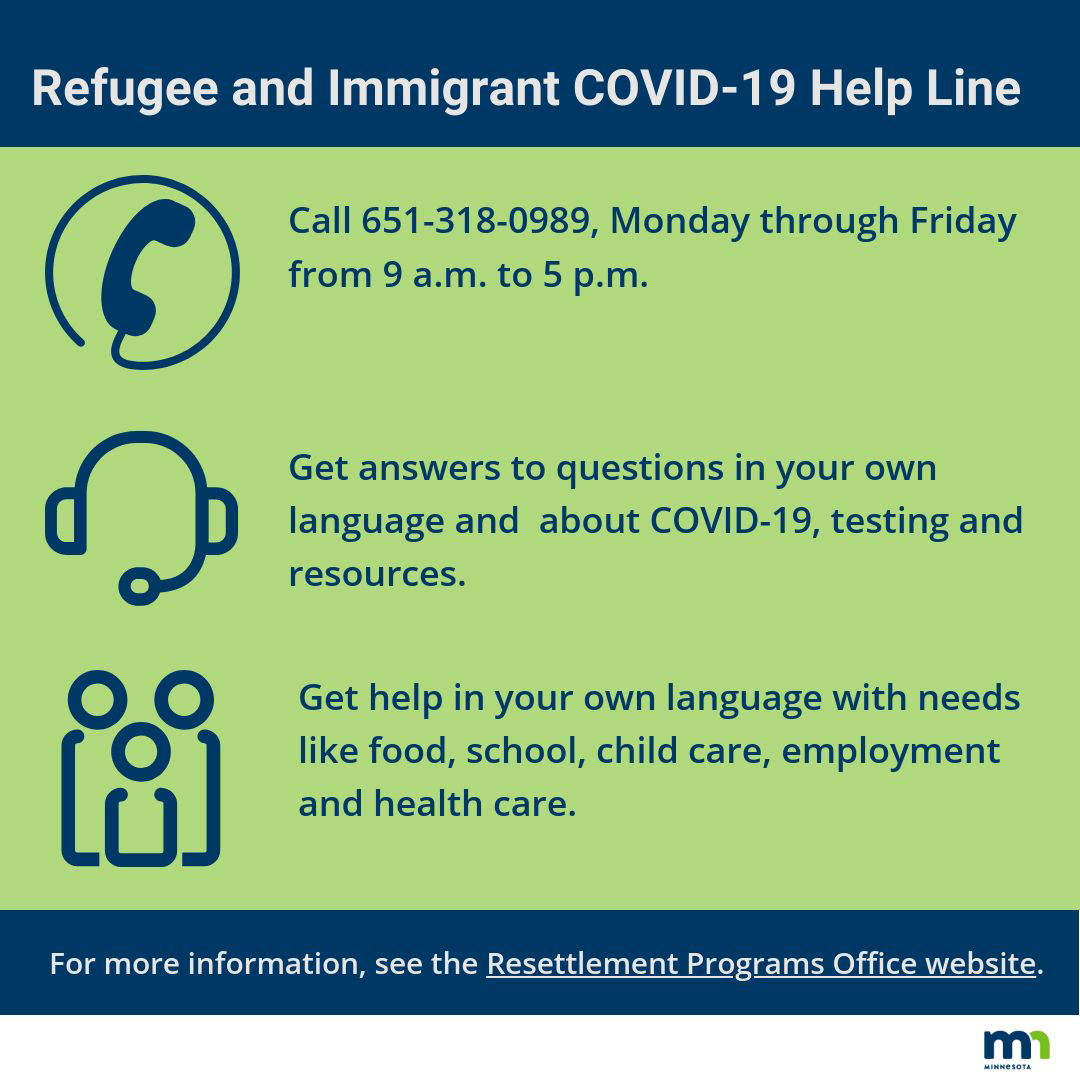 For the COVID-19 vaccine studies, manufactures made sure to include a diverse group of participants including people from Black, Latinx, American Indian and Asian communities. The studies showed that the vaccine worked for preventing COVID-19 in all these groups. #VaxMN #StaySafeMN

COVID-19 vaccines are safe and they work! This video answers common questions about how COVID-19 vaccines were tested, made, and approved. https://youtu.be/WHx3-FHVdbA #VaxMN #StaySafeMN

COVID-19 vaccines do not have preservatives, pork products or gelatin, or COVID-19 live virus. #VaxMN #StaySafeMN

The COVID-19 vaccine is free to everyone, no matter your immigration or insurance status. Some vaccination clinics may ask for medical insurance information. You should not receive a bill. If you do not have insurance, you can still get vaccinated. https://health.mn.gov/covidvaccine #VaxMN #StaySafeMN

If you get the Pfizer or Moderna COVID-19 vaccine, you will need two doses of the vaccine, and they need to be the same product. It takes two weeks after the second dose to be fully protected. It is important to continue to follow current public health guidance to reduce the spread of COVID-19. When recommended: wear a mask, stay 6 feet from others, wash your hands, get tested when needed, and stay home if you feel sick. https://mn.gov/covid19/vaccine/ #VaxMN #StaySafeMN

If you get the Johnson & Johnson vaccine, you only need one dose. If is important to continue to follow current public health guidance to reduce the spread of COVID-19. When recommended: wear a mask, stay 6 feet from others, wash your hands, get tested when needed, and stay home if you feel sick. https://mn.gov/covid19/vaccine/ #VaxMN #StaySafeMN

Minnesota is distributing all three COVID-19 vaccines widely to health systems, community vaccination sites, local public health, and pharmacies. This means that community members will not just see a single brand of vaccine offered in their communities.

Everyone who is eligible should get the COVID-19 vaccine when it is available to them. This includes people with medical conditions, who have had COVID-19, and those of different ages, races, and ethnicities. People who are pregnant and people with weak immune systems can get vaccinated. Talk to your doctor if you have questions. https://health.mn.gov/covidvaccine #VaxMN #StaySafeMN

Some people have side effects after getting the vaccine. Side effects usually last one or two days and usually do not prevent you from daily activities. You may have a sore arm, muscle aches, tiredness, headache, or a low fever. If you have questions or concerns about side effects, talk to your health care provider and report your side effects with CDC's v-safe tool.  https://www.cdc.gov/coronavirus/2019-ncov/vaccines/safety/vsafe.html. #VaxMN #StaySafeMN

We know people have many questions about COVID-19 vaccines. Learn more about COVID-19 vaccine at https://www.health.state.mn.us/diseases/coronavirus/vaccine/basics.html. #VaxMN #StaySafeMN
Watch out for scams! Public health officials or health care providers will never ask for money, your bank account, credit card, or social security number. Offers to sell or ship doses of the vaccine are also a scam. If you believe you are the victim of a COVID-19 scam, visit https://www.ag.state.mn.us/Office/Forms/COVID19Complaint.asp. #VaxMN #StaySafeMN