Minnesota's Diabetes Prevention Network
Mission
The mission of the Minnesota Diabetes Prevention Network is to prevent or delay new cases of type 2 diabetes from developing among Minnesotans who have prediabetes or are otherwise at high-risk.
Purpose
The purpose of the Minnesota Diabetes Prevention Network is to implement strategies specific to the National Diabetes Prevention Program that will improve implementation of benefits coverage and help to expand the National Diabetes Prevention Program (National DPP) delivery system to accommodate growing demand.
Partnerships
The Minnesota Department of Health (MDH) convenes the Minnesota Diabetes Prevention Network, a voluntary organization of prediabetes and diabetes stakeholders from many different sectors. The Minnesota Diabetes Prevention Network combines the best attributes of the Minnesota Diabetes Steering Committee and the Minnesota Diabetes Collective Impact Initiative, which were both sunset in 2016 and allowed for creation of this group.
Working groups and planning committees
The Minnesota Diabetes Prevention Network has three different levels as depicted below.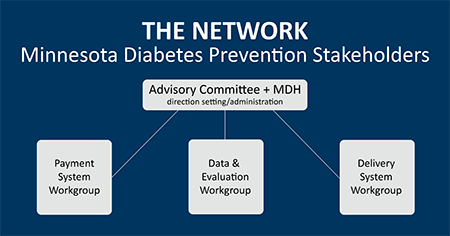 The Network
The Network includes diabetes prevention stakeholders across the state. Network members may be engaged at all levels of the work described below or they may choose to simply share information and keep current on National DPP-related work across the state through emails, webinars and conferences.
Advisory Committee
MDH will lead the work with input from an Advisory Committee of key stakeholders including diabetes and diabetes prevention experts, as well as representatives from worksites, not-for-profit organizations, government agencies, community-service associations, National DPP providers and health systems. The Advisory Committee began meeting in early 2017 and have been instrumental in shaping workgroup charges for each focus area.
Workgroups
Workgroups focused on one of three strategic implementation topics will coordinate efforts of stakeholders. The initial workgroup charges are focused on payment and DPP delivery.
Payment Workgroup
Within one year, Diabetes Prevention Recognition Program (DPRP) pending or recognized programs serving Medical Assistance participants will have concrete steps to seek and receive reimbursement for participation in the National DPP.
Delivery Workgroup
Within one year, we will select and begin to launch a National DPP class management system* using existing information technology solutions. This single online location will:
List all DPP classes offered in the state by Diabetes Prevention Recognition Program participating organizations
Enroll participants in programs
*The workgroup is strongly encouraged to consider a class management solution that allows a menu of programs to support people with chronic conditions or at risk for chronic conditions. A common approach may yield greater uptake of the system and higher use for making referrals.
How much of a time commitment will this be?
Workgroup members are asked to serve on the workgroup for the length of the project period or until goals are met. We will hold at least one in-person meeting each year. Members may meet more often in person or via different modes of communication, as needed.
Membership
All levels of participation are welcome. Participation in the Network and Workgroups is open to everyone. Advisory Committee positions are filled after review by MDH staff and current Advisory Committee members when current terms are due to expire.
Meetings
Each component of the Minnesota Diabetes Prevention Network meets regularly, but with varying frequency.
Advisory Committee – every 1 to 3 months to review strategic direction and plan.
Workgroups – as determined by workgroup co-chairs. We envision that most workgroups will meet on average every 4-6 weeks.
The Network – is convened one to three years in a conference format. Throughout the year, newsletters and webinars provide opportunities for networking and learning.
For more information about the Minnesota Diabetes Prevention Network, please contact health.diabetes@state.mn.us.
Last Updated:
10/03/2022