Mortuary Science Announcements
Subscribe to Mortuary Science Announcements
June 30, 2022: Important News for Funeral Homes regarding Hennepin Healthcare / HCMC Office of Decedent Affairs
The 7th Street Entrance and Exits to the Purple Ramp will be closed for repairs and repaving from Thursday June 30 – Tuesday July 5. Normal processes for entering off 7th street will resume Wednesday July 7.
Instructions for driving and accessing morgue during ramp repairs:
Please call the Decedent Affairs Coordinator at 612-873-5120 regarding what time you will be arriving for the morgue release; please ensure you are calling at minimum 30 minutes in advance of arrival. General morgue releases will still occur Monday-Friday 0830-1630.
Enter the Purple Parking Ramp off 6th Street (Building is 600 Park Avenue). Drive into the area that says DO NOT ENTER. When at the closed garage door, contact the EMS Duty Supervisor at 612-369-8424 and inform them that you are at the 6th Street Entrance and need to be let in. EMS will assist with opening the garage, guiding you to a parking spot, and lead you to the freight elevator to get to the morgue.
Take the freight elevator down to LL and access the morgue.
When ready to return to your vehicle you will take the freight elevator to 1R and exit the parking garage the exact same way you came in.
The images below will help you visualize: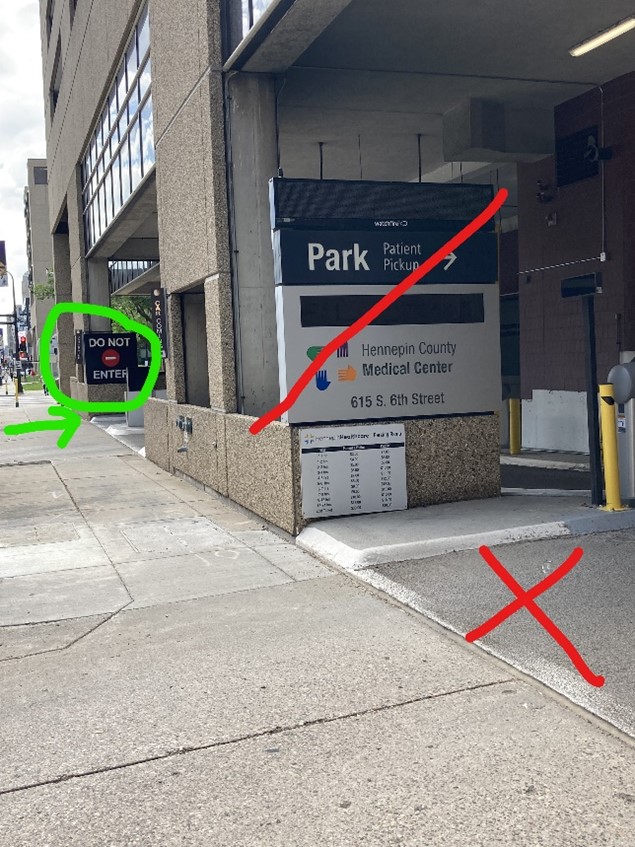 If you have questions, please call the Decedent Affairs Coordinator at 612-873-5120.
Updated Guidance: Testing Decedents for COVID-19
People who have signs and symptoms consistent with COVID-19 may die for a variety of reasons prior to being tested for SARS-CoV-2, the virus that causes COVID-19. The Minnesota Department of Health (MDH) has worked with medical examiners, coroners, and morticians to provide post-mortem SARS-CoV-2 testing supplies by request, as outlined by CDC: Collection and Submission of Postmortem Specimens from Deceased Persons with Confirmed or Suspected COVID-19.
This guidance is intended for morticians, funeral homes, and crematories and provides instructions on how to request supplies from MDH and administer COVID-19 tests to decedents. Questions about this guidance can be directed to Health.Mortsci@state.mn.us.
See the full document here: Testing Decedents for COVID-19 (PDF)
New Mortuary Science Licensing Exam is Open!
We are pleased to announce the online, on-demand Minnesota Mortuary Science Licensing Exam is open and available for interns and morticians seeking a license through reciprocity. We are excited to offer the exam in a way that meets the needs and demands of the industry.
Eligible students or morticians seeking reciprocity can register for the exam at Mortuary Science State Licensing Exam.
The cost is $125.
A test date will be scheduled with the applicant.
The exam is scored immediately, which allows the newly licensed mortician to begin practicing and has built-in security features which protect the integrity of the exam and the identity of the applicant.
When you are ready to take the exam, please register using the link above. If you have questions about the new exam, please contact us at health.mortsci@state.mn.us.
Guides for Addressing Deaths by Suicide and Overdose
Funeral director resource guides are now available to provide a resource for having difficult discussions addressing deaths by suicide and overdoses.
Difficult Conversations: A guide for funeral directors addressing deaths by suicide (PDF)
Difficult conversations: A guide for funeral directors addressing deaths due by drug overdose (PDF)
2020 Pre-Need Trust Fund Report submission period ends March 31
The 2020 Pre-Need Trust Fund Report deadline is fast approaching! Reports must be submitted by March 31, 2021.
The forms can be found on the Mortuary Science website at Mortuary Science Pre-Need Information. There are three forms to choose from. Please choose a format that works best for your establishment reporting. Please submit your report by March 24 to allow MDH staff five business days to process your report. If it is submitted after March 24, we cannot guarantee it will be processed by the March 31 deadline.
Industry Communications
Sept. 17 Conference Call
The Minnesota Department of Health Mortuary Science Section staff held the second industry-wide conference call on Thursday, Sept.17. Staff provided updates and answered questions.
June 4 Conference Call
Mortuary Science June 4, 2020 Industry Conference Call Recording (mp3 file)
Information about Unlicensed Staff
Roster of Unlicensed Trained Employees
Mortuary Science Temporary Licenses Issued
Farrah G. Welch
T-21-02
4/1/2021
Kari J. Hannen
T-21-03
4/1/2021
Johanna M. Heinecke
T-21-01
2/1/2021
Landon Ford
T-20-10
12/15/2020
Alexandra J. Hacker
T-20-08
12/14/2020
Danny R. Collins
T-20-09
12/14/2020
Steven P. Tibbetts
T-20-07
Issued 10/26/2020
MN – all counties
Michael R. Anderson
T-20-06
Issued 10/09/2020
Bryan A. Hugeback
T-20-04
Issued 7/28/2020
Scott County
Stephanie M. Kirchgesler
T-20-05
Issued 7/18/2020
Freeborn County
James L. McDaniel
T20-03
Issued 07/14/2020
Hennepin County, Ramsey County and St. Louis County
Amber C. Tegeler
Temporary License T20-02
Issued 06/29/2020
Fillmore County and Mower County
Emily A. Erickson
Temporary License T20-01
Issued 06/12/2020
Lyon County