Opioids


Expanding Naloxone Access for Preventing Opioid Overdose

Naloxone is a potentially lifesaving drug that can reverse an opioid overdose. Visit Opioid Overdose Prevention & Control for more information.
Minnesota's response
Minnesota is experiencing an alarming increase in drug overdose deaths. In 2018, there were 343 opioid overdose deaths related to opiate pain relievers and heroin. Visit the Opioid Dashboard for all statewide data related to opioid use, misuse, and overdose death prevention.
In 2016, the Minnesota Legislature responded to the continued increase in statewide opioid overdoses by passing Session Law, Chapter 124. One of the goals of this legislation is to increase the availability of naloxone through pharmacies across Minnesota.
Pharmacists, in collaboration with a registered practitioner, may enter a written protocol to provide naloxone to persons at risk for, or know of someone at risk for, opioid overdose.
Pharmacies that dispense naloxone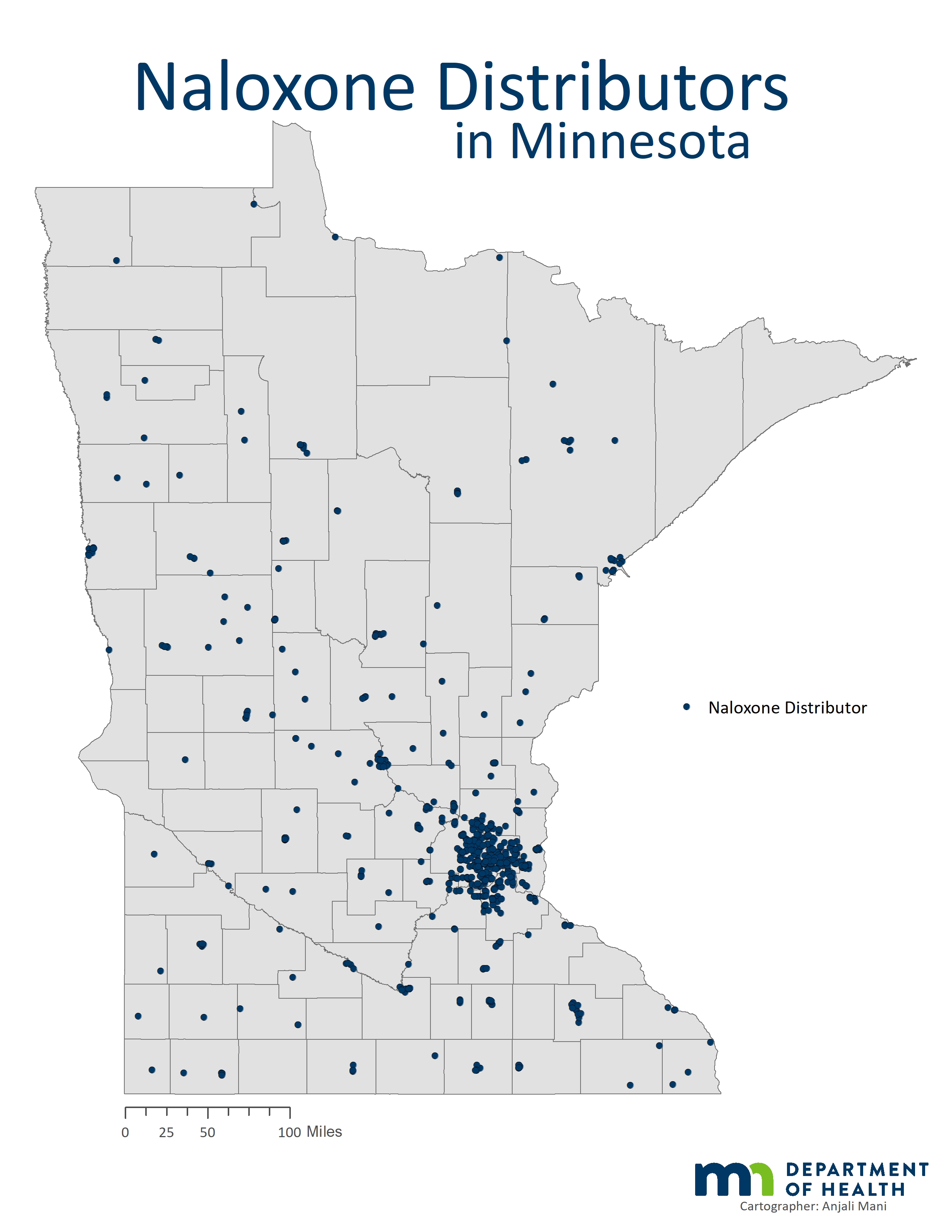 You can get naloxone at any of the pharmacies listed on Participating Pharmacies with a Naloxone Protocol (PDF). These pharmacies have entered a naloxone protocol with MDH. Pharmacy chains like Walgreens and CVS (not included in map above) also have their own company naloxone protocols.
Dispensing naloxone
Pharmacists may enter a written protocol with:
Pharmacists may enter into a written protocol in collaboration with a licensed practitioner, who is permitted by law to prescribe an opiate antagonist, such as a physician, advanced practice registered nurse, or physician assistant. Together they may either use the Minnesota Board of Pharmacy's Opiate Antagonist Protocol (PDF) developed as a result of the 2016 legislation or develop their own protocol.
Your local Community Health Board may have designated a local medical consultant (e.g., health department medical director) as the prescriber of record for your community. Check the MN Opiate Antagonist Prescribers of Record list below to find the designated prescriber of record for your community.
Aitkin-Itasca-Koochiching CHB
Anoka County CHB
Beltrami CHB
Benton County Human Services
Blue Earth County CHB
Brown-Nicollet CHB
Cass County Health, Human and Veterans Services
Chisago County CHB
Cook County
Countryside CHB
Crow Wing County CHB
Dakota County CHB
Des Moines Valley HHS
Dodge-Steele CHB
Faribault-Martin CHB
Fillmore-Houston CHB
Freeborn County CHB
Goodhue County HHS
Hennepin County CHB
Horizon Public Health
Isanti County CHB
Kanabec CHB
Kandiyohi-Renville CHB
Lake-St. Louise CHB
Le Sueur-Waseca CHB
Meeker-McLeod-Sibley CHB
Mille Lacs County CHB
Minneapolis CHB
Morrison-Todd-Wadena CHB
Mower County CHB
Nobles County CHB
North Country CHB
Olmsted County CHB
Partnership4Health CHB
Pine County CHB
Polk-Norman-Mahnomen CHB
Quin County CHB
Rice County CHB
Scott County CHB
Sherburne County CHB
Southwest Human and Health Services (SWHHS)
Stearns County CHB
St. Paul-Ramsey County CHB
Wabasha County CHB
Washington County CHB
Watonwan County CHB
Winona County CHB
Wright County CHB
Prescriber of Record – Local
Please contact the personnel listed below to enter a naloxone protocol with a designated local prescriber.
Bloomington CHB – John Bjorklund, MD

Contact: Bonnie Paulsen, bpaulsen@bloomingtonmn.gov

Carlton County – Kenneth Ripp, MD

Contact: Kenneth Ripp, MD KRipp@raiterclinic.com

Carver County CHB – David Willey, MD

Contact: Richard Scott, rscott@co.carver.mn.us

Edina CHB — John Bjorklund, MD

Contact: Jeff Brown, jbrown@EdinaMN.gov

Richfield CHB – John Bjorklund, MD

Contact: Betsy Osborn, BOsborn@cityofrichfield.org

St. Louis County - Elisabeth Bilden, MD

Contact: Louise Anderson, LouiseA@communityhealthboard.org
Pharmacists who need a licensed practitioner also have the option of entering into the Board of Pharmacy's Opiate Antagonist Protocol with the Minnesota Department of Health's Medical Director, Ruth Lynfield, MD. To enter this protocol, pharmacists, group pharmacies and chain pharmacies must complete the Opiate Antagonist Protocol Registration form at their earliest convenience. For questions or concerns regarding this option, please contact Cody Bassett, MDH Naloxone Coordinator at cody.bassett@state.mn.us.
Prescribing naloxone
Release of Liability
All licensed health care professionals may directly or by standing order, prescribe, dispense, distribute, or administer naloxone to a person without being subject to civil liability or criminal prosecution per 2016 Minnesota Statutes 604A.04 Good Samaritan Overdose Prevention. This immunity is also extended to the Commissioner of Health and Minnesota Department of Health practitioner by section 3.736, subdivision 9.
Laws and Protocol
This statutory language, enacted during the 2016 Legislative Session, requires the Minnesota Board of Pharmacy to develop an opiate antagonist protocol. Community Health Board medical consultants or a practitioner working for the Minnesota Department of Health may enter into this protocol with any licensed pharmacist(s). This subdivision also extends certain liability protections to the medical consultants and the practitioner.
Board of Pharmacy Opiate Antagonist Protocol
The Minnesota Board of Pharmacy has developed a written protocol for the use of pharmacists who want to work with medical consultants of Community Health Boards, and the Minnesota Department of Health's practitioner. Pharmacists may also use this protocol if they are working with a different practitioner. However, pharmacists are not required to use this protocol in order to be involved in the prescribing of opiate antagonists. Instead, they can work with another licensed practitioner to develop their own written protocol as allowed by Minn. Stats. §151.01, subd. 27(6). Questions regarding the protocol and legalities may be directed to the Board of Pharmacy at pharmacy.board@state.mn.us.
Training Opportunities for Practitioners and Pharmacists
University of Minnesota Naloxone Resource Site
CME/CPE presentation on identifying risks, signs and symptoms of opioid overdoses and understanding the various naloxone formulations. Healthcare providers who watch the video are able to earn CME/CPE credit at no cost.
Overdose Prevention
Steve Rummler Hope Network
Training on three types of naloxone administration devices.
Evzio Auto Injector®
Intermuscular Injection with Vial and Syringe
Narcan Nasal ®
Overdose Prevention and Naloxone Rescue Kits for Prescribers and Pharmacists
Boston College and the Substance Abuse and Mental Health Services Administration
Through a case study, you will learn how to prevent overdoses among your patients and their social networks. Videos of Patient-Pharmacist-Prescriber encounters model how to provide patient overdose education and naloxone rescue kits.
Naloxone Access: A Practical Guideline for Pharmacists
College of Psychiatric & Neurologic Pharmacists
Drug overdoses are occurring at an alarming rate in the United States. Most overdoses have been linked to opioid analgesics, which may have been obtained from community pharmacies. One potential solution is to offer take-home naloxone. Please note this this training requires an account.
Prescribe to Prevent (Video)
Various short-form videos explaining naloxone use for opioid overdose prevention, recognizing the signs of overdose and responding to overdose.
Opioid Overdose Prevention Toolkit
Substance Abuse and Mental Health Services Administration
Equips health care providers, communities and local governments with material to develop practices and policies to help prevent opioid-related overdoses and deaths. Addresses issues for health care providers, first responders, treatment providers, and those recovering from opioid overdose. Updated in 2016.
Substance Abuse Treatment Referrals
Substance Abuse and Mental Health Services Association
Safe Disposal Resources
Managing Unwanted Medications

The Minnesota Pollution Control Agency describes ways the community can manage and dispose unwanted medications.

Disposing of Needles and Syringes

The Minnesota Pollution Control Agency also provides information on safe disposal of needles, lancets and syringes (sharps) to prevent injury and disease transmission from needle-sticks.
Other Resources
Frequently Asked Questions
Yes. Email an Excel list of store names, numbers, street address, county, and phone number to
cody.bassett@state.mn.us
. Please indicate if any locations are safe disposal sites.
Once your registration is received, it will be processed by MDH. You will receive a registration confirmation email. Pharmacists should communicate the naloxone protocol to their pharmacy staff.
Naloxone is exempted from DEA scheduling and is a legend drug. In Minnesota, a legend drug is a drug that is required by federal law to be dispensed only pursuant to the prescription of a licensed practitioner.
Minn. Stat. § 151.01-17
. No PMP reporting is required as it is not a controlled substance. Visit the
Drug Enforcement Agency's website
about excluded nonnarcotic substances.
It will depend on the individual patient. Some patients may have insurance that covers the dispensing of naloxone, others may not. For those who do not have insurance coverage, they may need to pay cash. The cost of naloxone also depends on the type of naloxone being prescribed (injection or nasal spray).
If a person is unable to get naloxone at a pharmacy, there are other ways to get naloxone free or at lower cost. The following community-based organizations provide free training and naloxone kits at no charge:
Prescriptions for legend drugs may have refills if the provider indicates so within the valid prescription. Since naloxone may also be 'prescribed' by a pharmacist with a collaborative agreement working under protocol with a physician or other provider, then refills would be entirely dependent on what the current, enacted protocol indicated. The Opiate Antagonist Protocol under Dr. Lynfield does not specify refills, therefore each encounter would need to be a new protocol prescription based on the pharmacy enacted protocol rather than a refill.
The protocol provides directions for pharmacists (see Opiate Antagonist Protocol, section 2 "Procedure"). Pharmacists are obligated to ensure patients understand how and when to use naloxone, and are encouraged to participate in trainings listed in the protocol. Additionally, pharmacists should be well aware that naloxone is not a self-administered drug, so naloxone recipients must be well educated on when and how to administer naloxone.
Get involved
Sign up for the Opioid Overdose e-mail updates to get information on events, data and research, and more.
Contact: