Creating Health Equity Through Health Services
Key Role in Health Equity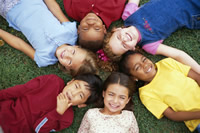 School nurses have an essential role to play in creating equity for students related to health and their education. School nurses have a unique vantage point because so often they are helping a students and their families to get all of their basic needs met in order to ensure that they maintain health and prevent disruptions in learning. These can be maintained and they can be in school and ready to learn. School nurses connect families with housing, employment, food security and other necessities referrals, assisting with forms, address structural and individual racism, build trauma informed communities or even direct contacts, going on home visits and so much more. More and more school nurses are recognizing the powerful effects of the relationships they have with students and their families and are using them to ensure students have health and academic access.
Refugee, Immigrant and Migrant Health
Minnesota's Refugee Health Program partners with local health departments, private health care providers, and community organizations to offer each new refugee a comprehensive screening examination, appropriate follow-up or referral, and community-based health education.