Obesity Quick Facts
Get Your Questions Answered
How is obesity defined?
Obesity is defined as a body mass index (BMI) of 30 or higher.
2017 Resources
What is BMI and how is it calculated?
Body Mass Index (BMI) is a person's weight in kilograms divided by the square of height in meters. BMI can be used to screen for weight categories that may lead to health problems but it is not a diagnostic measure of health risk. Individuals should talk to their health care provider. To learn more, visit How is BMI calculated?
What is the adult obesity rate in Minnesota?
The state's adult obesity rate in 2017 was 28.4 percent, up 0.7 percentage points from 2016.
How does Minnesota's adult obesity rate compare with nearby states?
Minnesota's obesity rate was significantly lower than the neighboring states of Iowa, North Dakota, South Dakota and Wisconsin in 2009 and from 2011 to 2017.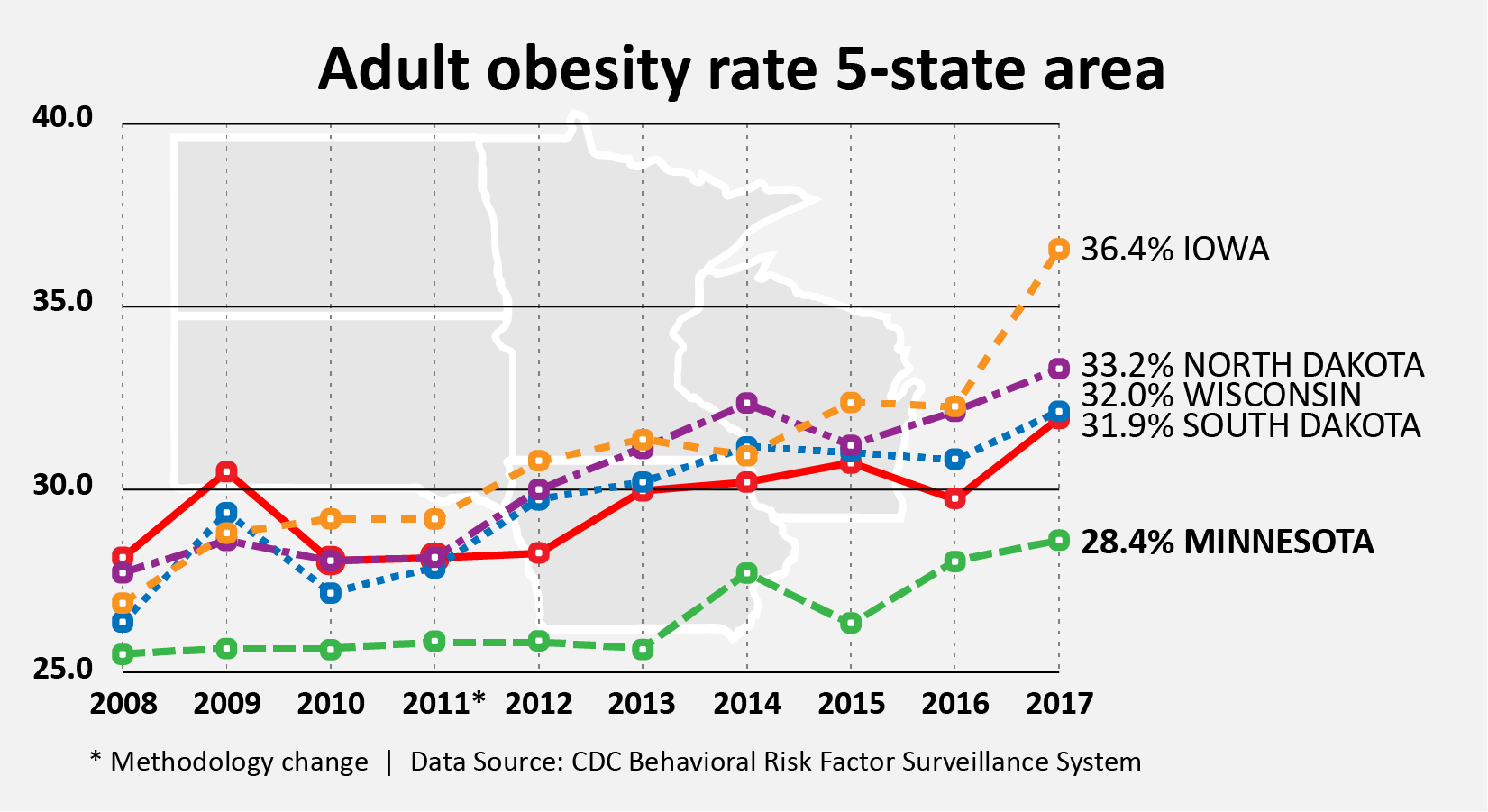 What are the health consequences of obesity?
People who are obese, compared to those with a normal or healthy weight, are at increased risk for:
High blood pressure
Type 2 diabetes
Coronary heart disease
Stroke
Osteoarthritis (a breakdown of cartilage and bone within a joint)
Sleep apnea and breathing problems
Some cancers (endometrial, breast, colon, kidney, gallbladder and liver)
Low quality of life
Mental illness such as clinical depression, anxiety and other mental disorders
Body pain and difficulty with physical functioning1
What is the cost of obesity in the state?
In Minnesota, medical expenses due to obesity were estimated to be $2.8 billion in 2009.2
What is being done to help reduce obesity rates in Minnesota?
Across Minnesota, communities are working together through the Statewide Health Improvement Partnership (SHIP) to expand healthy eating and active living opportunities with multiple strategies, across multiple settings and multiple sectors. SHIP spends $17.5 million per year supporting grant funding to local community partners in all 87 counties and 10 tribal nations.
SHIP grants support locally controlled community leadership teams, which have linked with more than 4,100 active partner sites, including schools, workplaces, communities, health care facilities and child care facilities, while supporting and leveraging the work of a variety of partners such as community groups, schools, employers, farmers, chambers of commerce, hospitals and health care facilities, city planners, county boards, tribal officials and more.
Learn More
Graphic concept: Email from SDK Communications to Minnesota Department of Health (April 1, 2015) (on file with Department).
1Adult Obesity Causes & Consequences. Centers for Disease Control and Prevention. Retrieved from the CDC's website.
2Trogdon, J. et al. State- and Payer-Specific Estimates of Annual Medical Expenditures Attributable to Obesity. Obesity (2011).