MN Public Health Data Access Portal
Related Sites
Health Promotion and Chronic Disease Division
Centers for Disease Control and Prevention
Radon in Minnesota
Novel Data Analysis Identifies Higher Radon Risks Statewide and Informs County Officials
Health risks of radon
The U.S. Surgeon General has warned that radon—a colorless, odorless gas— is the number one cause of lung cancer in non-smokers and the second leading cause of lung cancer (after tobacco use) in smokers in the United States today.
Gaps in local data prompts collaborations and new data analyses
MN Tracking partnered with the MDH Indoor Air Quality Unit to analyze radon test results from eight private radon labs in Minnesota and develop key radon data measures to highlight differences in radon testing and radon levels across Minnesota counties. Radon tests were geocoded to identify a latitude and longitude and assigned to the intersecting county. This provided a more accurate picture of the radon levels for each county and was a novel approach to radon data analysis.
The number of radon tests conducted in each county was then adjusted for population size in order to compare testing rates by county. Analyses indicated that the radon levels are higher than EPA radon risk potential predicted.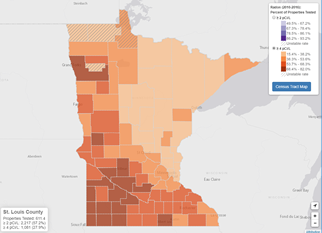 72% of counties have average radon levels that exceed ≥4 pCi/L and
2 in 5 Minnesota buildings tested statewide have radon levels that pose a significant health risk.
Minnesota radon county-level, seasonal data and use
The MN Data Access portal launched new radon content in 2015 and now displays information using interactive maps and charts that show:
Nine radon measures per county,
Minnesota radon levels compared to national levels,
Annual number of tests conducted,
Number of counties within the EPA radon level categories, and
Radon level seasonal variation.
The MDH Indoor Air Quality Unit, other state programs, policy makers, public health organizations, local public health, and researchers are using these data to inform their planning, outreach, research and evaluation. They are using the information to educate real estate agents on the risks of radon exposure to better inform their clients.

Access radon data and more on the MN Public Health Data Access Portal.
Related Links
Minnesota Environmental Public Health Tracking Program
Updated
Last Updated:
11/28/2022