News Release
Oct. 16, 2023
State leaders honor champions for the health of mothers and children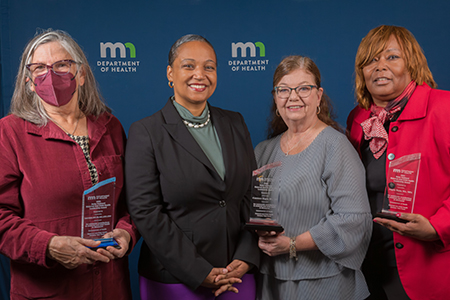 The annual Betty Hubbard Maternal and Child Health Leadership Award honorees for 2023 are Faith Kidder, Minneapolis; Connie Hagen, Plummer; and Angela Watts, Plymouth. The award recognizes people or organizations in Minnesota making significant contributions to maternal and child health.
Members serving on the Maternal and Child Health Advisory Task Force recognized Kidder, Hagen and Watts this month for promoting good health for mothers and children.
"This year's award recipients have made exceptional contributions to the health and well-being of mothers, children and families in Minnesota," Minnesota Commissioner of Health Dr. Brooke Cunningham said. "Their dedication has helped to transform and advance health care in Minnesota and improve the lives of families across the state."
Each year, the Betty Hubbard award is given for statewide and community achievement.
Statewide award
Faith Kidder received the statewide award for her long-standing efforts to advance maternal and child health across Minnesota. Kidder retired from the Minnesota Department of Health (MDH) in 2023 as the child health consultant for the agency's Child and Teen Checkups program. Prior to more than a decade of service at MDH, Kidder held a variety of positions also dedicated to improving maternal and child health, such as a certified emergency medical technician and pediatric nurse practitioner.
During her career, Kidder's leadership and engagement with partners led to statewide evidence-based standards for pediatric preventive care being created and adopted by Minnesota's Medicaid program for children and youth. She worked with the Minnesota Autism Interagency Workgroup to raise awareness about need for early identification and support for families. She also addressed the critical and under-resourced issue of early childhood oral health, helped shape developmental screening best practices in well child care and worked with the Minnesota Juvenile Justice Advisory Committee to create recommendations for change and standards for health care for youth involved in the juvenile justice system.
Community awards
Connie Hagen received the community award for her career-long dedication to being an advocate for breastfeeding in northern Minnesota. Hagen, a maternal and child health care provider, recently retired from Pennington and Red Lake County Public Health and Home Care after serving new mothers, babies and families for more than 21 years.
Hagen began working as a registered nurse in 1976. Since then, she has dedicated her career to assisting people with their breastfeeding and early parenting journey. She used that expertise as an international board-certified lactation consultant to support new mothers and families, beginning in pregnancy through the early years of the child's life. Hagen was the facilitator for the Community Breastfeeding Coalition and kept staff and partners in the community up to date on the workplace breastfeeding policies and legislative updates. She initiated the Breastfeeding Friendly Workplace recognition for the Pennington and Red Lake County Public Health Department and worked on creating a room for breastfeeding needs in the building, as well as setting up designated areas for breastfeeding needs at local county fairs.
Angela Watts received the community award for working throughout her career to support maternal and child public health activities and create community-driven solutions that result in improved outcomes for American Indian and communities of color experiencing health inequities. Watts is currently the director of Health Equity Strategic Initiatives and Impact at Hennepin Healthcare.
Originally hired by Hennepin Healthcare as the Director of the Redleaf Center for Family Healing, Watts co-led the physical construction of the new center. As a partner in Ramsey County's Birth Equity Community Council, Watts is helping to address birth outcomes through policy change, and she has been an integral leader in the Hennepin County Birth Justice Collaborative. Her career encompasses Hennepin County Health and Human Services, Minnesota's Children's Museum and work with former Minneapolis Mayor Betsy Hodges.
More information about the award winners can be found on the Minnesota Department of Health website, Betty Hubbard Award. This year, the 34th annual Betty Hubbard Maternal and Child Health Leadership Awards were presented on Oct. 13 in St. Paul. The awards have been presented annually since 1990. They are sponsored by the Minnesota Department of Health and the state Maternal and Child Health Advisory Task Force in honor of Betty Hubbard, one of the original members of the Maternal and Child Health Advisory Task Force and a lifelong advocate for the health of mothers and children. Nominations for the Betty Hubbard Awards are solicited each year by the Maternal and Child Health Advisory Task Force.
-MDH-
Media inquiries:
Scott Smith
MDH Communications
651-503-1440
scott.smith@state.mn.us
Last Updated:
10/16/2023