SharePoint External Partner Help
This page is for partners who have been invited to work on an external MDH SharePoint site.
Step 1: Get Invited
Talk to your MDH program to get an invitation to MDH's SharePoint site.
Step 2: Follow the Link
Follow the link in the invitation. You should see a login screen with a Minnesota lake and trees.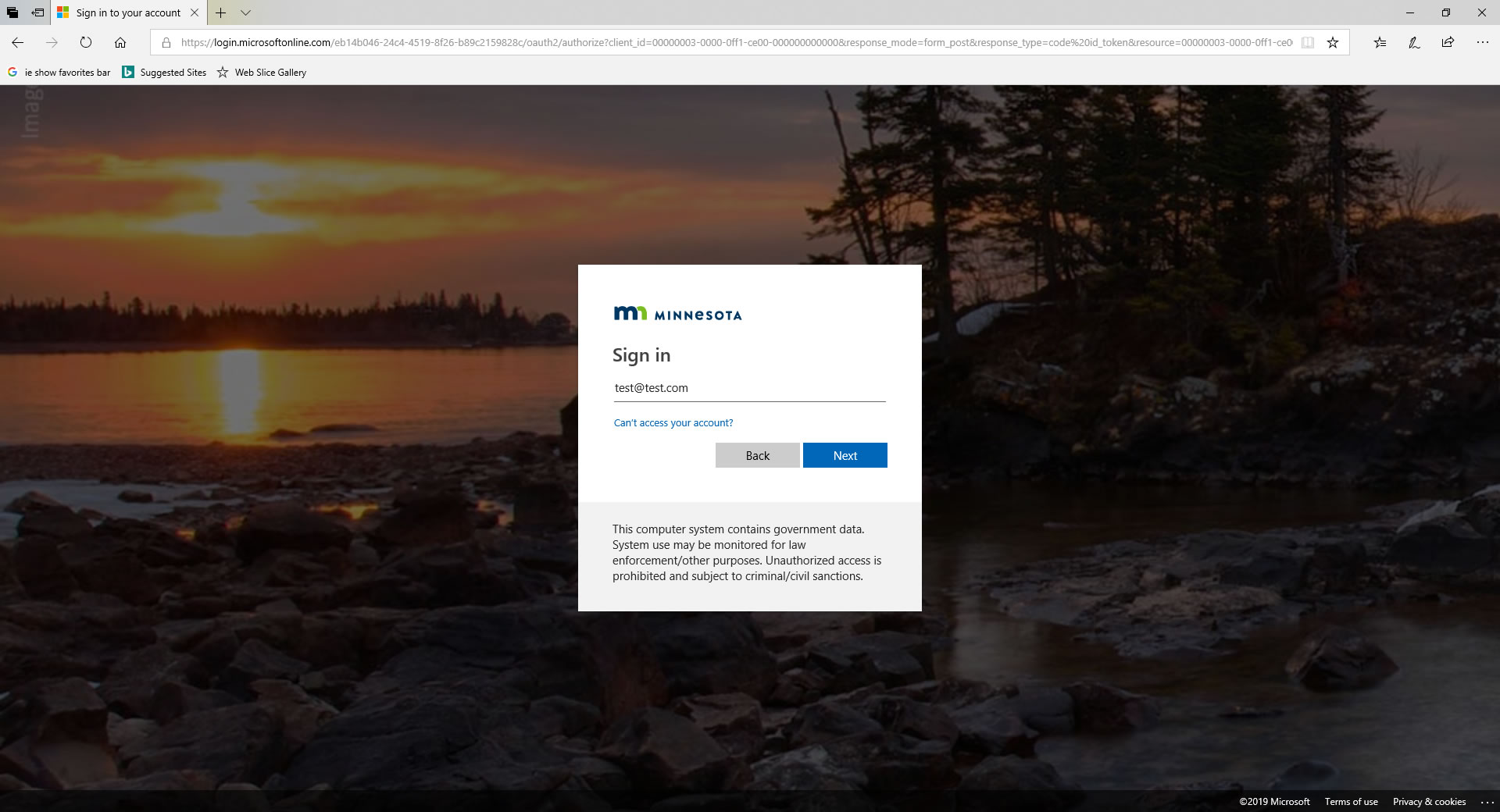 It may show the correct email. Hit Next to enter your password and enter the site.
It may show the wrong email. You are likely logged into SharePoint with the alternate email. Open another tab and use that email to access SharePoint. Logout of SharePoint. Close the browser entirely. Go back and click the link again. If the email is still wrong, correct it to the email you want. Hit Next to enter the password associated with this Microsoft account.
It may offer you a choice of emails. Choose the one you want, or select Use Another Account.
Email Not Found
It may claim that your email cannot be found in this SharePoint Directory. Assuming that you are starting with an invitation from MDH, it's likely that you do not have a Microsoft account set up for this email. Watch for the word "or Create an Account" to set up a new Microsoft on your email. In most cases, you will be setting up a personal Microsoft account associated with your work email.
Work/School Account vs. Personal Account
You may be asked if the email you are using is a Work or School account, or a Personal Account. Personal accounts are the ones that YOU set up. Work or school accounts are ones that your IT department set up. You will use a Personal account unless your agency is using O365.
Get more help
If you are unable to sign into SharePoint at this point, contact your MDH program for additional direction/assistance. Please provide:
The type of account you chose
The email you used
The error messages you received
FAQs
"I used to be able to login, but now I can't"
Your agency may have completed an O365 migration - ask them! If so, you now have two accounts (Microsoft and Organizational), both using your work email. When you try to login, SharePoint gets confused. You need to remove your work email from your Microsoft account.
Solution:
Clear your cache in Internet Explorer (if that's the browser you are using). This one-minute video How to Clear Cache in Internet Explorer (Youtube: 1 minute) has clear instructions to deeply clean your cache.
Login with a different browser. If that doesn't work, then:
Go to Login to Microsoft, and sign in. Click on Your Info across the top. Click on the Contact Info tab. Look for Email: These email addresses are associated with your Microsoft account. Click on Manage this email address. Authenticate your email by receiving a code to a phone or email. Add a new email (you can create one, or use a personal email). Make that email primary. Remove your work email.
It still probably won't work using the same browser. Copy the URL of your SharePoint site to a different browser. Eventually, your primary browser cache will empty, and it will work too.
"I have a Microsoft account, but I still can't sign in to MDH's SharePoint site"
Go to Login to Microsoft, and sign in. Once you're successfully signed in, close your tab and browser.
Click on the SharePoint link that came in your invitation email from MDH, and sign in with the email address and password that you just used to sign in to your Microsoft account. Note that the email address you use for your Microsoft account must be the same address that MDH uses to send you an MDH SharePoint email invitation.
"I know that my organization is on O365, but when I try to sign in using the organizational link in the invite, it isn't working."
Check with your IT to make sure you are using the correct email for your O365 account. Other users have discovered that the email they use day-to-day (jane.doe@county.co.mn.us) isn't the one used for O365 (jdoe@county.co.mn.us). Let us know if this is the case for you and we will withdraw the original invite and send another one using the correct email.
"Which browser is best?"
If you are getting errors, sometimes it's worth trying a different browser. There is not a preferred browser for this version of SharePoint. If one doesn't work, try another!
"I logged in once, but now when I use the link in my invitation email, I can't sign in."
You should only use the invitation link the first time that you visit a particular MDH SharePoint site. If you did not bookmark the site, ask the site owner for a direct link to the site.
"I got several email invitations to MDH's SharePoint site. Do I need to click on all of them?"
Typically, you will receive only one invitation to a particular site. If you receive more than one email invitation, each is likely an invitation to a separate SharePoint site. Click on each email invitation link to accept each one.
"I can log in, but I can't edit documents"
Be sure that you are opening the documents in Word or Excel. Click ... then ... to see the full menu of choices. Choose Open in Word/Excel, not the Online version. You may be prompted for your login credential again - enter them exactly the same as you did the first time. If the document still will not open in Word or Excel, you are not alone.
It's likely that you have an older version of Office. An upgrade may help or it may be a security setting issue (and we don't know which one). Consider downloading it, working on the downloaded copy and then uploading the document to SharePoint when you are finished.
Download: Click the set of three dots (...) just to the right of the document's name, then select the dots at the bottom of the pop-up box to see the full menu for your document. Choose "download." Save it to your computer. Use a new folder each time you download to make sure your computer does not rename the file by adding a 1 or 2 at the end of the name.
Edit the document on your computer.
Go back to SharePoint. Click "Upload" at the top of the screen. Browse for the edited document on your computer. Be sure it has exactly the same name as the version on SharePoint. Hit "OK" to upload.
Your document should save as a new version of the original, not as a new document.
I use SharePoint for several different agencies, and when I try to login to one, I get the other one.
If you use SharePoint for multiple agencies, try to choose one browser for each instance of SharePoint. SharePoint doesn't always logout completely, so changing from one set of login credentials to another doesn't always go well. Using IE for one instance, Chrome for another, Firefox for another, and so on tends to work better.