Naloxone Prescribing and Dispensing
Naloxone, also known as Narcan©, is a potentially lifesaving drug that can reverse an opioid overdose. It can be administered as an injection or nasal spray. Any health care provider licensed to prescribe medications in Minnesota may prescribe naloxone.
Pharmacists may enter into a protocol to independently prescribe naloxone by using the Minnesota Board of Pharmacy's Opiate Antagonist Protocol (PDF) to provide naloxone to persons at risk for, or know of someone at risk for, opioid overdose. The Minnesota Board of Pharmacy's Naloxone Prescribing and Dispensing Questions web page provides more information.
Pharmacies that dispense naloxone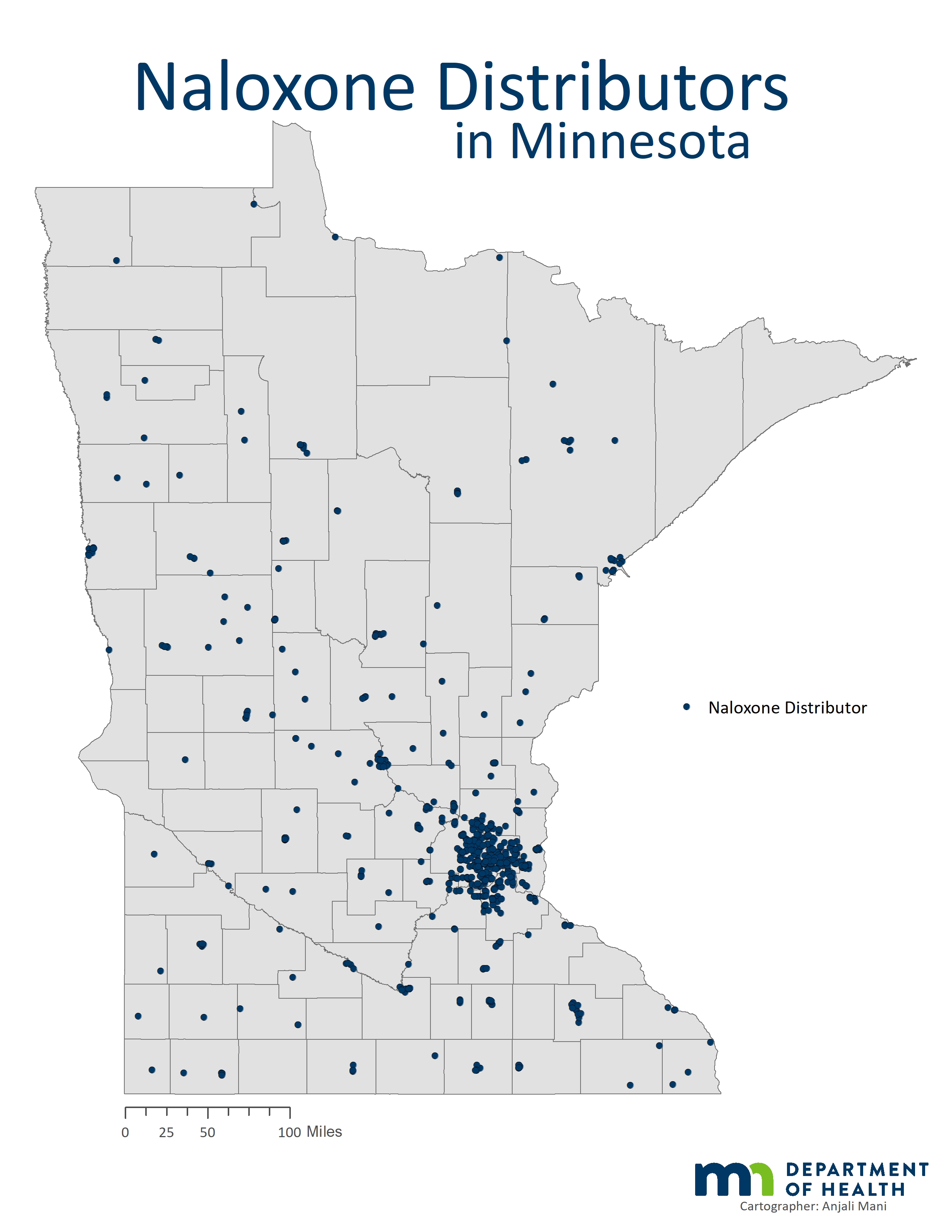 These are the known Participating Pharmacies with a Naloxone Protocol (PDF). Pharmacy chains like Walgreens and CVS (not included in map above) also have their own company naloxone protocols.
Dispensing naloxone
Previously, pharmacists could enter into a protocol with a Minnesota Licensed Practitioner, a local Community Health Board Medical Consultant, or the Minnesota Department of Health's Medical Director. These aforementioned protocols are still effective as long as needed but going forward the Minnesota Department of Health encourages pharmacists to establish a naloxone protocol with the Board of Pharmacy. For more information and to review the protocol please visit the Board of Pharmacy Naloxone Prescribing and Dispensing Questions web page.
Prescribing naloxone
Release of Liability
All licensed health care professionals may directly or by standing order, prescribe, dispense, distribute, or administer naloxone to a person without being subject to civil liability or criminal prosecution per 2016 Minnesota Statutes 604A.04 Good Samaritan Overdose Prevention. This immunity is also extended to the Commissioner of Health and Minnesota Department of Health practitioner by section 3.736, subdivision 9.
Training Opportunities for Practitioners and Pharmacists
Frequently Asked Questions
Contact:
Last Updated:
10/03/2022