Opioids


Understanding Social Determinants of Health

Our health is determined by social, economic, and environmental risks or opportunities. Imagine the health outcomes of these different people. 

One person works at a desk; another works in a factory where exposure to chemicals and risk of physical injury are routine.  One person doesn't think much about money; another budgets carefully for his five-person family, but comes up short to pay the food and electricity every month. One person lives in an updated 1960s style house; another rents an apartment with pest problems in a dilapidated building that is next to a contaminated field.  Imagine the health outcomes of these different people. 

For each person, there are numerous health determinants to consider, any one of which can impact a person's ability to understand, act on, and maintain health improvements.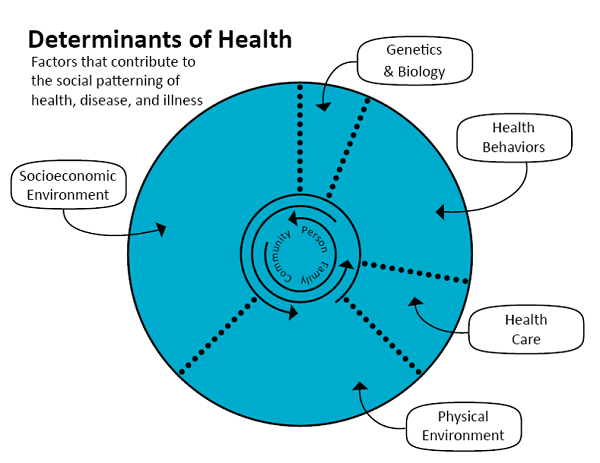 5 Recognized Determinants of Health
There are five generally recognized determinants of health:
Genetics & Biology such as sexual identity, skin color, ethnicity, and age
Health Behaviors such as family habits, nutrition, diet, exercise, sleep, safe sex practices, seatbelts, car seats, smoking, drinking, and drug use
Health Care such as health care literacy, medication adherence, health care policy, health care access, quality of health care, insurance coverage, and health care affordability
Physical Environment such as housing, living conditions, building materials, exposure to toxins, neighborhood, mass transit, air quality, crowding or isolation, green space and parks, water quality and soil quality
Socioeconomic Environment such as friends, colleagues, neighbors, faith-based community, family dynamics, parenting structure, parenting skills, interpersonal relationships, generational wealth or generational poverty, community involvement, housing stability, food security, employment opportunities, job stability and job mobility, quality of schools, access to education, child development, social support, gender identity, gender expression, privilege, racism, culture, immigration, trauma, discrimination, race, class, income, and gender
Socioeconomic, Physical and Health Care
Three of the five are considered social determinants of health (SDH): socioeconomic environment, physical environment, and health care. Social determinants of health intersect with one another, for example: a neighborhood impacts food choices, social class impacts access to health care, and culture impacts gender identity.  Researchers may never fully understand the precise contributions of each determinant of health. 
The negative or positive impact of social determinants of health can accumulate over a lifetime, alter a person's life course, and be passed down to future generations. According to the World Health Organization, about 75% of health inequalities, or differences in outcomes, could be considered unfair and potentially avoidable, and as a result are labeled health inequities, differences in outcomes that are avoidable, unfair, or unjust. 
Delving more deeply into any social determinant of health reveals staggering differences in each factor that compound over a person's lifetime. In the 2014 MDH Health Equity Report, structural racism is cited as the main source of health inequities. Structural racism is when decisions are made on a system-wide level that benefit whites and create chronic adverse outcomes for people of color and Native Americans. Inequalities in outcomes based on race are found in Minnesota in rates of infant mortality, obesity, intimate partner violence, poverty, unemployment, high school graduation, incarceration, and opioid overdose.
Inequities are Avoidable and Changeable
While on the surface, the amount of work that needs to be done may seem daunting, we should be encouraged by the fact that these inequities are avoidable and changeable. The realities of poverty, racism, classism, social isolation, sexual exploitation and other social inequities affect people's vulnerability to and capacity for effectively dealing with drug-related harms.
When looking at the indicators for preventing opioid use, misuse, and substance use disorder, the upstream interventions for each indicator come back to the same conditions for health—a livable wage, safe housing, quality education, affordable child care, health insurance coverage, social support, food security, and social cohesion. 
Stay in the Know!
Sign up to get the latest data, new reports, helpful tools, and information on the opioid epidemic conveniently in your inbox. Join our email list.
Please visit the Opioid Dashboard for more information on opioid overdose death, nonfatal overdose, use, misuse, substance use disorder, prescribing practices, supply, diversion, harm reduction, co-occurring conditions, and social determinants of health.