Title V Maternal and Child Health Needs Assessment
Overview
Every five years the Minnesota Department of Health is asked to complete a comprehensive assessment of the health of children, mothers, and families in the state, in order to fulfill a requirement of the Title V Maternal & Child Health (MCH) Block Grant. The charge of this assessment is to review the health needs for the entire state, not just for areas under the direction of the Block Grant.
The focus of the health assessment is on:
Women, Pregnant Women, and Mothers
Infants
Children
Adolescents
Children and Youth with Special Health Needs
Communities and Families, including Fathers
Why we're doing it
We are committed to ensuring that all of Minnesota's women, children, youth, families and communities are able to reach their fullest potential and thrive.
The results of the needs assessment are used to identify statewide priorities
What's the plan
The Division of Child & Family Health is using a mixed methods approach, informed by best practices and evidence-based research, to conduct the needs assessment. In conducting needs assessment activities, the Needs Assessment Team will operate from a trauma-informed intersectional framework that aims to advance health equity and acknowledge the strengths of our state's communities.
For more information see our Title V Maternal and Child Health Needs Assessment Plan (PDF).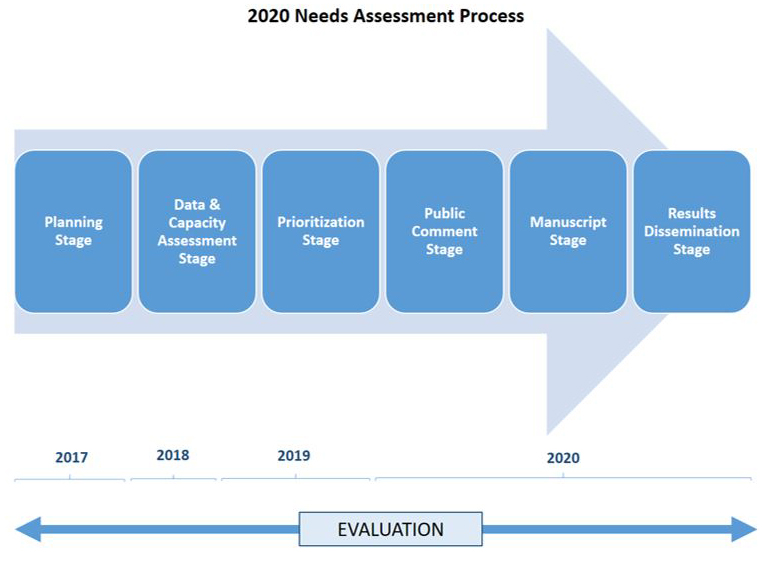 What has been done so far
In early 2018 the Needs Assessment Team gathered and reviewed existing reports, dashboards, needs assessment findings, and articles to understand the current status of maternal, child, and family health in Minnesota. During the summer of 2018, nearly 2,800 people responded to a Discovery Survey to share their thoughts on the greatest unmet needs of women, children and families in their communities, along with what they need to thrive and live their best lives.
This winter the team held live webinars to share what was learned from the Discovery Survey.
Throughout the needs assessment, the team has conducted over fifty key informant interviews with subject matter experts, stakeholders, and community members to better understand the needs of women, children and families in Minnesota.
All of the information collected during 2018 and 2019 has been used to identify candidate priorities and to develop 40 data stories and data placemats which are being used during prioritization exercises and community forums during the summer of 2019.
What we're doing now
In August the Needs Assessment Team is hosting a series of community forums where community members, public health professionals, parents, grandparents, neighbors (everyone!) is invited to vote on the top priorities of Minnesota's women, children, and families.
For more information about the community forums and to register to participate, visit Community Forum Information and Registration.
Data Stories have been developed to help the prioritization and voting process. Data Stories and Data Placemats will be available here in early August!
How to stay involved
To receive a summary of the survey results, be added to our Needs Assessment Contact List to receive (limited) email updates, or if you have questions about the needs assessment, please contact
Blair Harrison
, Title V Maternal & Child Health Needs Assessment Coordinator.
Other valuable links