Title V Maternal and Child Health (MCH) Block Grant
Related MDH Links
Title V Maternal and Child Health Needs Assessment

The Division of Child and Family Health (CFH) in partnership with stakeholders conducted a comprehensive assessment of the health and well-being of Minnesota's maternal and child health populations – including women, mothers, fathers, caregivers, children and youth (including those with special health needs), families, and communities.
Through this work, the following eleven priority areas were identified:
Access to Services and Supports for Children and Youth with Special Health Needs: Ensuring all kids and families have what they need to thrive.
Accessible and Affordable Health Care: Comprehensive, quality health care services, including Family Planning, that are available and affordable for all.
Adolescent Suicide: Reducing the number of youth who take their own life.
American Indian Family Health: Reducing disparities and supporting the well-being of American Indian families.
Boys and Young Men: Protecting and promoting the physical, mental, and emotional health among people who identify as male.
Care during Pregnancy and Delivery: Increasing accessible, quality health care during pregnancy and delivery.
Comprehensive Early Childhood Systems: Ensuring Minnesota has inclusive systems that link young children and their families to all the support and services they need.
Housing: Increasing safe, affordable, stable housing for all people living in Minnesota.
Infant Mortality: Reducing the number of infants that die before their first birthday.
Mental Well-Being: Ensuring all people living in Minnesota have the opportunity and skills to manage day-to-day stress, have meaningful relationships and contribute to their family and community. Including building resilience in those who experience childhood trauma.
Parent and Caregiver Support: Supporting parents and caregivers socially and emotionally with family-focused activities, policies, and education.
For more information on the Needs Assessment process and outcomes see Minnesota's 2020 Title V Maternal and Child Health Block Grant Needs Assessment – Methods and Findings (PDF). For more information about the status of each of the priority areas in Minnesota, see the Priority Briefs and Data Stories.
Overview
Every five years the Minnesota Department of Health is asked to complete a comprehensive assessment of the health of children, mothers, and families in the state, in order to fulfill a requirement of the Title V Maternal & Child Health (MCH) Block Grant. The charge of this assessment is to review the health needs for the entire state, not just for areas under the direction of the Block Grant. The results of the needs assessment are used to identify statewide priorities.
The focus of the health assessment is on:
Women, Pregnant Women, and Mothers
Infants
Children
Adolescents
Children and Youth with Special Health Needs
Communities and Families, including Fathers
How the needs assessment was completed
The Division of Child & Family Health used a mixed method approach to conduct the needs assessment. In conducting needs assessment activities, the Needs Assessment Team operated from a trauma-informed intersectional framework that aimed to advance health and racial equity and acknowledge the strengths of our state's communities.
For more information see our Minnesota's 2020 Title V Maternal and Child Health Block Grant Needs Assessment – Methods and Findings (PDF).
.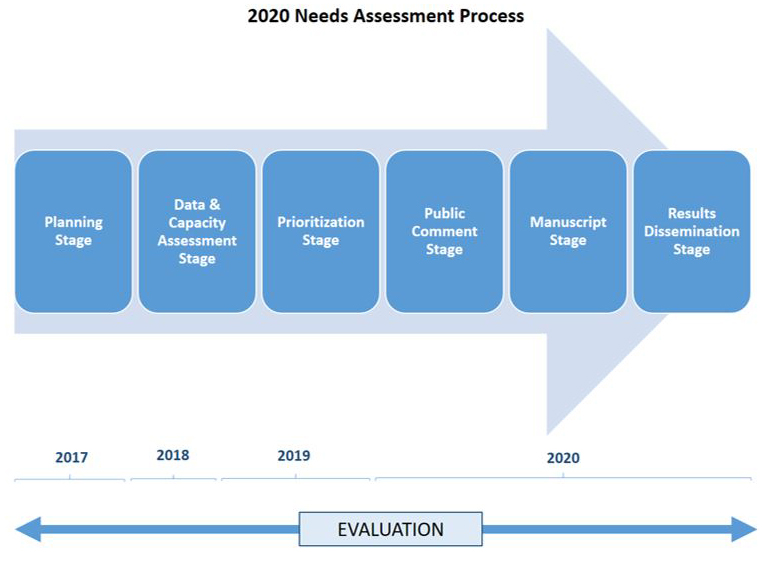 Materials to Share
During the summer of 2018, nearly 2,800 people responded to a Discovery Survey to share their thoughts on the greatest unmet needs of women, children and families in their communities, along with what they need to thrive and live their best lives. Results of our Discovery Survey can be found in the webinar below.
All of the information collected during 2018 and 2019 was used to identify candidate priorities and to develop 40 data stories and data placemats which were used during prioritization exercises with the Maternal and Child Health Advisory Task Force, Minnesota Department of Health staff, and community during the summer of 2019.
Multiple toolkits with materials that were developed during Minnesota's needs assessment process have been created to share information with other states and organizations who are conducting needs assessments.
A process evaluation of Minnesota's needs assessment work is underway. The evaluation aims to identify opportunities to advance trauma-informed, intersectional maternal and child health research and evaluation. A guiding document was created and is shared here. Please note this document is a technical document to inform evaluation. Intersectionality and Trauma-Informed Applications for Maternal and Child Health Research and Evaluation: An Initial Summary of the Literature (PDF)
How to stay involved
To learn more about the next stage of the needs assessment work, strategy development, please visit the Child and Family Health Strategic Planning website.
Please contact
Molly Meyer
if you have any questions about the needs assessment process or findings.
Other valuable links
Last Updated:
10/03/2022