Annual Summary of Disease Activity:
Disease Control Newsletter (DCN)
Related Topics
Contact Info
Infectious Disease Epidemiology, Prevention and Control Division
Contact Info
Infectious Disease Epidemiology, Prevention and Control Division
Escherichia coli O157 Infection and Hemolytic Uremic Syndrome (HUS), 2000
During 2000, 216 cases of culture-confirmed E. coli O157 infection were reported (4.4 per 100,000 population). The mean number of cases reported annually from 1996 to 2000 was 208, with a range of 175 to 239 cases (Figure 2). Fifty-nine percent of the cases reported in 2000 had onset during June through October.
Four outbreaks of E. coli O157:H7 infections were identified in 2000. The first outbreak occurred among children at an elementary school in Minneapolis and was linked to consumption of a hamburger hotdish served as part of the school lunch program. Six children had culture-confirmed E. coli O157:H7 infections, and another 12 suspect cases had symptoms that suggested infection. Two children were hospitalized, but none developed HUS. The second outbreak occurred as a result of contact with calves at a farm where a family reunion was being held and resulted in two confirmed cases among children. Both cases developed HUS. The third outbreak was identified through routine subtyping of isolates by pulsed-field gel electrophoresis (PFGE). The source of the outbreak was retail frozen ground beef patties produced by a plant in Minnesota. One of the cases had leftover ground beef patties that were tested by the Minnesota Department of Agriculture; E. coli O157:H7 of the outbreak PFGE subtype was cultured from these patties. Three confirmed cases were associated with this outbreak; none was hospitalized. The fourth outbreak was a multi-state outbreak that also was detected through routine PFGE subtyping of isolates. Among Minnesota residents, this outbreak was associated with ground beef purchased at grocery stores serviced by a single Minnesota distributor. Forty cases were confirmed by culture and an additional two cases by serological testing. Onsets of illness ranged from November 11, 2000 to February 20, 2001. Twenty-four cases were hospitalized. Three cases developed HUS, and two cases underwent colectomy surgery. There were no deaths associated with this outbreak. Other cases of the same PFGE subtype of E. coli O157:H7 were identified in Wisconsin and Ohio. Their illnesses were linked to consumption of ground beef supplied by the same processor that supplied the distributor in Minnesota.
Thirteen cases of HUS were reported in 2000; all were post-diarrheal. E. coli O157:H7 was isolated from stool in seven (54%) of the HUS cases. E. coli O111:non-motile was isolated from the stool of one (8%) other HUS case. One (8%) culture-negative HUS case had a sibling who was culture-positive for E. coli O157:H7. Three (23%) additional cases were serologically positive for E. coli O157:H7 antibodies. Only one (8%) case was negative by culture and serology. The mean number of HUS cases reported annually from 1996 to 2000 was 17 (range, 12 to 29 cases). During 2000, ten (77%) HUS cases were less than 10 years of age. Twelve (92%) of the HUS cases were hospitalized, with a mean duration of hospitalization of 20 days (range, 3 to 39 days). One case, a 1-year-old female, died.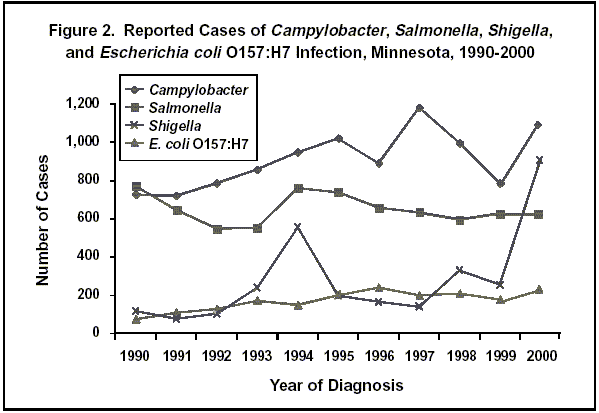 Last Updated:
10/20/2022