Infectious Disease Reporting
Related Topics
Contact Info
Infectious Disease Epidemiology, Prevention and Control Division
Contact Info
Infectious Disease Epidemiology, Prevention and Control Division
Infectious Disease Reporting
Reporting of cases of infectious diseases and related conditions is a vital step in controlling and preventing the spread of communicable disease. By law, a number of infectious diseases must be reported to the Minnesota Department of Health.
Health care practitioners (health care facilities, medical laboratories, and in certain circumstances veterinarians and veterinary medical laboratories) are required to report disease to the Minnesota Department of Health (MDH) under Minnesota state law.

Unless previously reported, every licensed health care provider who provides care to any patient who has, is suspected of having, or has died from a reportable disease is required to report.

Any person in charge of any institution, school, child care facility, or camp is also required to report disease to MDH.
More about reporting
Information about the Communicable Disease Reporting Rules and communicable disease reporting and HIPAA.
---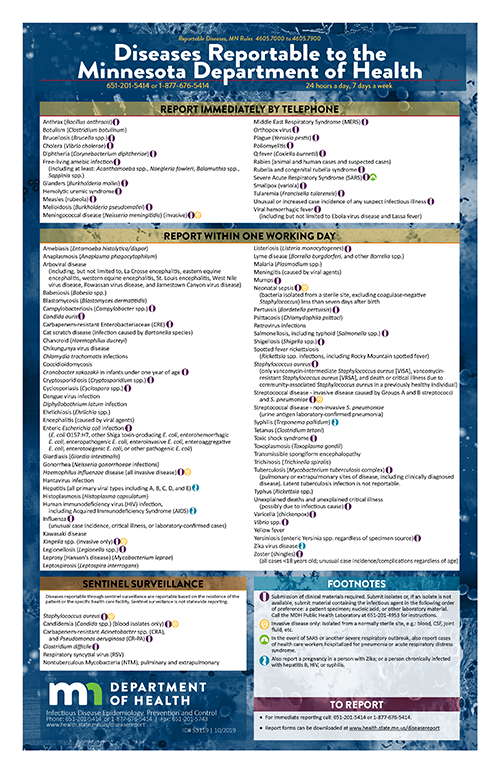 Reportable Disease Poster (PDF)
---
Related Topics
Last Updated:
05/23/2023