Annual Summary of Disease Activity:
Disease Control Newsletter (DCN)
Related Topics
Contact Info
Infectious Disease Epidemiology, Prevention and Control Division
Contact Info
Infectious Disease Epidemiology, Prevention and Control Division
Salmonellosis, 2006
During 2006, 725 culture-confirmed cases of Salmonella infection (14.0 per 100,000) were reported. This represents a 25% increase from the 580 cases reported in 2005 and an 18% increase from the median annual number of cases reported from 1996 to 2005 (median, 612 cases; range, 576 to 693) (Figure 2). Three serotypes, S. Typhimurium (171 cases) S. Enteritidis (162 cases), and S. Newport (52 cases) accounted for 53% of cases reported in 2006. There were five cases of S. Typhi infection. Three of the S. Typhi case-patients traveled internationally (India and Laos) and developed symptoms during their travel or within 1 week of their return; one case was a Hmong refugee who immigrated to the United States in 2004 but without a recent travel history. Twenty-five percent of salmonellosis case-patients were 13 years of age or younger. Twenty percent of case-patients were hospitalized for their infection. Of the 643 case-patients who were interviewed, 107 (17%) traveled internationally during the week prior to their illness onset. An 89-year-old case-patient died; the cause of death was pneumonia, but Salmonella was isolated from a urine specimen.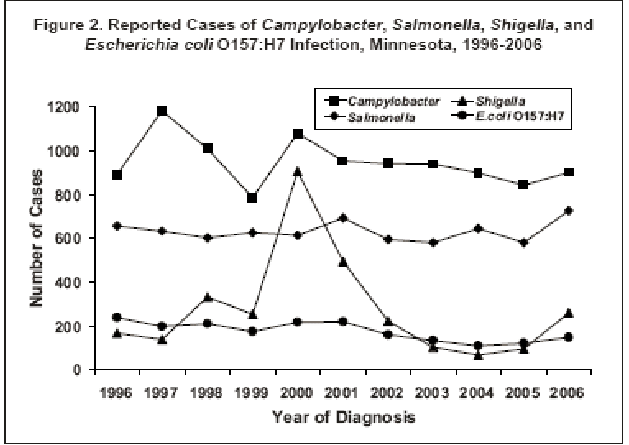 Nine outbreaks of salmonellosis were identified in 2006; all involved foodborne transmission. Seven of these outbreaks occurred in restaurant settings.
An outbreak of S. Typhimurium infections associated with eating the same brand of frozen, microwaveable, stuffed chicken products resulted in three cases from April to June. S. Typhimurium that matched the case-isolates' PFGE subtype was isolated from a product which one of the cases purchased at the same time as the products he consumed before his illness. This was the fourth outbreak in Minnesota associated with this type of chicken product since 1998.
In June, an outbreak of S. Typhimurium infections was associated with a Hennepin County restaurant. Forty patron cases were identified, including 26 culture-confirmed patron cases. Seven foodworkers at the restaurant also tested positive for S. Typhimurium. Carrot curry soup was identified as the vehicle. The soup was likely contaminated by raw unpasteurized eggs mixed in the same blender.
Another restaurant-associated S. Typhimurium outbreak occurred in June in Washington County. Four patron cases were identified, three of which were culture-confirmed. The small number of cases precluded confirmation of the specific food vehicle. However, violations associated with temperature control, cross-contamination, and lack of handwashing were documented.
From June through July, nine S. Paratyphi B var. L(+) tartrate + (formerly Java) cases were identified in Nobles, Olmsted, and St. Louis Counties. Among the eight cases interviewed, two were prison inmates, two worked in prisons, and five ate at restaurants of the same Mexican fast food chain. Additional cases from North Dakota that ate at restaurants of the same chain were identified. Colorado also identified cases of the same serotype and PFGE subtype. The cases in Colorado ate at restaurants of a different Mexican fast-food chain. The most likely vehicle was either lettuce or tomatoes. However, despite collaborating with Colorado on the investigation, conducting a case-control study, and reviewing food invoices, a specific vehicle could not be confirmed.
Three S. Miami cases were identified in August. The three cases ate at the same restaurant in Carver County within 2 days of each other. No specific food vehicle was implicated.
In September, a Ramsey County restaurant was implicated in a S. Newport outbreak, resulting in 18 cases, eight of which were culture-confirmed. Boneless skinless chicken breasts served as an ingredient in different dishes was the implicated vehicle.
In October, a restaurant in Hennepin County was implicated in an outbreak of S. Enteritidis infections resulting in four cases, three of which were culture-confirmed. In addition to the patron-cases, five restaurant employees tested positive for S. Enteritidis. Two of the positive employees were asymptomatic. Patron cases had eaten a variety of foods. A specific food vehicle was not identified.
A multi-state S. Typhimurium outbreak associated with tomatoes served in restaurants resulted in 181 cases in 21 states in September and October. Fourteen culture-confirmed cases were identified in Minnesota. Five of the cases and one resident of another state were all exposed at the same fast food restaurant in Ramsey County. The tomatoes were traced back to a grower in Ohio.
From September 2006 to April 2007, 12 S. Tennessee cases that were part of a national outbreak associated with peanut butter were identified in Minnesota. This outbreak resulted in 628 cases in 47 states from August 2006 to May 2007. The two brands of peanut butter implicated in this outbreak were produced at a single plant in Georgia. S. Tennessee of the outbreak PFGE subtype was isolated from open jars of peanut butter from cases' homes in Minnesota and other states, from unopened jars of peanut butter, and from environmental samples at the plant. The product was recalled and the plant stopped production in February 2007. The initial source of contamination at the plant has not been identified.
Last Updated:
10/20/2022