Annual Summary of Disease Activity:
Disease Control Newsletter (DCN)
Related Topics
Contact Info
Infectious Disease Epidemiology, Prevention and Control Division
Contact Info
Infectious Disease Epidemiology, Prevention and Control Division
Shigellosis, 2006
During 2006, 259 culture-confirmed cases of Shigella infection (5.0 per 100,000) were reported (Figure 2). This represents a 270% increase from the 96 cases reported in 2005, and a 17% increase from the median number of cases reported annually from 1999 to 2005 (median, 222 cases, range, 68 to 904).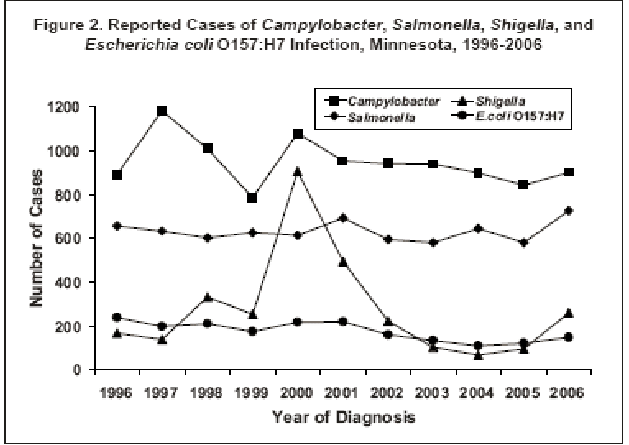 In 2006, S. sonnei accounted for 227 (88%) cases, S. fl exneri for 24 (9%), and S. boydii for four (2%). Case-patients ranged in age from 8 months to 96 years (median, 10 years). Fifty-one percent of case-patients were less than 10 years of age; children less than 5 years of age accounted for 23% of cases. Thirty-six (14%) case-patients were hospitalized. Eighty-three percent of case-patients resided in the metropolitan area, including 32% in Anoka County and 31% in Hennepin County.
Five outbreaks of shigellosis were identified in 2006; four were caused by S. sonnei and one was caused by S. boydii. These outbreaks resulted in 72 culture-confirmed cases (representing 28% of reported Shigella cases). Four person–to-person outbreaks occurred in a variety of settings, including one in a daycare facility, one in a women's shelter, one in an elementary school, and one at a private party. One foodborne outbreak also occurred and was associated with a restaurant in which several workers had recently been ill.
Every tenth Shigella isolate received at MDH was tested for antimicrobial resistance. Thirty-four isolates were tested in 2006; 74% were resistant to ampicillin, 29% were resistant to trimethoprim-sulfamethoxazole, and 6% were resistant to both ampicillin and trimethoprim-sulfamethoxazole. All isolates tested were susceptible to ceftriaxone.
Last Updated:
10/20/2022