Annual Summary of Disease Activity:
Disease Control Newsletter (DCN)
Related Topics
Contact Info
Infectious Disease Epidemiology, Prevention and Control Division
Contact Info
Infectious Disease Epidemiology, Prevention and Control Division
Salmonellosis, 2007
During 2007, 709 culture-confirmed cases of Salmonella infection (13.6 per 100,000 population) were reported. This represents a 2% decrease from the 725 cases reported in 2006 but a 13% increase from the median annual number of cases reported from 1996 to 2006 (median, 626 cases; range, 576 to 725) (Figure 2). Of the 99 serotypes identified in 2007, five serotypes, S. Typhimurium (152 cases), S. Enteritidis (138 cases), S. Montevideo (39 cases), S. Newport (37 cases) and S. I 4,[5],12:i:- (37 cases) accounted for 57% of cases. Salmonella was isolated from stool in 634 (89%), urine in 37 (5%), and blood in 34 (5%) case-patients. There were eight cases of S. Typhi infection. Five of the S. Typhi case-patients traveled internationally (India, Laos, Nigeria, and Pakistan) within approximately 3 weeks of their illness onset. Twenty-five percent of salmonellosis case-patients were 12 years of age or younger. Twenty-four percent of case-patients were hospitalized for their infection. Of the 635 case-patients who were interviewed, 107 (17%) traveled internationally during the week prior to their illness onset. A 58-year-old case-patient died; the cause of death was a pulmonary embolism, but Salmonella was isolated from a blood specimen 8 days prior to death.
Eighty-seven cases were part of 12 outbreaks of salmonellosis identified in 2007. Nine of the outbreaks involved foodborne transmission, including four outbreaks with cases in multiple states. Three outbreaks involved contact with animals, or food for animals; all three had cases in multiple states.
Ten S. Tennessee cases (seven cases in 2007 and three in 2006) with isolates of the same (PFGE) subtype that were part of a national outbreak associated with peanut butter were identified in Minnesota. This outbreak resulted in
714 cases in 48 states from August 2006 to July 2007.

An outbreak of S. Typhimurium infections resulted in 11 cases in March and April. Additional cases with the same PFGE pattern were identified in six other states. A case-control study found an association with eating leafy greens; however, the specific type of leafy green was not identified.
From May through August, nine cases with the same PFGE subtype of S. Montevideo were associated with contact with chickens or their environment. The cases reported purchasing chickens to raise for meat from a single hatchery in Iowa. Forty-two cases of the outbreak subtype of S. Montevideo were ultimately identified in 19 other states.
In June, one case of S. Wandsworth infection was part of a multi-state outbreak that resulted in 65 cases in 20 states. A snack of puffed rice and corn with a vegetable coating was implicated as the vehicle. The outbreak subtype of S. Wandsworth was isolated from sealed bags of the product and from one of the ingredients used in the seasoning mix. The investigation resulted in a recall of the implicated product and another product made by the same manufacturer.
One case of S. Paratyphi B L(+) tartrate+ (var Java) infection with onset of illness in June was part of a multi-state outbreak associated with contact with pet turtles. A total of 103 cases with isolates indistinguishable from the outbreak subtype were reported to CDC from 33 states.
In July, three cases of S. Agona infections that ate at a single Chinese buffet restaurant in Hennepin County were identified. Meal dates of the case-patrons occurred from mid-May through mid-June. Three restaurant employees tested positive for the same PFGE subtype of S. Agona. All three positive restaurant employees denied having a history of gastrointestinal symptoms. Inadequate utensil washing and disinfection, and cross-contamination were also identified as problems at the restaurant. The ultimate source of contamination was not identified.

A S. Schwarzengrund case in July matched the outbreak PFGE subtype in a multi-state outbreak associated with contact with contaminated dry pet food made by a single manufacturer. The outbreak resulted in 62 cases in 18 states. It is unclear if the Minnesota case had contact with the contaminated pet food.
An outbreak of S. Enteritidis infections associated with eating at a Mexican restaurant in Hennepin County was identified in August. Sixteen culture-confirmed and three probable case-patrons ate at the restaurant from August 1 through August 8. Restaurant employees and environmental samples tested negative for Salmonella. Eating salsa was associated with illness, but the source of contamination was not identified.
Seven cases of S. I 4,5,12:i:- infection with onset of illness from August through October were part of a multi-state outbreak associated with consumption of frozen pot pies. Although not a ready-to-eat food, most cases cooked the products in the microwave. The cooking instructions were confusing and likely inadequate. The implicated pot pies were recalled. Between January and December, 2007, 401 isolates of S. I 4,[5],12:i:- of the outbreak subtype were collected from ill persons in 35 states.
A S. Typhimurium outbreak associated eating tomatoes at a sandwich restaurant in Olmsted County occurred in October. Eighteen culture-confirmed patron-cases and five probable cases with meal dates at the restaurant from October 1 through October 8 were identified. Two restaurant employees with onsets of illness during the same week in October as the patrons also tested positive for the outbreak subtype of S. Typhimurium. Cross-contamination of the tomatoes from foods of animal origin at the restaurant was ruled-out. The tomatoes were likely already contaminated when they entered the restaurant. The restaurant's practice of storing tomatoes at room temperature for ripening before being used may have contributed to amplification of the contamination.
In November, two cases of S. Newport infection associated with an office potluck were identified. The investigation identified an additional nine probable cases that attended the potluck. A specific food vehicle was not identified.
Six S. Montevideo cases with isolates of the same PFGE subtype that were identified from September through December 2007, and an additional three cases that were identified from January through March 2008, were part of an outbreak associated with a grocery store deli in Wadena County. The outbreak subtype was the same as that from the earlier outbreak associated with contact with chickens discussed above. The chicken contact outbreak evidently resulted in infection of deli workers; leading to foodborne transmission to deli patrons. Two deli employees tested positive for the outbreak subtype of S. Montevideo, and one of the employees owned back-yard chickens. Infected foodworkers were the source of contamination. This investigation is ongoing.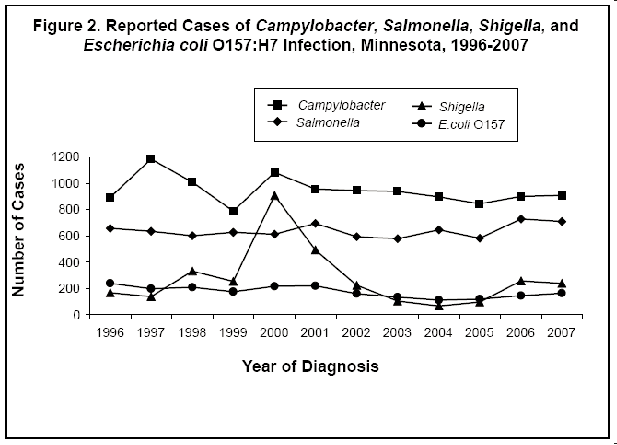 Last Updated:
10/20/2022