Annual Summary of Disease Activity:
Disease Control Newsletter (DCN)
Related Topics
Contact Info
Infectious Disease Epidemiology, Prevention and Control Division
Contact Info
Infectious Disease Epidemiology, Prevention and Control Division
Arboviral Disease, 2016
Mosquito-borne Arboviruses
Historically, the primary arboviral encephalitides found in Minnesota have been La Crosse encephalitis, Western equine encephalitis (WEE), and more recently, West Nile virus (WNV) encephalitis. Both WNV and WEE are maintained in mosquito-to-bird transmission cycles involving several different species of each, and regional variation in vectors and reservoirs is likely. WNV is established throughout Minnesota, and will probably be present in the state to some extent every year, whereas human cases of WEE occur more sporadically. Human disease risk will likely continue to be higher in central and western Minnesota where the primary mosquito vector, Culex tarsalis, is most abundant. Interpreting the effect of weather on arboviral transmission is complex, making it extremely difficult to predict the number of people who will become infected in any given year.
In Minnesota, 83 WNV disease cases were reported in 2016, the highest number since 2007. Fourteen (17%) had neuroinvasive presentations including encephalitis or meningitis, and there were 5 deaths. The other 69 (83%) cases had West Nile fever. Seventy-three percent (61) of the cases were male, and the median age was 55 years (range, 8 to 90 years). In 2016, 46 (55%) WNV cases were hospitalized. The majority of cases (93%) reported symptom onset in July, August, or September. Fifteen asymptomatic WNV-positive blood donors were also identified during 2016.
In 2016, 3 cases of La Crosse encephalitis were reported. All were male, and ranged in age from 4 to 11 years. One case presented with encephalitis, while the other 2 had milder febrile illnesses. The disease, which primarily affects children, is transmitted through the bite of infected Aedes triseriatus (Eastern Tree Hole) mosquitoes, and is maintained in a cycle that includes mosquitoes and small mammals. Exposure to infected mosquitoes typically occurs in wooded or shaded areas inhabited by this species, especially in areas where water-holding containers (e.g., waste tires, buckets, or cans) that provide breeding habitats are abundant. Since 1985, 147 cases have been reported from 22 Minnesota counties, primarily in the southeastern part of the state. Many people who are infected have no apparent symptoms, but severe disease can occur in children. The median case age for La Crosse encephalitis patients was 6 years (range, <1 to 49). Disease onsets have been reported from June through September, but most onsets have occurred from mid-July through mid- September.
In 2016, 6 cases of disease due to Jamestown Canyon virus, a California group virus related to La Crosse, were reported. The virus is transmitted by Aedes genus mosquitoes, and the maintenance cycle in nature is thought to include deer and other large mammals. Much remains unknown about the clinical spectrum of Jamestown Canyon virus, but the typical presentation includes fever, and in more severe cases, meningitis or encephalitis. The virus is likely widespread in Minnesota. Patients were aged 37 to 95 years and all reported experiencing febrile illnesses.
Tick-borne Arboviruses
Powassan virus (POW) is a tickborne flavivirus that includes a strain (lineage II or "deer tick virus") that is transmitted by Ixodes scapularis. The virus can cause encephalitis or meningitis, and long-term sequelae occur in approximately half of those patients. Approximately 10- 15% of cases are fatal. Since 2008, 27 cases (2 fatal) of POW disease have been reported in Minnesota residents. Most of these patients had neuroinvasive disease (15 encephalitis and 10 meningitis) but 2 were non-neuroinvasive fever cases. Twenty (74%) cases have been male, and the median age is 61 years (range, 3 mos. to 75 years). Similar to other tick-borne diseases, the majority of patients (20, or 74%) reported illness onsets between May and August. Seven patients (26%) had onset dates in October or November. With the exception of 2014 and 2015, cases have been reported every year since 2008, with a peak of 11 in 2011 (range, 1 to 11), and 5 cases in 2016. Cases were exposed to ticks in several north-central Minnesota counties. MDH has also identified POW virus-positive ticks at sites in the six counties that have been investigated to date (Anoka, Clearwater, Cass, Houston, Morrison, and Pine). Thus, the virus appears to be widely distributed in the same wooded parts of the state that are endemic to other pathogens transmitted by I. scapularis.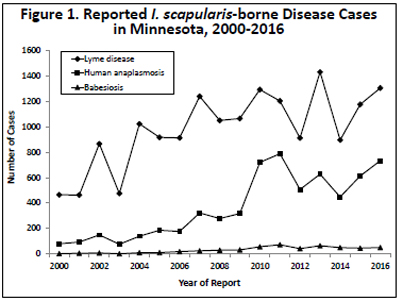 Last Updated:
10/20/2022