Annual Summary of Disease Activity:
Disease Control Newsletter (DCN)
Related Topics
Contact Info
Infectious Disease Epidemiology, Prevention and Control Division
Contact Info
Infectious Disease Epidemiology, Prevention and Control Division
Shigellosis, 2019
In 2019, 165 culture-confirmed cases of shigellosis (2.9 per 100,000 population) were reported. This represents a 13% increase from the 146 cases reported in 2018, and is 45% more than the median annual number of cases reported during 2009-2018 (median, 113.5 per year; range, 66 to 556). S. sonnei accounted for 88 (53%) cases, S. flexneri for 72 (44%) cases, and S. boydii for 2 (1%) cases. The species was not identified for 3 (2%) cases. Cases ranged in age from 4 months to 74 years (median, 37 years). Fourteen percent of cases were ≤5 years of age; 81% of cases were 18 years of age or older. Seventy-eight percent of cases were male. Forty-one (25%) cases were hospitalized. One case died.
Thirty-three percent of cases reported either non-white race (43 of 159 cases) or Hispanic ethnicity (19 of 158 cases). Of the 148 cases for which travel information was available, 41 (27%) travelled internationally (25 of 80 [31%] S. sonnei, and 12 of 63 [19%] S. flexneri). Eighty-four percent of cases resided in the metropolitan area, including 59% in Hennepin County and 13% in Ramsey County.
One outbreak of shigellosis in a childcare center was identified. Additionally, an outbreak of Shigella infections among Minnesota residents who dined at a restaurant in Costa Rica was also investigated.
In 2019, 273 patients were positive for Shigella by a culture-independent diagnostic test conducted in a clinical laboratory. Of the 268 specimens that were received at MDH, 135 (50%) were subsequently culture-confirmed and therefore met the surveillance case definition for inclusion in MDH case count totals.
In 2019, 55 of the 157 Shigella isolates received at MDH were tested for antimicrobial resistance. Of the 55 isolates, 78% (43 isolates) were resistant to trimethoprimsulfamethoxazole, 73% (40 isolates) were resistant to ampicillin, and 45% (25) had decreased susceptibility to azithromycin (DSA). Twenty-four (96%) of 25 of the DSA isolates were collected from adult males. Among the 17 adult male cases with DSA infection and available information, 10 (59%) reported sexual contact with a male during the week before illness onset.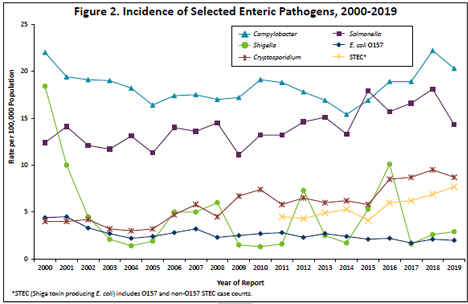 Last Updated:
10/20/2022