Annual Summary of Disease Activity:
Disease Control Newsletter (DCN)
Related Topics
Contact Info
Infectious Disease Epidemiology, Prevention and Control Division
Contact Info
Infectious Disease Epidemiology, Prevention and Control Division
Unexplained Critical Illnesses and Deaths of Possible Infectious Etiology (UNEX) and Medical Examiner Infectious Deaths Surveillance (MED-X), 2019
We conduct surveillance for unexplained deaths and critical illnesses in an effort to identify those that may have an infectious etiology. This surveillance is performed through two complementary surveillance systems, Unexplained Critical Illnesses and Deaths of Possible Infectious Etiology (known as UNEX), and Medical Examiner (ME) Infectious Deaths Surveillance (known as MED-X) which is not limited to deaths with infectious hallmarks. Focus is given to cases <50 years of age with no significant underlying conditions; however, any case should be reported regardless of the patient's age or underlying medical conditions to determine if further testing conducted or facilitated by MDH may be indicated. Testing of premortem and post-mortem specimens is conducted at the PHL and the CDC Infectious Diseases Pathology Branch (IDPB).
In 2019, 67 cases met UNEX criteria (49 deaths, 18 critical illnesses), compared to 111 cases in 2018. Of the 67, all were reported by providers. Due to the COVID-19 response, no deaths were found by death certificate review as the review and testing is still under way. Thirty-one (46%) cases presented with respiratory symptoms; 15 (22%) with sudden unexpected death; 10 (15%) with neurologic symptoms; 10 15%) with shock/sepsis; and 1 (1%) with cardiac symptoms. The age of cases ranged from 4 days to 67 years, the median age was 30 years. Fifty-eight percent resided in the metropolitan area, 57% were male, and 12% were non-Minnesota residents who were either hospitalized in Minnesota or investigated by a Minnesota ME.
There were 207 MED-X cases in 2019; 49 of these also met UNEX criteria. The median age of the cases was 44 years, and 56% were male. There were 129 (62%) cases found through death certificate review; MEs reported 80 (39%) cases. The most common syndrome was pneumonia/upper respiratory infection (n=86 [42%]).
There were 166 potential UNEX or MED-X cases that had specimens tested at the PHL and/or the IDPB. Thirtyfive cases had pathogens identified as confirmed, probable, or possible cause of illness, including 35 UNEX deaths (Table 5). Seventy-one were determined to be non-infectious. Among 35 unexplained deaths occurring in those <50 years of age without any immunocompromising conditions, UNEX helped to identify the pathogen(s) involved in 20 (57%) cases. MED-X surveillance detected an additional 16 cases with pathogens identified by MEs as the cause of death (Table 5). Cases with pathogens of public health importance detected included a 64 year-old male who presented to an emergency department with sepsis-like syndrome. He had recently traveled to Texas and participating in a triathlon. Although initial leptospirosis serology was negative, CDC was able to detect Leptospira spp. DNA by PCR from a blood and urine leading to a public health investigation by Texas public health authorities. Repeated serology detected antibodies to L. interrogans sub. Bratislava. Finally, during the 2019 MDH response to E-cigarette or vaping product use-associated lung injury (EVALI), UNEX received reports from infectious disease clinicians and MEs of 8 possible EVALI cases including 6 that were later confirmed. Preexisting relationships allowed timely submission of autopsy specimens from MDH to CDC for pathologic review and toxicological testing, a process that contributed to the identification of vitamin E acetate within lung tissues, with vitamin E acetate determined to be the causitive agent of the national outbreak.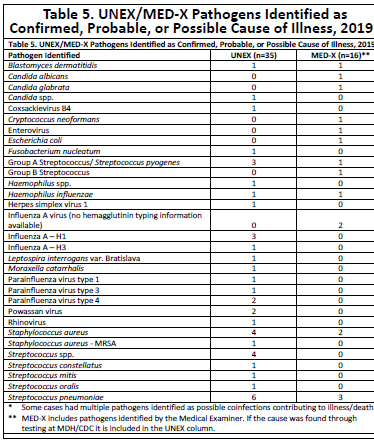 Last Updated:
10/20/2022