Quantitative Microbial Risk Assessment
Related Topics
Environmental Health Division
Quantitative Microbial Risk Assessment Projects
Water Reuse
Capturing rainwater or stormwater for non-drinking water (also called nonpotable) purposes, such as flushing toilets or watering lawns, is one type of water reuse. Water reuse is a practice that utilizes Quantitative Microbial Risk Assessment (QMRA) to assess health risks.
Water reuse is very important in Minnesota. The high demand for water in Minnesota means we are draining our drinking water resources faster than they are refilling. Reusing water such as stormwater and rainwater will relieve some of the pressure on our aquifers. The implementation of stormwater and rainwater capture and use for irrigation and flushing toilets is relatively new, and the potential health risks are still being studied.
The Minnesota Department of Health (MDH) was asked to evaluate the health risk associated with reuse of stormwater. At the same time, MDH has been working with the University of Minnesota-Twin Cities (UMN) and other organizations to study water reuse in different ways. Using data from the projects described below, MDH prepared a white paper evaluating public health aspects of stormwater and rainwater reuse using QMRA methodology. The paper can be accessed below:
Reuse of Stormwater and Rainwater in Minnesota: A Public Health Perspective (PDF)
Project 1: Repeated sampling from two water reuse systems (Clean Water Fund)
In the first project, with help from UMN, two systems were selected to be tested for microorganisms present in the water. One of the sites used stormwater collected in a pond to irrigate ball fields. The other site was a building that used rainwater collected on the roof and stormwater from the sidewalks to flush the toilets. Testing these systems allowed us to determine the amount of microorganisms present in the water that is being reused.
More on this project is available on the Water Reuse and Quantitative Microbial Risk Assessment page. A summary of the results can be found in Water Reuse System Sampling Results Summary (PDF).
Project 2: Samples from a stormwater cistern and shallow wells (Clean Water Fund)
In the second project, Capitol Region Watershed District, Minnesota Pollution Control Agency, and MDH studied microbes in a stormwater infiltration cistern and shallow wells. Areas under the basin were also tested for microbes. The study included eight rounds of samples. Data from this project further illuminated the types of microbes that can be found in stormwater.
Project 3: Samples from multiple water reuse systems (Legislative-Citizen Commission on Minnesota Resources)
In the third project, UMN researchers obtained 90 samples from 25 water systems throughout the state. These samples were analyzed to determine what type of pathogens (germs) were present in the samples and how many were present. Researchers also assessed the pathogens for antibiotic resistance genes. Papers are being prepared by the researchers. A summary of the project called Assessment of Water Quality for Reuse (PDF) is available from the researchers.
For more information on MDH's work on water reuse, please see Water Reuse: Clean Water Fund.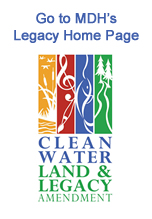 Last Updated:
10/03/2022