About the Center for Health Equity

Minnesota ranks, on average, among the healthiest states in the nation. But the averages alone tell an incomplete story. A closer look at the data reveals that communities of color, American Indians, lesbian, gay, bisexual, transgender and queer (LGBTQ) communities, the disability community, rural communities and low-income communities experience the highest inequities in the state.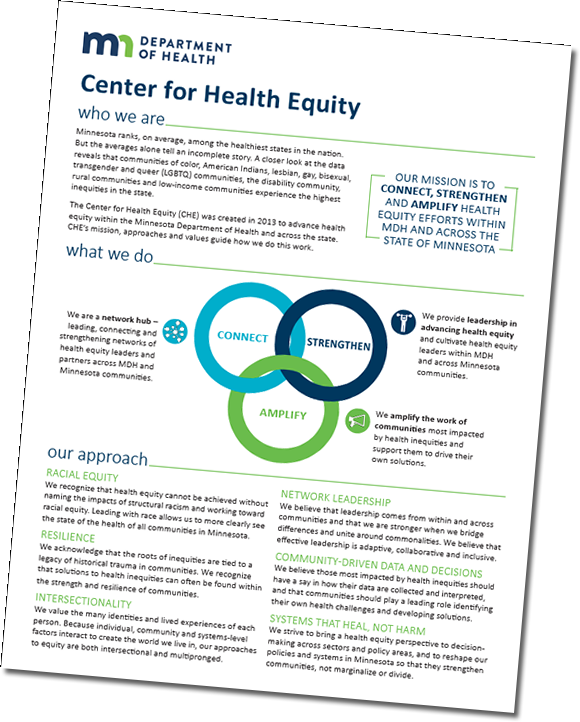 The Center for Health Equity (CHE) was created in 2013 to advance health equity within the Minnesota Department of Health and across the state. CHE's mission, approaches and values guide how we do this work.
Learn more about the Center for Health Equity through our handouts or through our recorded webinar below.
CHE Handouts
Learn more about our mission, core functions and the approaches and values that guide us in our work:
Center for Health Equity: Mission, values, approaches (PDF)
Center for Health Equity: Mission, values, approaches (PDF in black & white)
Explore examples of how we live our mission through our programs, partnerships and grants:
Center for Health Equity: Living our mission (PDF)
Center for Health Equity: Living our mission (PDF in black & white)
CHE Webinar
Center for Health Equity Webinar Slides (PDF)
"Inequities in health outcomes can only be eliminated when each of us has the opportunity to realize our health potential — the highest level of health possible for us — without limits imposed by structural inequities."
– 2017 Minnesota Statewide Health Assessment
Last Updated:
10/03/2022