COVID-19 Community Coordinators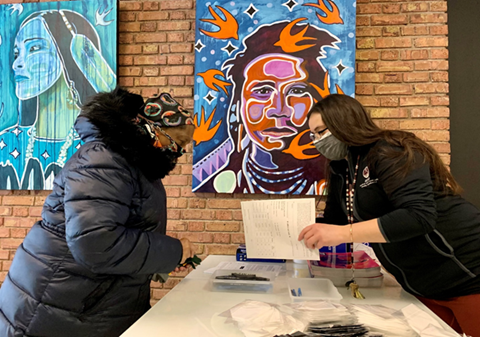 (Photo credit: Ivy Vainio)
COVID-19 community coordinators (CCC) are community-based organizations that connect Minnesota's diverse communities to COVID-19 testing, vaccination, and other resources, as well as providing access and support for comprehensive health recovery post-pandemic. It is essential to draw on community strengths and trusted community networks to respond effectively to COVID-19 and to longstanding health inequities made worse by the pandemic. The CCC understand the cultural norms and values of their communities and how to address their needs.
Coordinators contract with the State to serve communities hit hardest by COVID-19, including communities of color, American Indian communities, LGBTQ communities, and Minnesotans with disabilities.
Meet the COVID Community Coordinators (CCC) initiative staff at the Minnesota Department of Health.
What COVID-19 community coordinators provide
COVID-19 community coordinators support Minnesotans who need COVID-19 information specific to their communities, including in their languages. Coordinators help community members find and get critical resources to deal with health concerns as well as employment, food access, housing, child care, and legal rights.
COVID-19 community coordinators can answer questions about: 
Where to get tested for COVID-19
What COVID-19 vaccines are available and how and where to get vaccinated
Food support
Health care and mental health resources 
Housing and rental assistance
COVID-19 case investigation and contact tracing
Employment resources
Find a COVID-19 community coordinator
Click on the link below to search for a COVID Community Coordinator that fits your needs. Use the drop-down menus to search by cultural community, other community, language, or county. Once you've identified an organization, click on "Show Details" for the organization's contact information and hours of operation.
Search for a COVID Coordinator
*Please note that the search application does not work in Internet Explorer. Recommended browsers include Chrome, Firefox, or Edge.
COVID-19 community coordinators
MDH is pleased to announce the 2022-2024 cohort of CCC. For more information about the review process, please review the CCC Review Process Summary Memo (PDF).
Access North Center for Independent Living of Northeastern Minnesota
Advocates for Thriving Communities
African Career, Education & Resources, Incorporated (ACER)
African Immigrants Community Services
American Indian Community Housing Organization
Blindness: Learning In New Dimensions, Inc.
Bois Forte Band of Chippewa
Briva Health
CAPI USA
Center for African Immigrants & Refugees Organization (CAIRO)
Centro Nazareno de Compasión Agape, Inc.
Chinese Community Services
Comunidades Latinas en Servicio (CLUES)
Comunidades Organizando el Poder (COPAL)
Cultural Wellness Center
East African Integration Center
Equity News Network
Hispanic Advocacy and Community Empowerment through Research (HACER)
Hennepin Healthcare System, Inc.
Hmong American Partnership
Igbo Women League (IWL)
International Oromo Health Professionals Association
Islamic Association of North America
Keystone Interpreting Solutions
Korean Service Center
Lao Assistance Center of Minnesota
Lighthouse Center for Vital Living
Little Earth Residents Association
Metropolitan Center for Independent Living
Minnesota People of Color LGBTQ+ Pride
Minnesota Africans United
Minnesota Transgender Health Coalition
Phyllis Wheatley Community Center
Raíces Sagradas Community Mental Health (RAICES)
Re'ese Adbarat Tserha Aryam Kidist Selassie Cathedral EOTC (TAKS)
Restoration for All Inc.
SEWA-AIFW
Skellegnese LLC
Somali Community Resettlement Services of Olmstead County
St. Mary's Health Clinics
Stairstep Foundation
The Aliveness Project
Vietnamese Social Services (VSS)
Voices for Racial Justice (Seeds of Justice)
WellShare International
White Earth Band of Chippewa
Last Updated:
08/10/2023