Health Equity Showcase - February 2019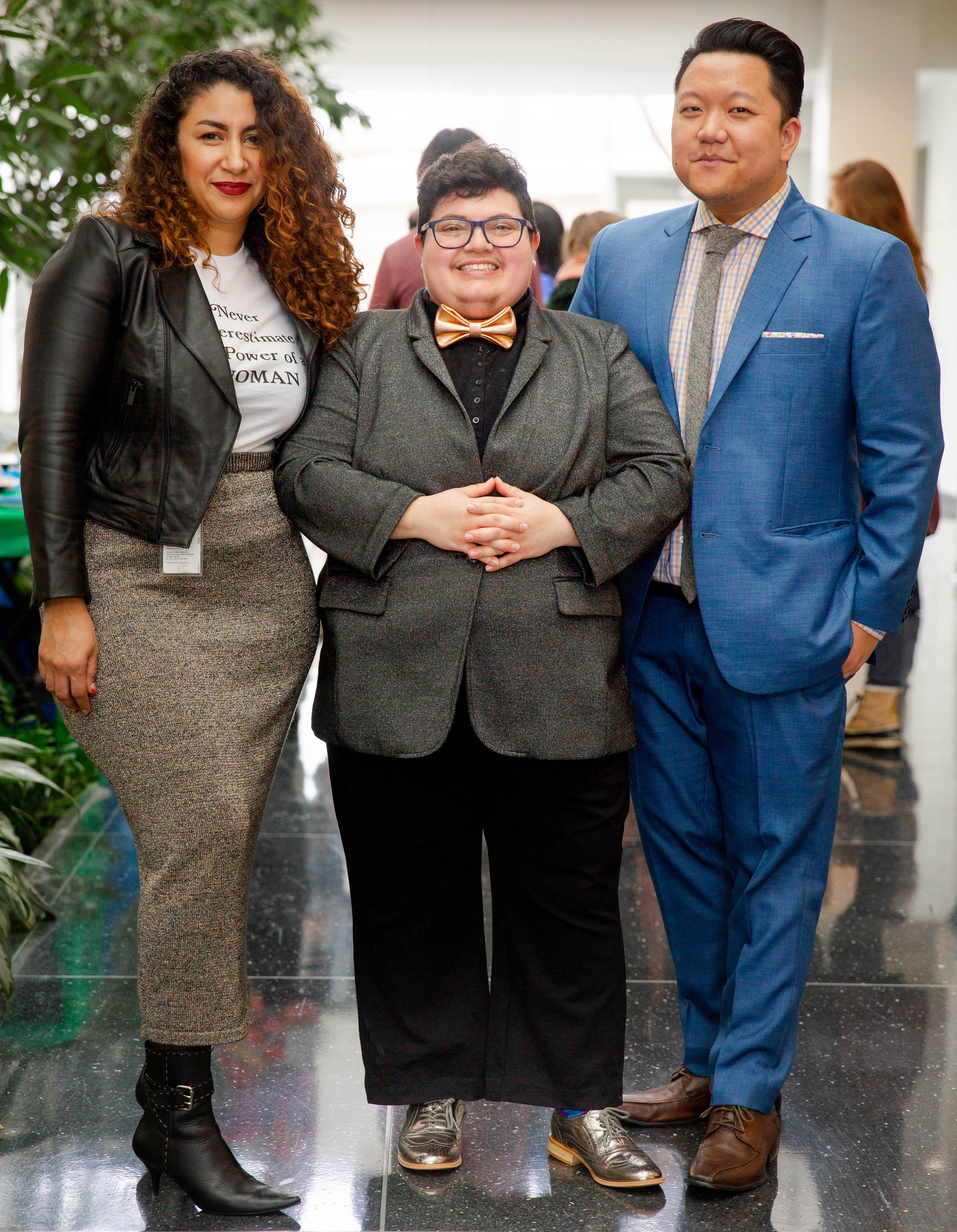 I-HEALTH and the Center for Health Equity hosted the first Health Equity Showcase on February 12, 2019. Staff from across the agency came together to recognize health equity champions who are advancing health equity across a broad range of public health areas. The Health Equity Showcase was an opportunity to celebrate health equity efforts, share and learn about different approaches to advance equity across the agency and support MDH staff in this important work.
Featured Projects
"Are You Giving It to the People?" - Making Health Care Quality Data More Accessible and Useful to Communities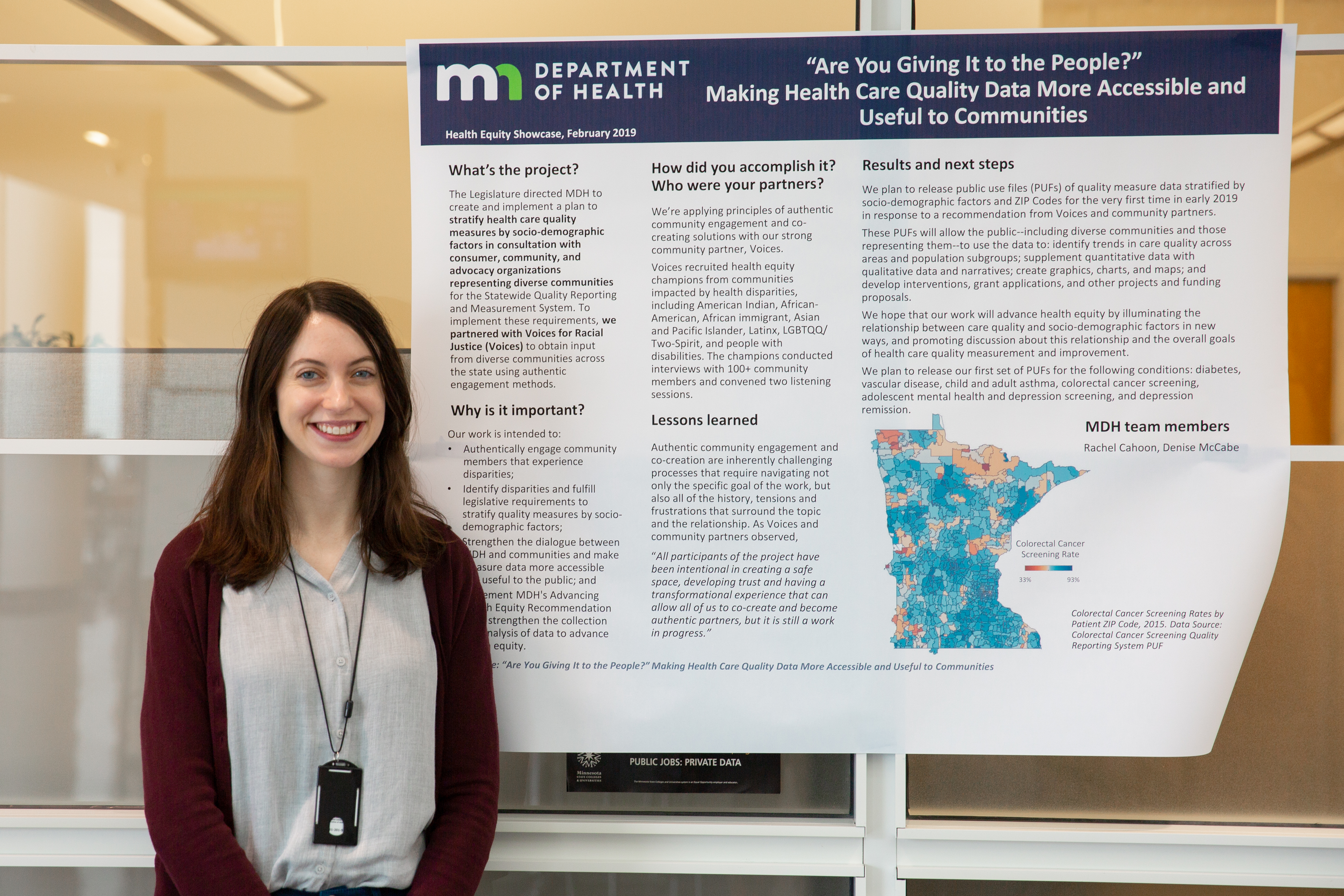 The Legislature directed MDH to create and implement a plan to stratify health care quality measures by socio-demographic factors in consultation with consumer, community and advocacy organizations representing diverse communities for the Statewide Quality Reporting and Measurement System. To implement these requirements, MDH partnered with Voices for Racial Justice (Voices) to obtain input from diverse communities across the state using authentic engagement methods.
Health Care Quality Data Project Poster (PDF)
Creating Collaboration for Food Safety and Food Equity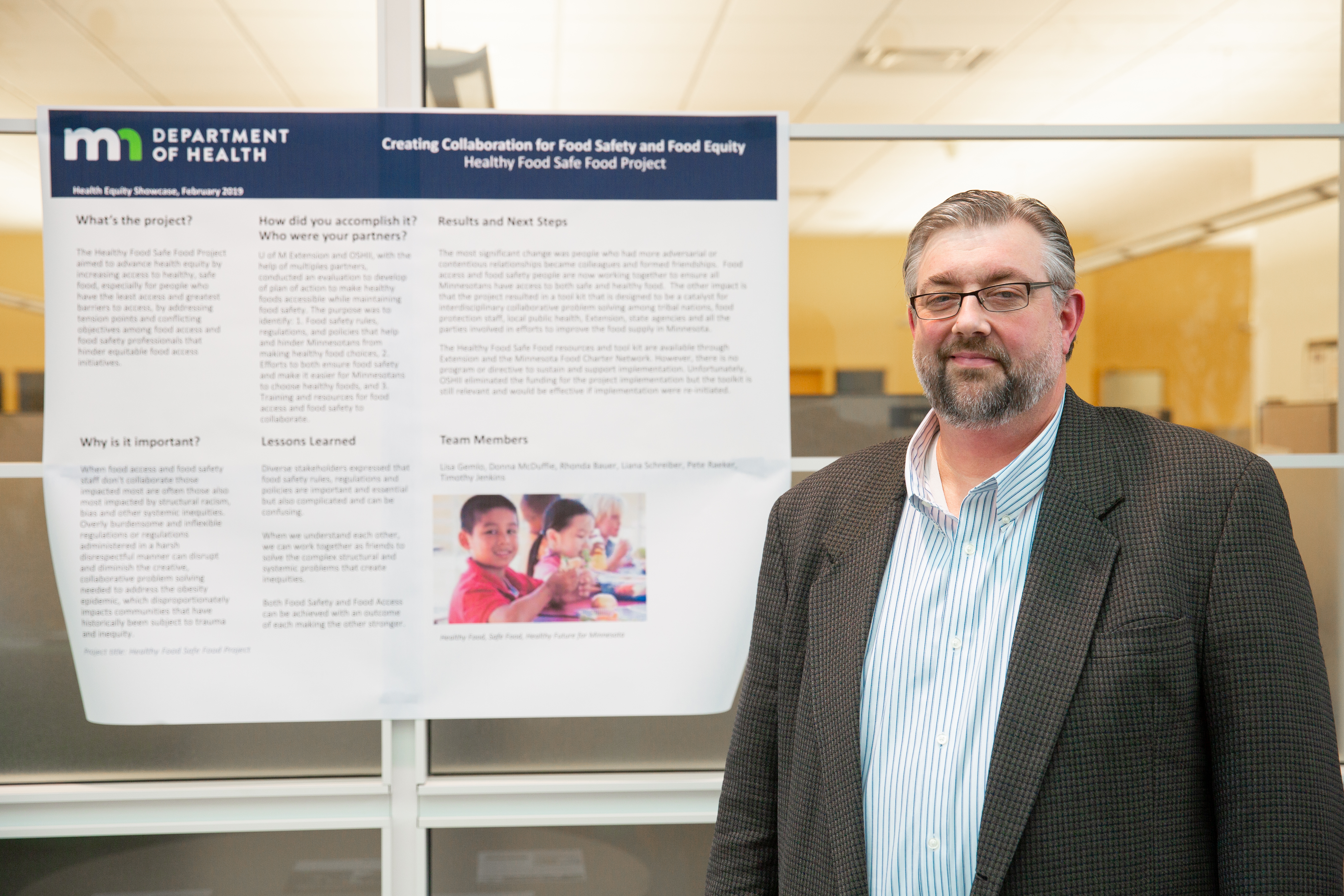 The Healthy Food Safe Food Project aimed to advance health equity by increasing access to healthy, safe food, especially for people who have the least access and greatest barriers to access, by addressing tension points and conflicting objectives among food access and food safety professionals that hinder equitable food access initiatives.
Healthy Food Safe Food Project Poster (PDF)
Resources for Advancing Equity in MDH Grant RFPs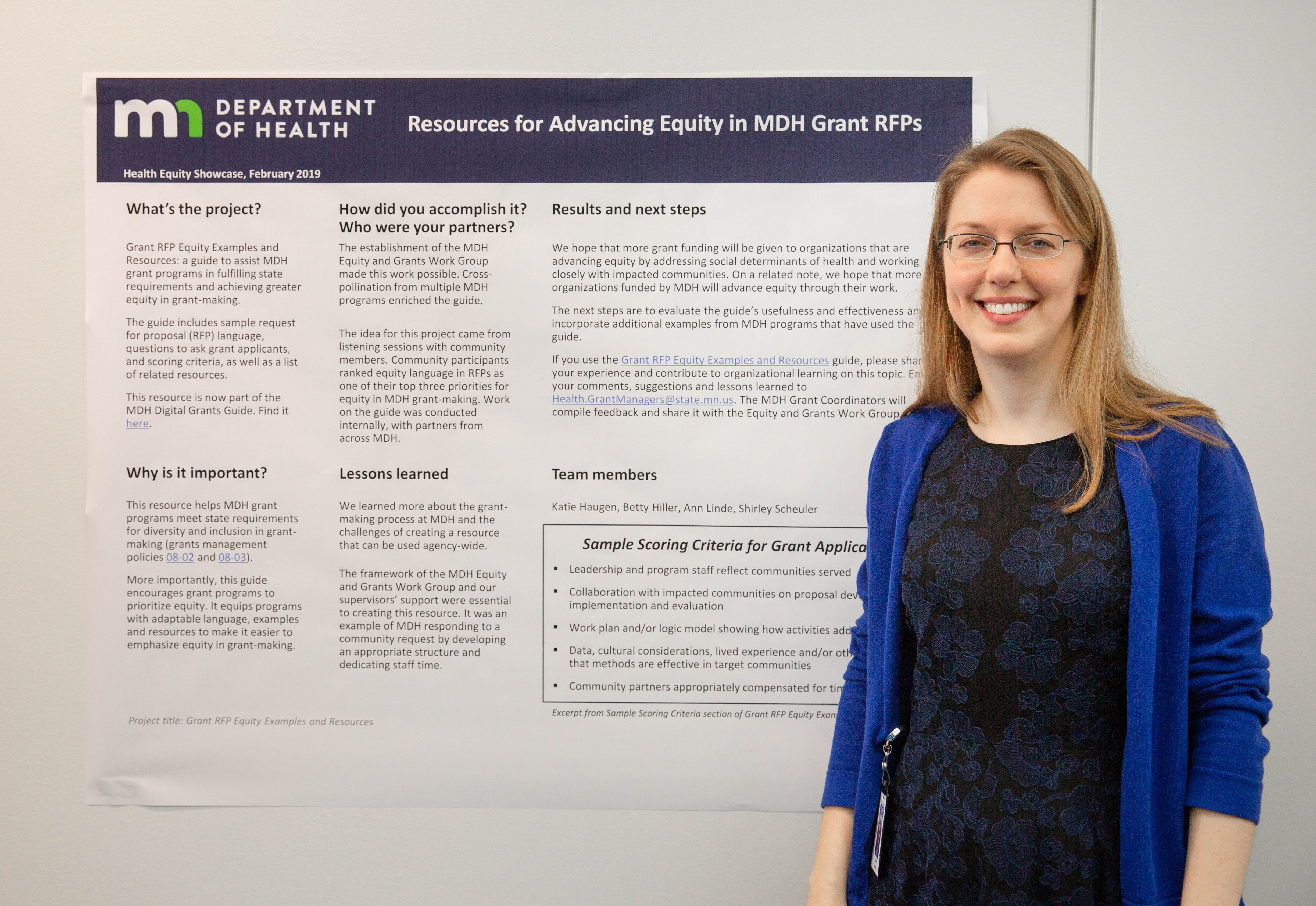 A group of MDH staff created a guide designed to assist MDH grant programs in fulfilling state requirements and achieving greater equity in grant-making. The guide includes sample request for proposals (RFP) language, equity-related questions to ask grant applicants and examples of equitable scoring criteria, as well as a list of related resources. This project was an initiative of the MDH Equity and Grants Work Group.
Guide for Advancing Health Equity in Grant RFPs Project Poster (PDF)
Grant Request for Proposals Promotion Guide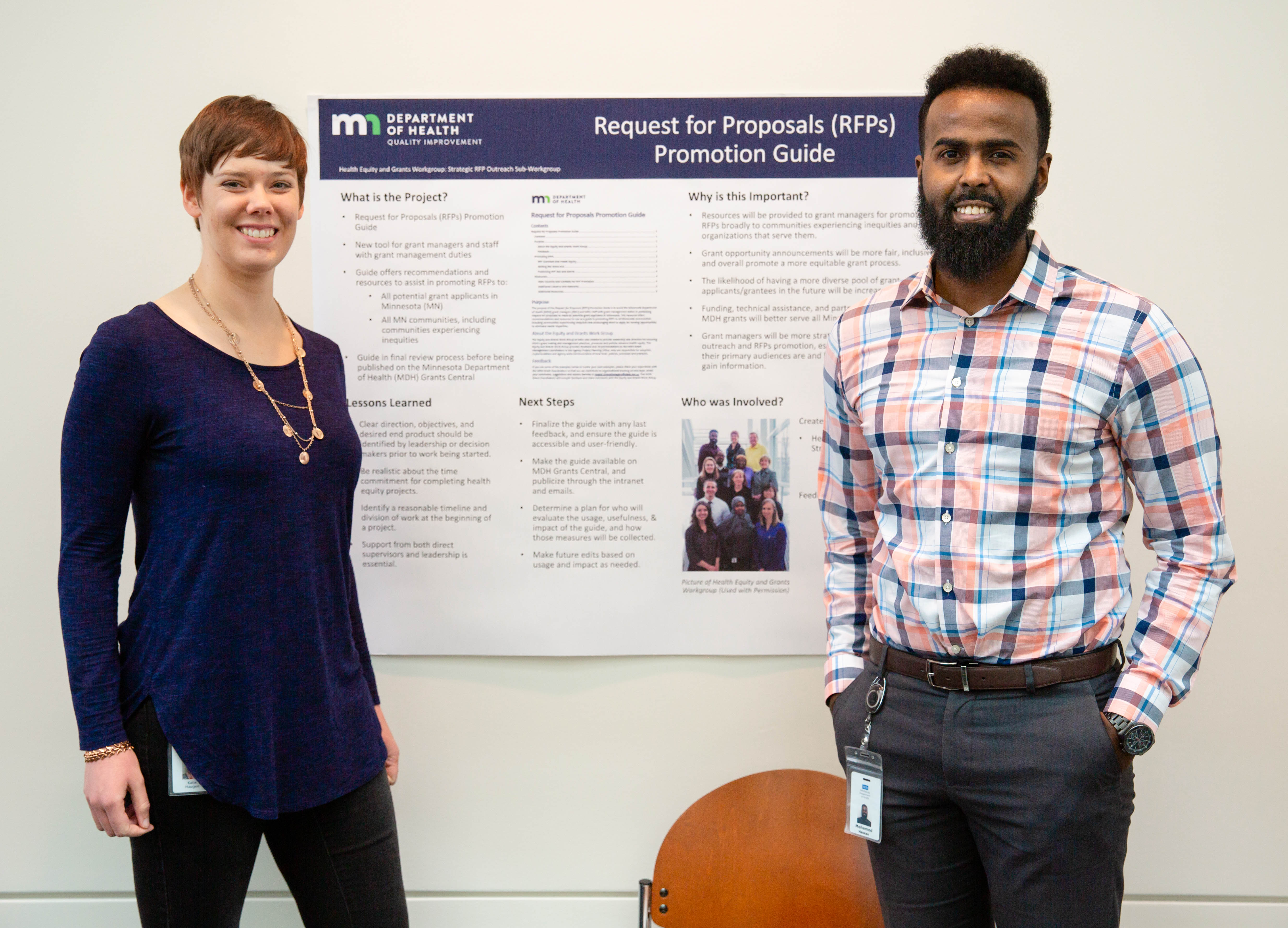 The Grant Request for Proposals (RFPs) Promotion Guide is a new tool for grant managers and grants staff designed to provide tips and resources to assist in promoting RFPs to all potential grant applicants in the state—especially communities experiencing inequities. This project was an initiative of the MDH Equity and Grants Work Group.
Grant Request for Proposals Promotion Guide Project Poster (PDF)
Conducting Health Equity Data Analyses at the Local Level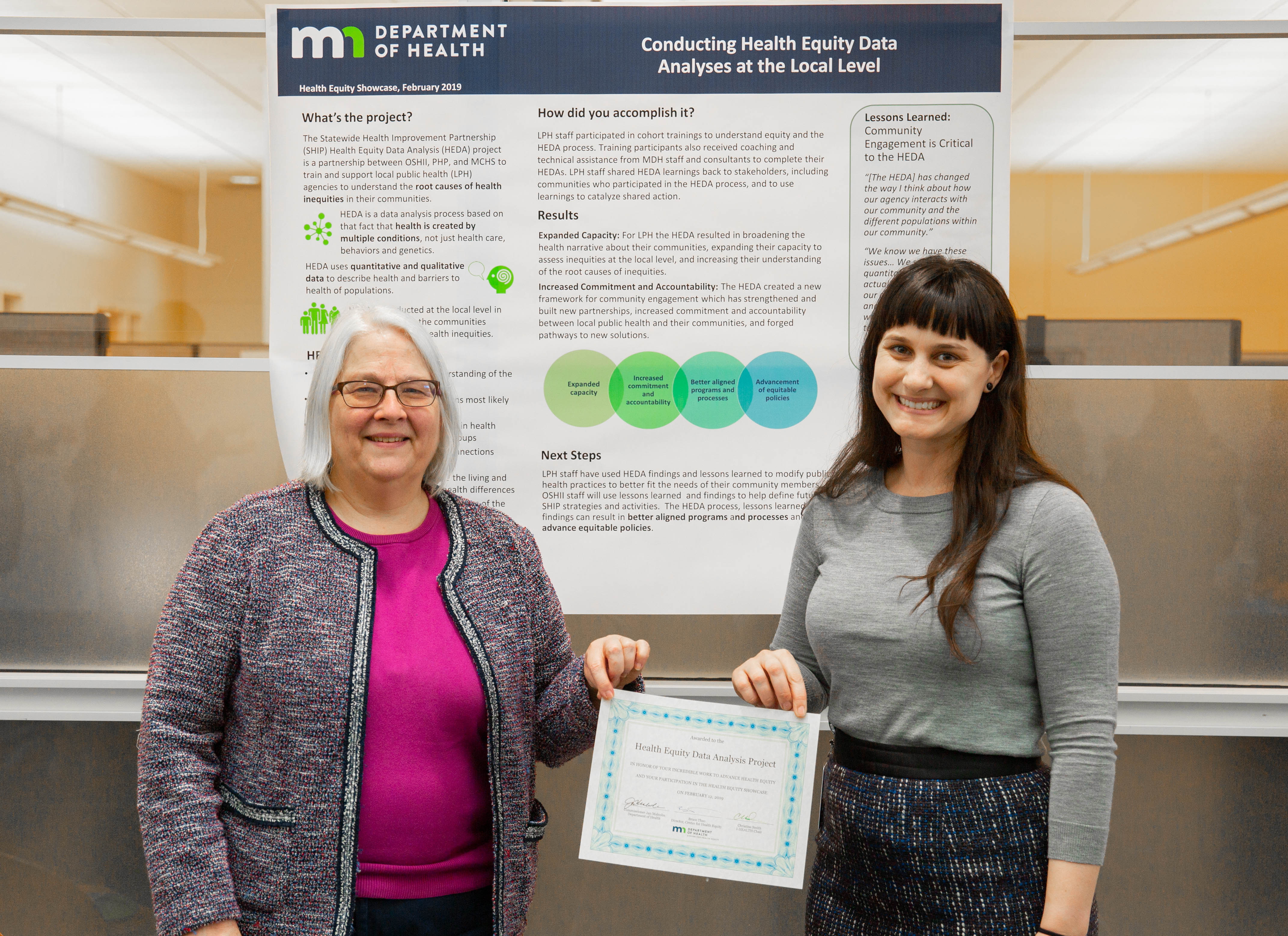 The Statewide Health Improvement Partnership (SHIP) Health Equity Data Analysis (HEDA) project is a partnership across several programs at MDH to train and support local public health agencies to understand the root causes of health inequities in their communities. HEDA is a data analysis process based on that fact that health is created by multiple conditions—not just health care, behaviors and genetics. HEDA uses quantitative and qualitative data to describe health and barriers to health of populations. HEDA is conducted at the local level in partnership with the communities most impacted by health inequities.
Health Equity Data Analyses Project Poster (PDF)
Orienting Toward Equity in Minnesota's Local Public Health System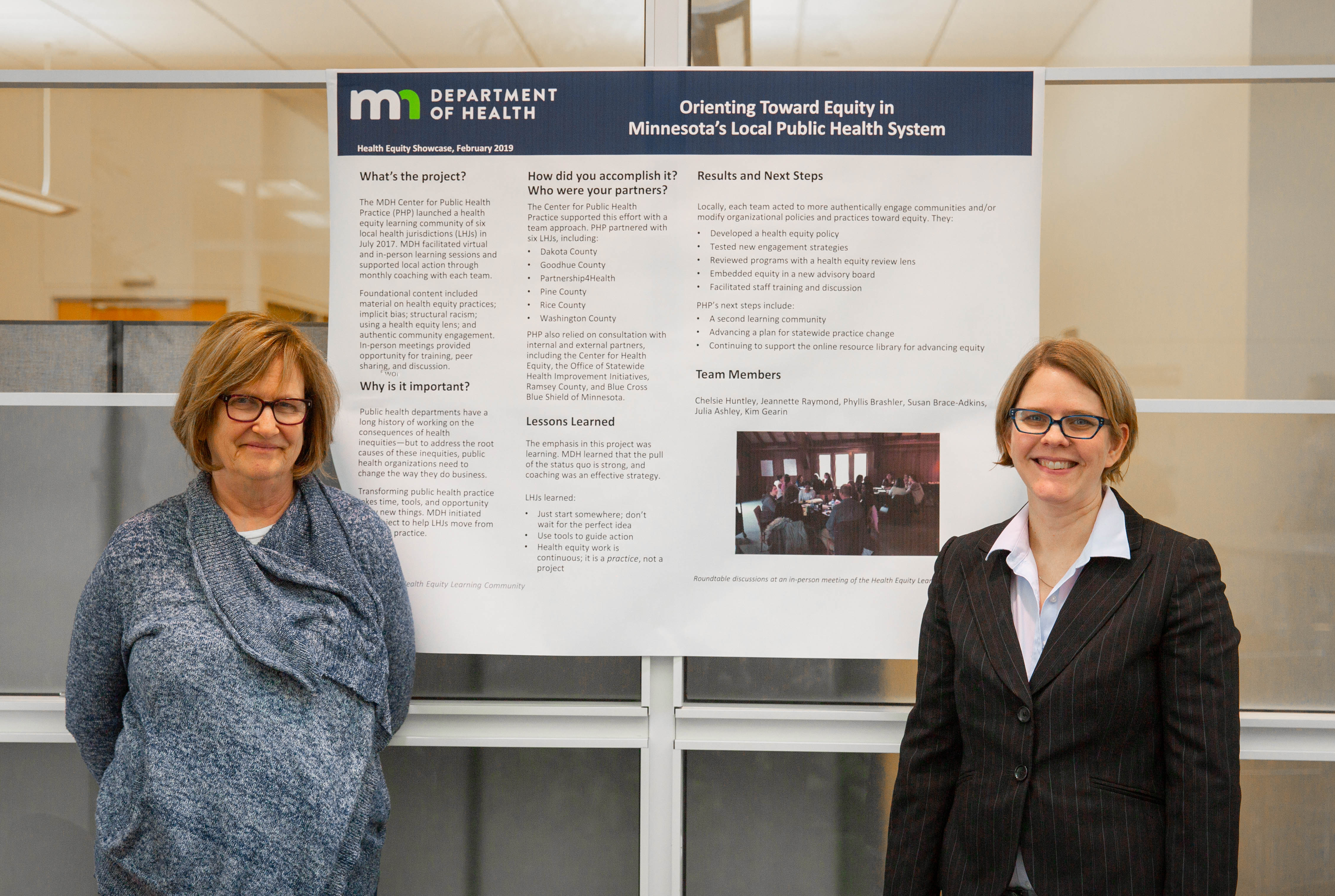 The MDH Center for Public Health Practice (PHP) launched a health equity learning community of six local health jurisdictions in July 2017. MDH facilitated virtual and in-person learning sessions and supported local action through monthly coaching with each team. Foundational content included material on health equity practices; implicit bias; structural racism; using a health equity lens; and authentic community engagement. In-person meetings provided opportunity for training, peer sharing and discussion.
Equity in Local Public Health System Project Poster (PDF)
Radon Disparities in Testing and Mitigation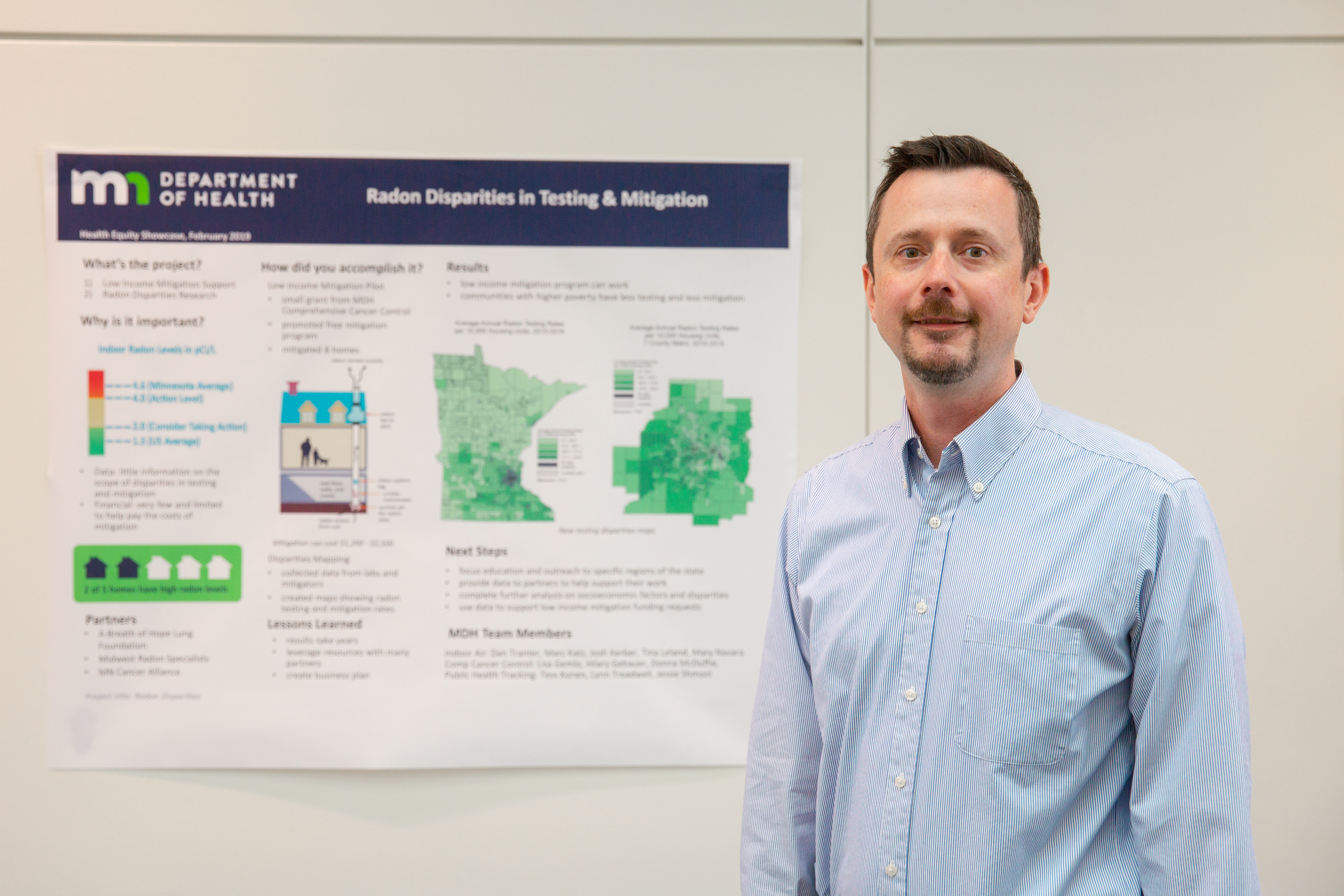 Little data exists on disparities in radon testing and mitigation, and limited financial resources are available to help pay the costs of mitigation. In this project, Environmental Health Division staff researched the scope of disparities in this health area and are seeking ways to address inequities in awareness, testing and mitigation of radon. With a small grant from Comprehensive Cancer Control and the help of partners, staff developed a method to identify and mitigate radon in low income homes. The program is now able to focus education and outreach to specific regions of the state.
Radon Disparities in Testing and Mitigation Project Poster (PDF)
Sickle Cell Disease Stakeholder Forum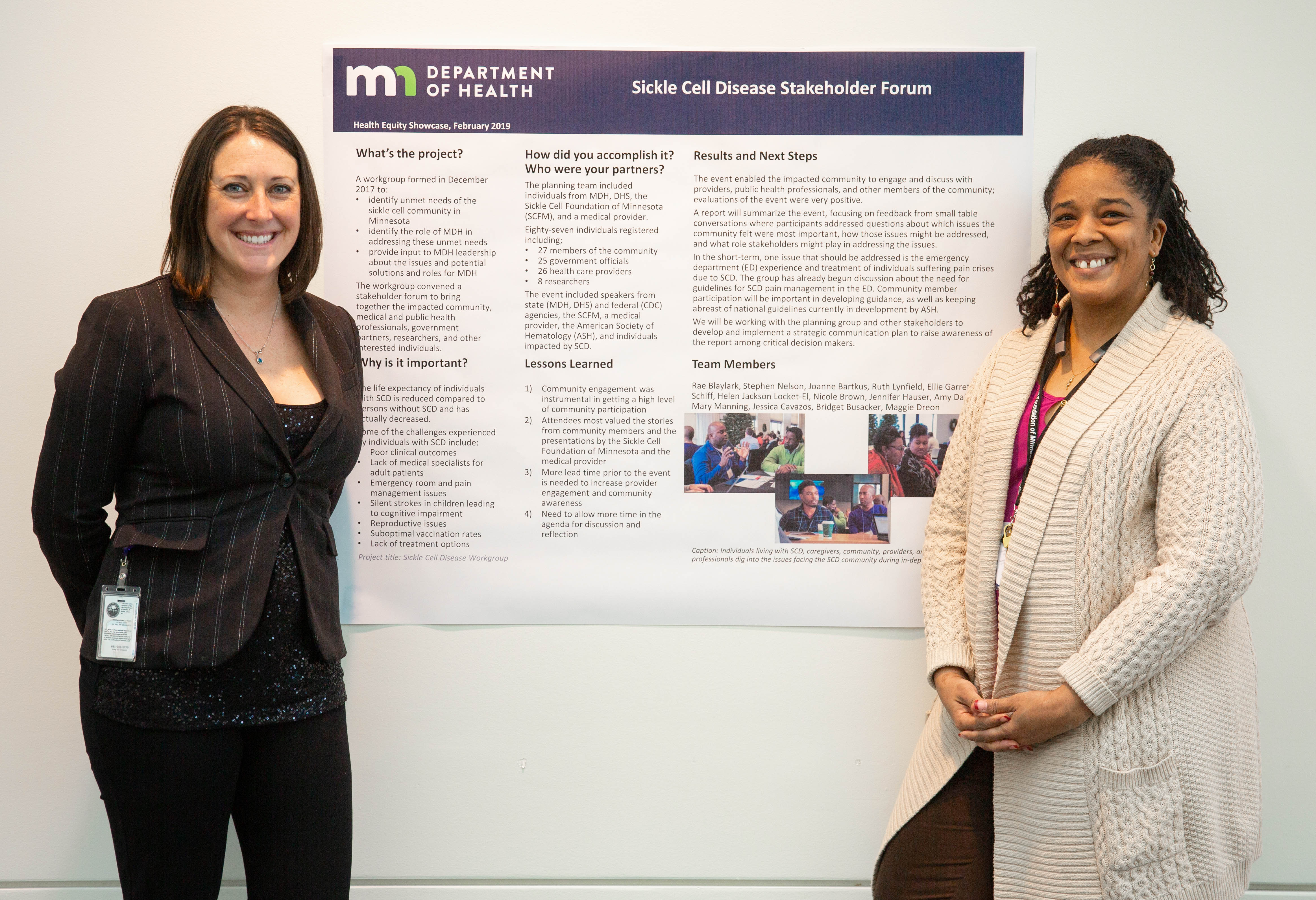 A workgroup formed in December 2017 to identify unmet needs of the sickle cell community in Minnesota, identify the role of MDH in addressing these unmet needs, and provide input to MDH leadership about the issues and potential solutions and roles for MDH. The workgroup convened a stakeholder forum to bring together the impacted community, medical and public health professionals, government partners, researchers and other interested individuals.
Sickle Cell Disease Stakeholder Forum Project Poster (PDF)
Tuberculosis Educational Videos for the Hmong Community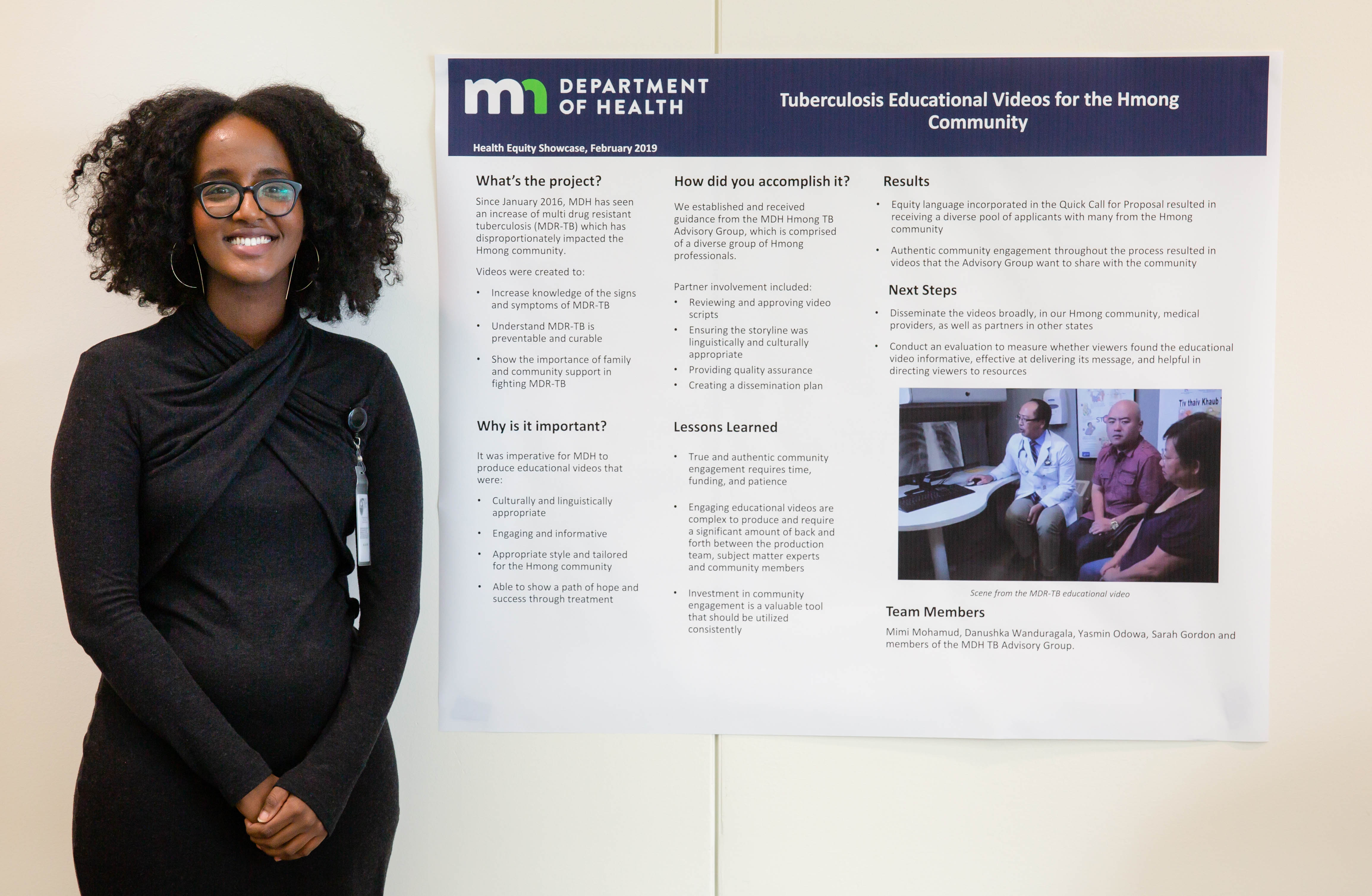 Since January 2016, MDH has seen an increase of multidrug-resistant tuberculosis (MDR-TB) which has disproportionately impacted the Hmong community. In response, videos were created that were designed specifically with and for the Minnesota Hmong community to increase knowledge of the signs and symptoms of MDR-TB, help community members understand MDR-TB is preventable and curable, and show the importance of family and community support in fighting MDR-TB.
Tuberculosis Educational Videos Project Poster (PDF)
Looking Beyond Race to Culture: Breastfeeding in the Minnesota WIC Program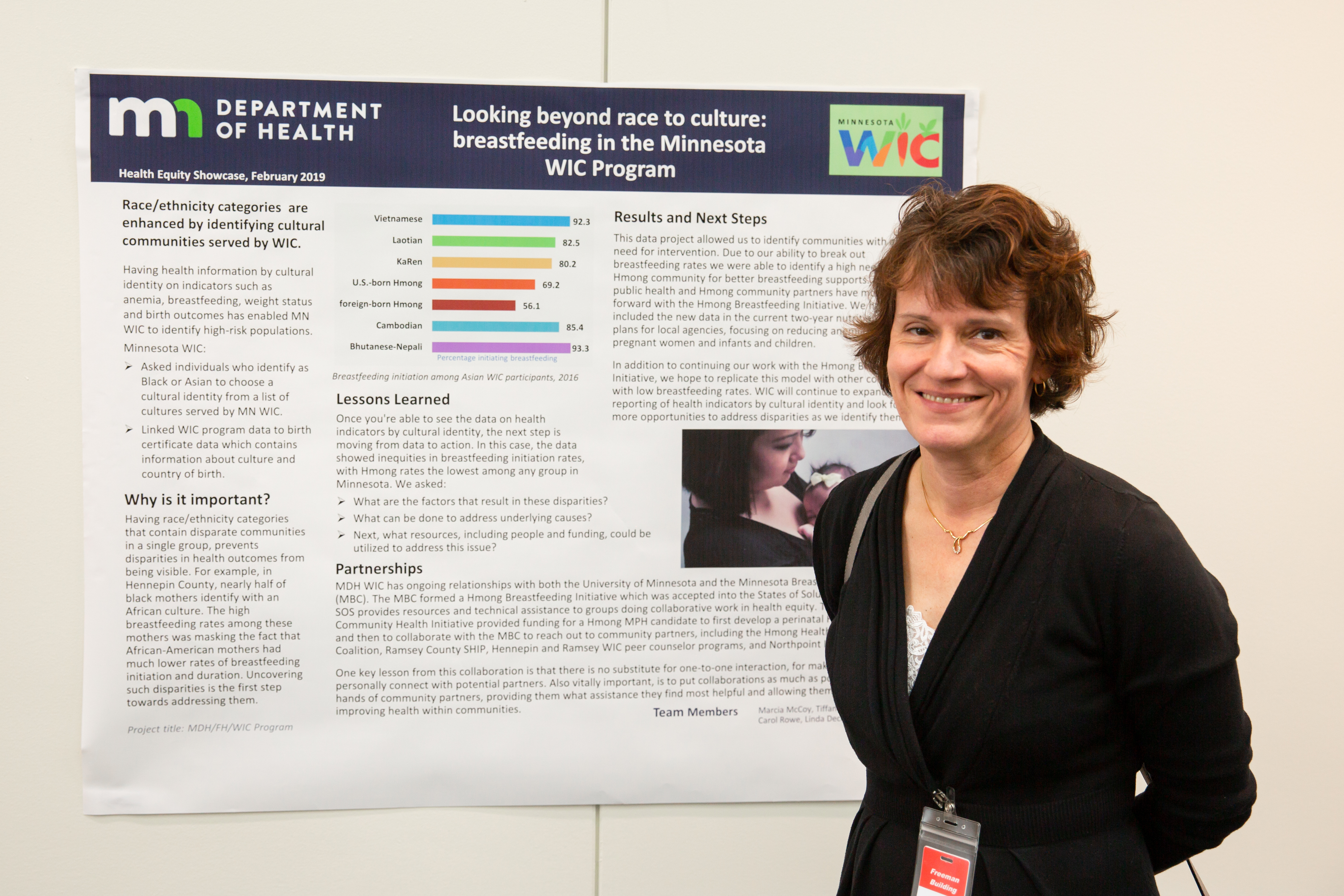 Having health information by cultural identity on indicators such as anemia, breastfeeding, weight status and birth outcomes has enabled the Minnesota WIC program to identify high-risk populations. Minnesota WIC staff asked individuals who identify as Black or Asian to choose a cultural identity from a list of cultures served by Minnesota WIC and linked WIC program data to birth certificate data containing information about culture and country of birth, which allowed them to identify communities with a higher need for intervention.
Breastfeeding in the Minnesota WIC Program Project Poster (PDF)
Deeping Our Understanding: The Role of Health Workforce in Health Equity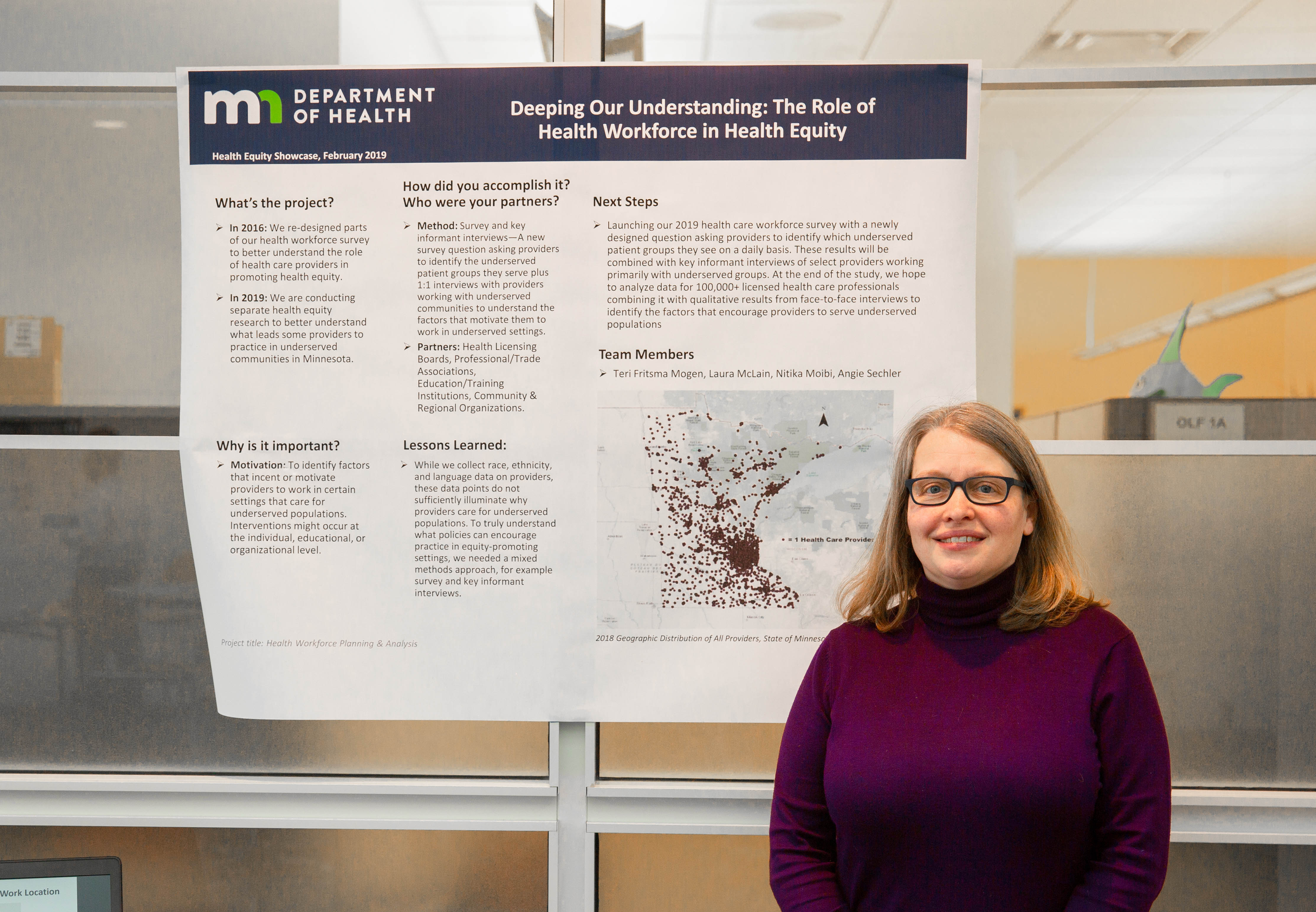 In 2016, the Office of Rural Health & Primary Care redesigned parts of the legislatively mandated health workforce survey to better understand the role of health care providers in promoting health equity. In 2019, staff are conducting additional research to better understand what leads some providers to practice in underserved communities in Minnesota. With this new data, the team is hoping to contribute to the ongoing conversation about how to develop a health care workforce prepared to serve underserved populations, and to be able to suggest policy or educational changes that ensures more providers are serving these populations.
The Role of Health Workforce in Health Equity Project Poster (PDF)
Last Updated:
10/03/2022