Farm to School Basics
Minnesota Schools are Embracing Farm to School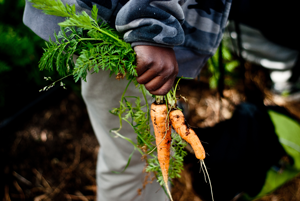 Minnesota schools are embracing Farm to School, which support schools' work to partner with local farmers and purchase and feature locally grown produce in school meals. Farm to School also incorporates educational opportunities with nutritional information, farm visits and school-based agriculture.
Partnerships benefit kids, farmers and communities
Thanks to Farm to School, kids eat more fresh local foods and learn about where their food comes from, all while supporting local farmers.
Learn how many schools nationally and in Minnesota connect with Farm to School.
Farm to School Benefits
Farm to School initiatives provide students and staff with healthy, locally grown produce. By connecting farms to schools, everyone benefits.

Students eat better: Farm to School programs have been shown to increase the number of fruits and vegetables kids eat as well as knowledge of nutrition and willingness to try new fruits and vegetables.1
Local economies get a boost: Farm to School can increase market opportunities for farmers and producers. Based on a study in Central Minnesota, $1 million in sales by small-scale farmers generated $1.6 million in the regional economy.2
Students have more educational opportunities: Thanks to Farm to School, students have a chance to grow their own produce; participate in farm tours, cooking classes and taste tasting; and get introduced to nutrition curricula.
Learn More
1Yoder, A.B., Liebhart, J.L., McCarty, D.J., Meinen, A., Schoeller, D., Vargas, C., & LaRowe, T. (2014). Farm to Elementary School Programming Increases Access to Fruits and Vegetables and Increases Their Consumption Among Those With Low Intake. Journal of Nutrition Education and Behavior, 46(5): 341-349. https://doi.org/10.1016/j.jneb.2014.04.297

2Pesch, R., and Tuck, B., Financial Benchmarks and Economic Impact of Local Food Operations, 2015, https://conservancy.umn.edu/bitstream/handle/11299/179080/2015-Financial-Benchmarks-Local-Food-Operations.pdf?sequence=1&isAllowed=y