Injury and Violence Prevention Data Projects


Minnesota Drug Overdose and Substance Use Pilot Surveillance Activity (MNDOSA)

Drug overdose deaths continue to rise in Minnesota. In 2016, the number of drug overdose deaths was nearly six times higher than in 2000. Prescription opioids and methadone continue to account for the greatest number of fatal overdoses, with 194 deaths in 2016. The fatal drug overdose epidemic is not limited to opioids – overdose deaths increased in almost all drug categories from 2015 to 2016, revealing an urgent public health problem.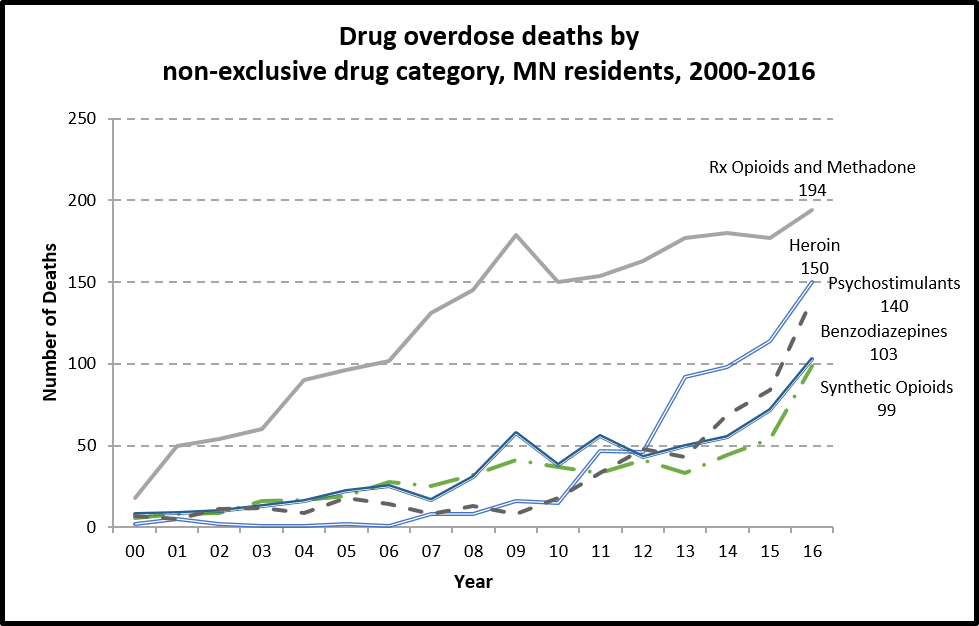 In response to this crisis, the Minnesota Department of Health (MDH) launched the Minnesota Drug Overdose and Substance Use Pilot Surveillance Activity (MNDOSA) at select hospitals to track all emergency department-treated and in-patient admissions cases of recreational drug use, both fatal and nonfatal.
This new system helps:
Determine the negative effects of overdose and inappropriate substance use on Minnesota hospitals.
Raise awareness of new clusters of drug overdoses, in near real time, so public health stakeholders can swiftly respond.
Identify new substances being used, and substances that do not cause the typical signs and symptoms of drug use, along with clusters of use, severe illness and/or death.
Identify who is most at-risk in order to focus and guide prevention efforts.
MNDOSA is currently in a pilot phase, but the project may expand to include more hospitals in Minnesota. Surveillance from MNDOSA began in November 2017 and plans to continue until December 2020.
Collecting information
The data collected from MNDOSA are being used to better understand the patterns of drug overdose and substance abuse in Minnesota.
As part of tracking efforts, blood and urine samples from a small number of patients are collected and submitted to MDH Public Health Laboratory for further analysis. The results from these samples are only used for public health surveillance purposes. The samples will help identify and track what drugs are being used in Minnesota. The MDH Laboratory is able to test a wider range of substances than most hospital and clinical laboratories.
Statewide Reporting - Fatal Drug Overdose
In addition to MNDOSA, beginning June 1, 2018, MDH is requesting hospitals to report all fatal cases of drug overdose to MDH within 1-2 business days. This includes deaths occurring in the emergency department and inpatient areas, such as intensive care units. Deaths resulting from alcohol poisoning alone are excluded from reporting. This separate project will collect data to better understand the patterns of substance use and drug overdose in Minnesota and inform a public health response.
Reports may be faxed to MDH using the downloadable fax form (PDF) (Fax #: 1-800-267-1058), or through the online Statewide Fatal Overdose Reporting Survey. The information in these reports is considered private health data, and as such MDH is mandated to protect this data.
Get Involved
To learn more about MNDOSA or fatal drug overdose reporting, please contact Terra Wiens at terra.wiens@state.mn.us
Additional Resources
Opioid Dashboard – a one-stop shop for opioid-related data and information.
Drug overdose deaths among Minnesota residents - this report highlights overdose death data in Minnesota.