Injury and Violence Prevention
Related Topics
Injury and Violence Prevention


Syndromic Surveillance
Background and Introduction
Syndromic surveillance emphasizes the use of near real-time data with statistical tools to detect and characterize unusual activity for further public health investigation.
Syndromic surveillance systems may be utilized for situational awareness, to further characterize an outbreak beyond initial detection and notification, to monitor the spread of an outbreak, and/or to monitor the effectiveness of outbreak response and interventions. These data help public health officials detect, monitor, and respond quickly to local public health threats and events of public health importance.
Benefits of Using and Interpreting Syndromic Surveillance Data
Syndromic surveillance differs from other data sources, such as case or electronic case reports, All Payer Claims Database (APCD), and Electronic Health Record (EHR) Consortium data, in the breadth of data collected resulting in the ability to monitor and identify emerging public health concerns in near-real time. Syndromic Surveillance includes data on all visits treated at hospitals, regardless of condition. Analysis of these data based on signs and symptoms before a confirmed diagnosis or lab test significantly improves the timeliness of analysis and allows identification of concerns across a broad range of conditions. Other data sources mentioned above are focused on a specific diagnosis or lab test, resulting in an inability to examine other relevant conditions or identify new health issues.
Examples of Syndromic Surveillance in Action
Using syndromic surveillance, public health officials have been able to:
Detect illness, injuries, and health care needs after major disasters and environmental-related events such as hurricanes, floods, extreme heat, snowstorms, poor air quality, etc.
Characterize the burden of opioid and other drug-related overdoses in communities.
Monitor for early signs of outbreaks associated with mass gatherings like concerts, conventions, or large festivals.
Respond to foodborne outbreaks such as the identification of food poisoning that resulted in a product recall.
How Syndromic Surveillance is Used at MDH
Syndromic surveillance is currently being used at MDH to monitor and identify trends in COVID-19 and drug overdose symptoms and diagnoses from emergency department and inpatient hospital visits via admission, discharge, and transfer (ADT) data.
Monitor and identify trends in COVID-19-related symptoms and diagnoses
MDH Weekly COVID-19 Report – Syndromic Surveillance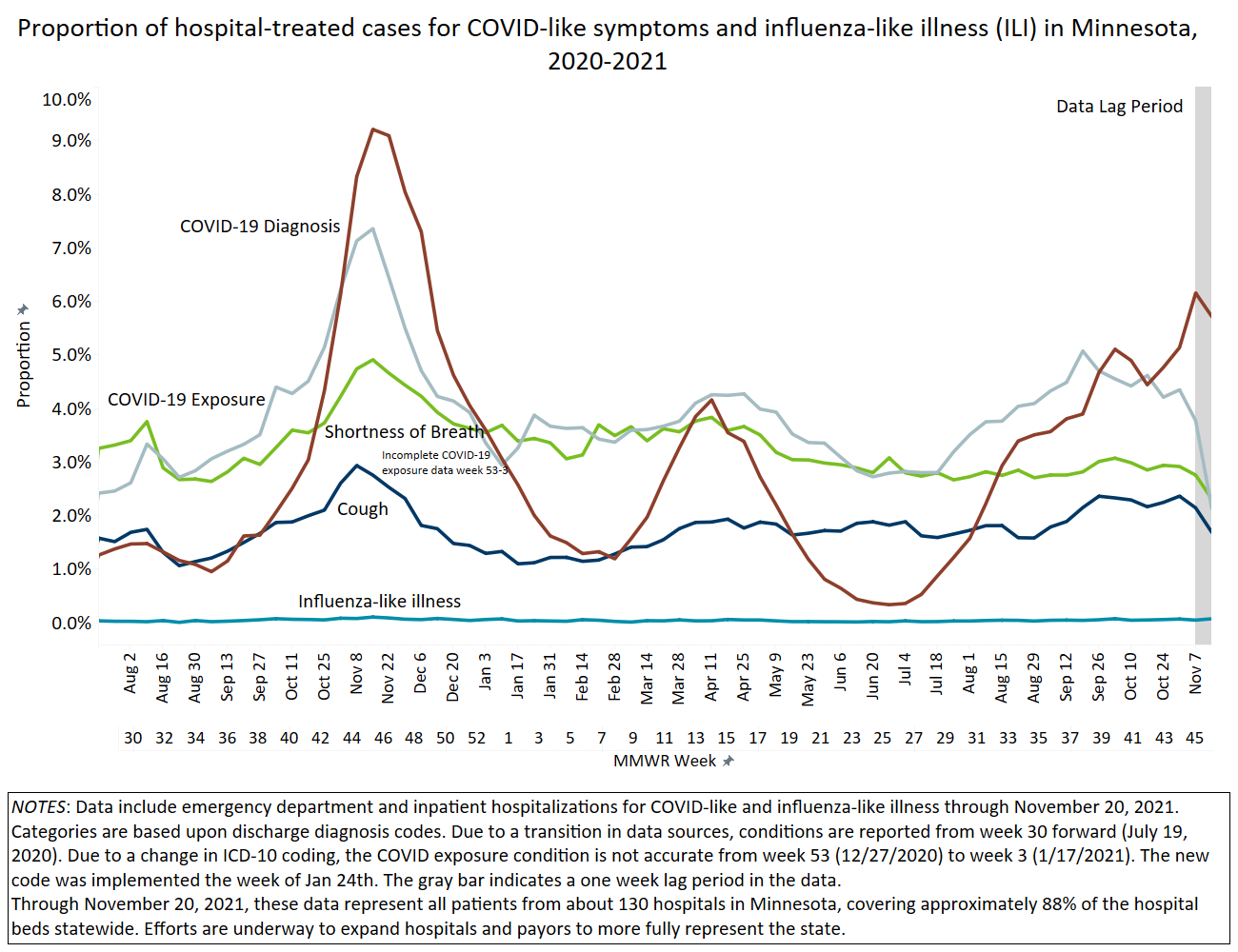 Example interpretation for situational awareness of COVID-19 in Minnesota:
From week 44 to 45, the proportion of COVID-19 hospitalizations increased from 5.1% to 6.2%, approaching levels from the fall 2020 peak (9.2%). In the lag period, this proportion decreased. All COVID-like conditions remained stable and high. In the lag period, all COVID-like conditions decreased, except for ILI which remained stable and low.
Monitor and identify trends in drug overdose hospital visits
MDH Syndromic Surveillance Drug Overdose Dashboard*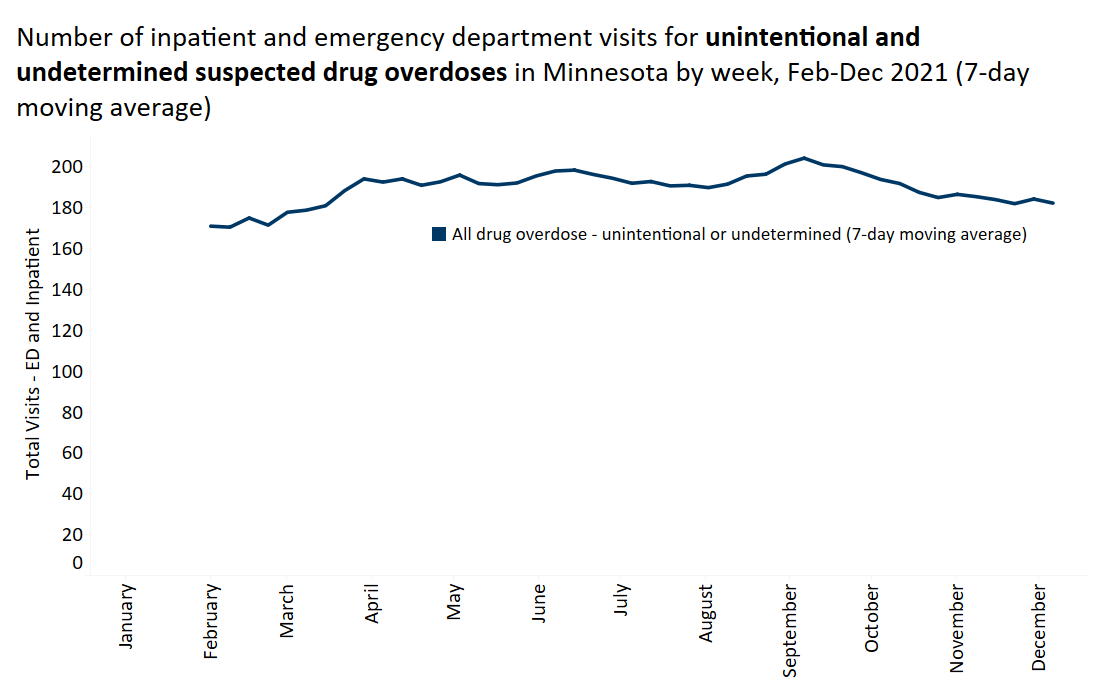 *An interactive Tableau dashboard will be available soon.
Example interpretation for situational awareness of Drug Overdose in Minnesota:
From February 14, 2021 to December 25, 2021, unintentional and undetermined suspected drug overdose inpatient and emergency department visits remained stable and high, ranging from 170-200 visits per week.
Why Participate in the National Syndromic Surveillance Program (NSSP)?
MDH's syndromic surveillance system is part of the larger NSSP. Participation in the NSSP:
Provides state and local public health officials a digital platform to detect, characterize, monitor, and respond to potential public health threats.
Provides local, regional, and national situational awareness about public health concerns.
Supports more informed public health decisions and interventions.
Contributes to protecting the health of communities through sharing data back with communities, local health departments, and participating facilities.
A great benefit of participation in the NSSP is the ability to share syndromic surveillance data with the people providing it through the CDC's data analysis system, ESSENCE. Once local facilities begin sending data to the NSSP and partners sign the BioSense Platform User Agreement, MDH will coordinate ESSENCE access and training for partners. MDH can create templates for dashboards, predefined tables, maps, and graphs to help with community level health assessments by request (see infographic below for example reports and dashboards). The data can be broken down by age, sex, race, zip code, county, etc. Examples of data users include, but are not limited to facilities, public health nurses, & local public health departments. ​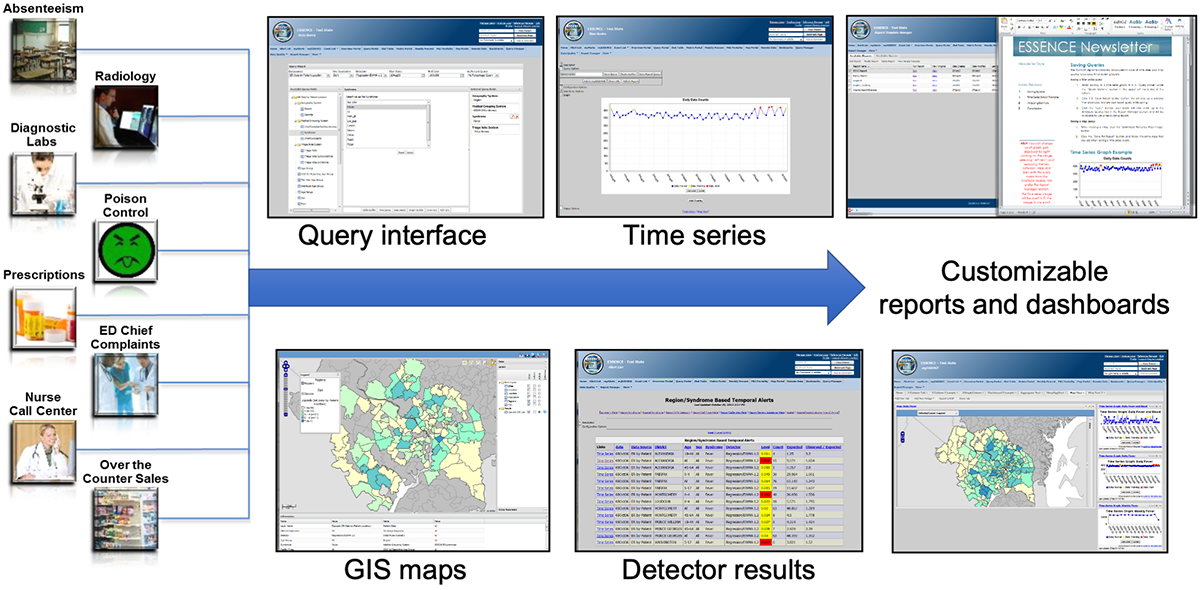 For more information on ESSENCE, please see the Electronic Surveillance System for the Early Notification of Community-Based Epidemics (ESSENCE): Overview, Components, and Public Health Applications article and the NSSP Technical Resource Center.
Status of Syndromic Surveillance in Minnesota and How to Get Involved
Participation in the CDC's NSSP is promoted by the CDC for implementation in every state. Syndromic surveillance is also one of four public health reporting requirements for hospitals and health systems in the Centers for Medicare & Medicaid Services (CMS) public health reporting rules effective January 1, 2022.
For more information regarding the CDC NSSP or other MDH interoperability programs please refer to the MDH Public Health Reporting & Promoting Interoperability Program (formerly known as Meaningful Use) website.
For additional questions and onboarding please contact the MDH Office of Data Strategy and Interoperability (DSI) at health.dsi@state.mn.us.
For MN facilities
MDH Data Specifications – IN PROGRESS
For Public Health
Resources and Training for Public Health
For questions on MDH's syndromic surveillance system, e-mail health.drugodepi@state.mn.us.
Last Updated:
10/03/2022