Opioid Overdose
If you need immediate medical help call 911!
If you need step-by-step assistance administering naloxone call the Minnesota Poison Control System at 1-800-222-1222.
What is Opioid Overdose?
Opioids are a class of drugs intended to manage pain. Prescription opioids are commonly referred to as pain relievers because they are often prescribed for pain. Examples of prescription opioids include hydrocodone, oxycodone, morphine, methadone, and fentanyl. Heroin is an illegal opioid.
In Minnesota, opioid-related deaths continue to increase, driven by a steady rise in opioid pain reliever deaths and a more recent surge in heroin deaths.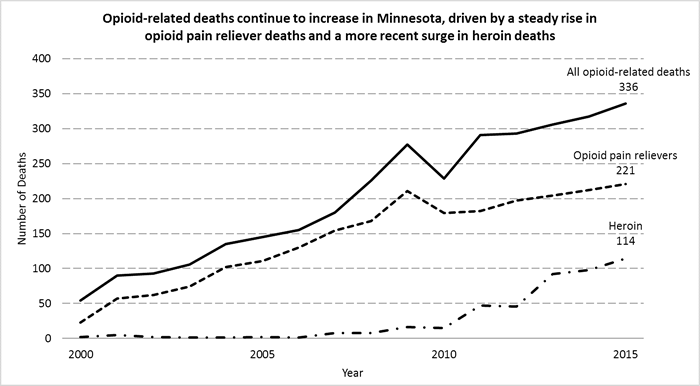 Opioids are highly addictive and can lead to higher tolerances. This means the person needs a higher dose or strength to feel the drug's effects.1 Opioid overdoses can happen when someone has taken a very high or strong dose, has mixed opioids with other drugs, or if the person has certain medical conditions. Opioid overdose is dangerous because it can lead to decreased breathing, which can lead to death. In the United States from 1999 to 2016, more than 350,000 persons died from prescription opioid-related overdose.
Naloxone is a drug that can help stop an opioid overdose. If you are at risk or you know someone at risk for an opioid overdose, you can get naloxone from your pharmacy or doctor.  
Naloxone
Expanding Naloxone Access for Preventing Opioid Overdose
If someone is overdosing on opioids, they need naloxone immediately. Opioid overdose can lead to decreased breathing, which prevents oxygen from reaching the brain. This can lead to unconsciousness, coma or death.2
Naloxone, also known as Narcan©, is a safe way to reverse an opioid overdose. When a person administers naloxone during an opioid overdose, naloxone quickly, but temporarily, disables opioid's harmful effects to the brain, preventing an opioid overdose. Be sure to call 911 because the life-saving effects of naloxone wear off after 30 to 45 minutes. This allows time for emergency medical services to respond or for getting the person to an emergency department.
Naloxone is only effective for an opioid overdose – drugs like hydrocodone, oxycodone, morphine, methadone, fentanyl and heroin. It will not work on any non-opioid overdoses. Naloxone is not a controlled substance, it is not addictive, and has no abuse potential.  A person can administer it with little to no formal training.
Who should get naloxone
Anyone who is at risk for, or knows someone who is at risk for, an opioid overdose.
However, certain groups of people are at higher risk for an opioid overdose, including those who are using:
High doses of prescription opioids or pain pills (over 50 morphine milligram equivalents*)
Opioids and benzodiazepines (a medication commonly prescribed for generalized anxiety disorder), alcohol, or other sedatives concurrently
Long-acting opioids
Opioids and have respiratory insufficiency, especially sleep apnea
Prescription opioids not as prescribed, or not prescribed to themselves
Opioids after a period of sobriety
Heroin, fentanyl or other synthetic opioids
Or, have a previous non-fatal opioid overdose or current substance use disorder
*If you are taking pain pills, find out what the morphine milligram equivalent (MME) is from your doctor. Visit CDC's Calculating Total Daily Dose of Opioids for Safe Dosafe (PDF)to learn more about MME.
Why Get Naloxone
Carrying naloxone is a life-saving measure. It does not take place of seeking medical, mental and chemical health care.
You can get naloxone for someone else, just as you take a CPR class to provide a life saving measure. Naloxone can save someone's life during a drug overdose.
You can get naloxone for yourself- just as you would carry an EpiPen for allergies, you can carry a naloxone kit that could save your life in an emergency.
Naloxone is usually not self-administered. If you carry naloxone, inform the people around you so someone close to you can use it in an emergency.
Where to Get Naloxone
Participating Pharmacies with a Naloxone Protocol (PDF)
You can get naloxone at any of the pharmacies on the List of Pharmacies with a Naloxone Protocol. These pharmacies have entered a naloxone protocol with MDH. Or, go to your preferred pharmacy. Ask if they carry naloxone or Narcan©. If they do not, ask them to adopt the naloxone protocol. Pharmacy chains like Walgreens and CVS participate in the protocol. Some insurance may cover naloxone. You can also ask your doctor or primary care provider. Talk with your doctor or pharmacist about payment options.
How to Give Naloxone
Administering Naloxone
If you are responding to an opioid overdose, call 911, administer naloxone, and provide rescue breaths until emergency medical services arrive or the person wakes up.
The Harm Reduction Coalition provides step-by-step guides on how to Administer Naloxone through an injection or nasal spray. The injection method is much more affordable at this time. Injected Naloxone is inserted into a muscle (upper arm or thigh) and works within five minutes.  If a second dose is available, it should be administered if there is little to no response within two to three minutes of the first dose. 
If you are concerned about a drug poisoning of any type, call the Minnesota Poison Control System at 1-800-222-1222. The Poison Center will provide immediate professional assistance for drug overdose to the public and health care providers. The service is available 24/7.
Signs and Symptoms of Withdrawal
After administering nalaxone during an opioid overdose, the person will go into withdrawal. That person cannot overdose on naloxone. Signs and symptoms of opioid withdrawal include: 3
Agitation
Vomiting
Increased heart rate
Sweating
Feeling nervous, restless, irritable
Body aches
Dizziness or weakness
Diarrhea, stomach pain, nausea
Fever, chills, goose bumps
Sneezing, runny nose
Remember, naloxone is only effective for opioid overdoses. If you administer naloxone for non-opioid overdoses though, you will not harm the person.
Training
Administering naloxone can sound scary. If you want to increase your confidence in responding to an opioid overdose, sign up for training from the Steve Rummler HOPE Network. At these trainings, you will get hands-on practice administering naloxone with a syringe and injecting it into a piece of fruit. You will also receive a naloxone kit that includes gloves, three doses of naloxone and directions.
When someone is overdosing, that person needs help right away. Steve's Law provides immunity from civil or criminal charges as long as pharmacies, prescribing providers and the general public act in good faith.
Treatment
Addiction is a disease. Do not be afraid to seek treatment. Use the Substance Abuse and Mental Health Services' treatment directories to find a treatment center near you.
National Helpline 1-800-622-HELP (4357)
Confidential, free, 24/7 for individuals and family members facing mental and/or substance use disorders. This service provides referrals to local treatment facilities, support groups and community-based organizations. Information is available in English and Spanish.
Find physicians authorized to treat opioid dependency with buprenorphine by state.
Find treatment programs in your state that treat addiction and dependence on opioids, such as heroin or prescription pain relievers
Safe Disposal Information
You should properly discard any medications that you are not currently taking in order to protect you, others and the environment. Below are three resources to dispose of unwanted medications and needle safety precautions.
The Minnesota Pollution Control Agency describes ways the community can manage and dispose of unwanted medications.
The annual National Prescription Drug Take Back Day aims to provide a safe, convenient, and responsible means of disposing prescription drugs, while also educating the public about the potential for abuse and medications. You can locate a collection site by city/state or zip code.
Disposing of Needles and Syringes  
The Minnesota Pollution Control Agency also provides information on safe disposal of needles, lancets, and syringes (sharps) safely to prevent injury and disease transmission from needle-sticks.
Get Involved
Sign up for the Alcohol and Other Drugs (AOD) weekly update to get more information on events, data and research, andmore.
Contact:
Citations
1Centers for Disease Control and Prevention. (2016) Opioid Overdose. Retrieved from https://www.cdc.gov/opioids/index.html
2Harm Reduction Coalition. (2016). What is an overdose? Retrieved from http://harmreduction.org/issues/overdose-prevention/overview/overdose-basics/what-is-an-overdose/
3 Substance Abuse and Mental Health Services Administration. (2016). Naloxone. Retrieved from https://www.samhsa.gov/medication-assisted-treatment/treatment/naloxone
Last Updated:
10/26/2022