Tackling Overdose with Networks (TOWN)
Tackling Overdose with Networks (TOWN) is a clinic-based model promoting an approach that includes multiple strategies to reduce opioid overdose within communities by:
Reduce the number of chronic opioid prescriptions
Increasing access to Medication for Opioid Use Disorder (MOUD) also known as Medication-Assisted Treatment (MAT)
Increasing community care coordination and prevention efforts
The TOWN grant provides funding and technical assistance to twelve rural clinics across Minnesota.
TOWN Participating Clinics
| | |
| --- | --- |
| Clinic | County |
| Alomere Health-Alexandria Clinic | Douglas |
| Carris Health | Redwood |
| Chippewa County – Montevideo Hospital (CCMH) | Chippewa |
| Fairview Mesaba Clinic | St. Louis |
| FirstLight Health System/Welia- Mora | Kanabec |
| Lake Region Healthcare | Ottertail |
| Mille Lacs Band of Ojibwe -Ne-La-Shing Clinic, Onamia | Mille Lacs |
| Riverwood Healthcare Center | Aitkin |
| Altru Clinic- Warroad | Roseau |
| Mille Lacs Health System – Onamia Clinic | Mille Lacs |
| Ortonville Area Health Services | Big Stone |
| Wadena Tri- County Health | Wadena |
The image below shows location of TOWN grants on the Minnesota map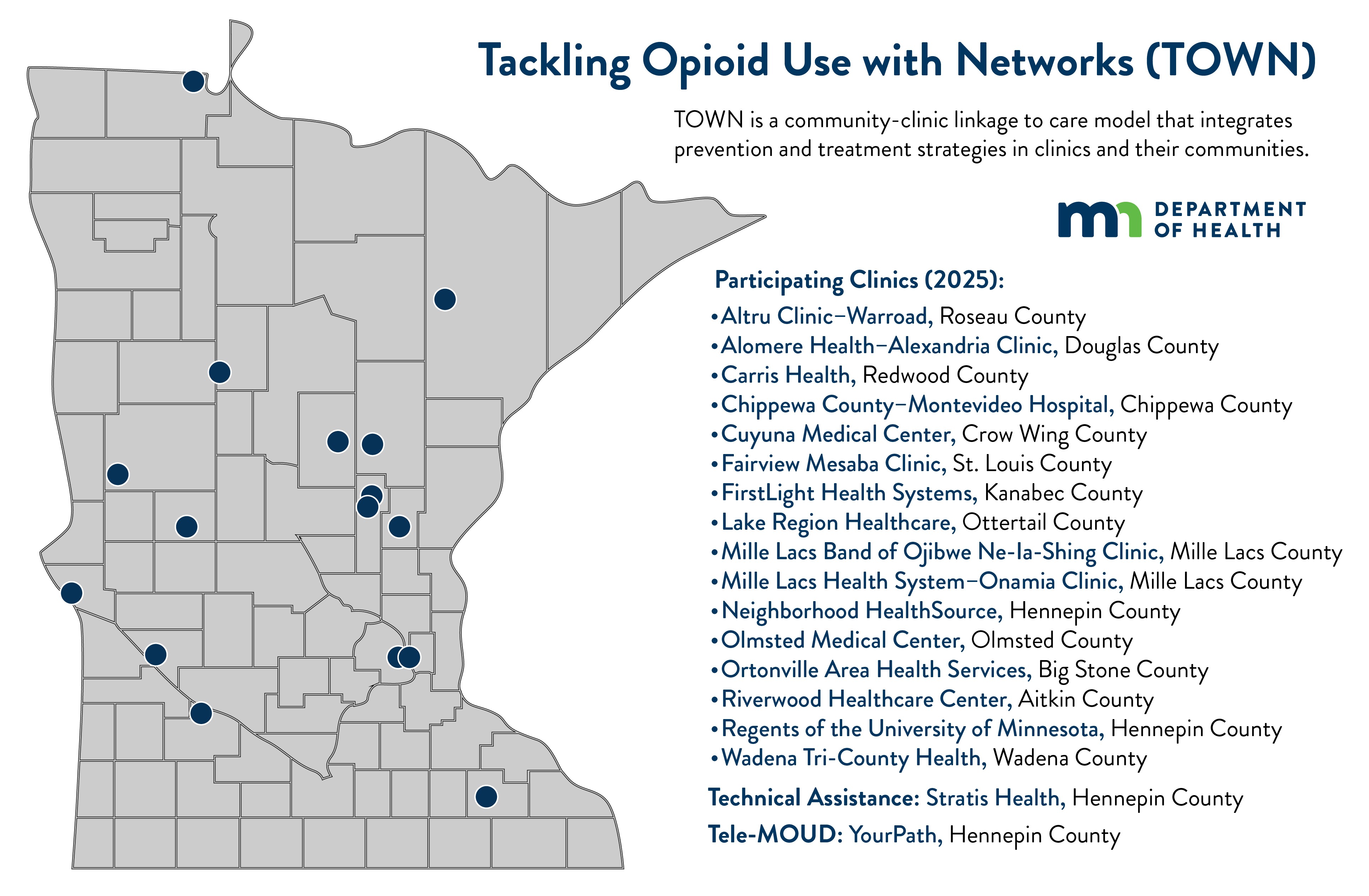 What is the TOWN model?
TOWN clinics are preventing opioid overdoses within their communities by:
Developing controlled substance care teams
Having a case coordinator to manage the relationship between the health care system and patients
Giving clinicians the credentials needed to provide MOUD/MAT for treatment in rural settings
Providing drop boxes for safe ways to dispose of expired or unused prescriptions
Creating or joining community task forces that are already active and focused on preventing substance use. The task forces may include mental and behavioral health experts, law enforcement, emergency medical teams, public health, non-profits, and for profit organizations.
TOWN Model Strategies
The TOWN model works to put in place strategies focused on 1) clinic and 2) community change.
The nurse coordinator works with clinicians and staff in the clinic and broader community to:
Monitor Chronic Opioid Usage (taper patients to safe levels)

Incorporate Prescription Monitoring Program
Implement Controlled Substance Care Teams

Increase Access to Medication for Opioid Use Disorder (MOUD) amongst patients with SUD
Increase the number of providers who hace credentials to provide MOUD
Integrate MOUD into Emergency Departments
Increase Care Coordination and Prevention Efforts in the Community
Join or start community task forces
Expand relationships between social service and behavioral health referral programs
Support naloxone distribution
For these strategies to be successful, they must be used together. Staff and clinics expand their ability to provide services through individual technical assistance. This includes weekly ECHO education sessions, certification of medical homes and health provider education.
Both the clinic and community level strategies play a key role in reducing the number of opioid overdoses.
TOWN Manual
The TOWN Manual (PDF) serves as a comprehensive resource for physicians across Minnesota who may be interested in implementing TOWN programs in their local areas.
Steps to Implement the TOWN model
Step 1: Build Internal Capacity
Hire a nurse care coordinator.
Begin the process of getting three or more clinicians the credentials needed to provide MOUD.
Begin clinic education around tapering, opioid usage and MOUD best practices.
Step 2: Create and update activities across the clinic
Create controlled substance care team (CSCT).
Review opioid prescription patterns with full physician team.
Update individual care plans.
Begin individual outreach to physicians for doctors who have been identified as high-risk.
Step 3: Partnership and formation
Basic education of OUD, sharing available resources, and increasing awareness of MOUD options.
Identify opportunities to coordinate prevention and referral efforts with naloxone distribution.
Develop strategies for community outreach.
Step 4: Combine processes for a reliable system change
Integrate MOUD into Emergency Departments
The clinical team becomes a resource for problem solving and physician support as MOUD and other tappering efforts are adopted.
Further Information on TOWN Model
Contact health.drugodprev@state.mn.us for further information on TOWN.
Last Updated:
05/01/2023