Foodborne Illness
Related Topics
Submitting a Stool Sample
Watch this 5-minute video showing you how to use a Minnesota Department of Health stool collection kit to easily collect your stool sample and send it to the MDH Public Health Laboratory for testing.
To report a suspected foodborne or waterborne illness call 1-877-FOOD-ILL.
Spotlight


Safer Farm Animal Contact Exhibits (Safer FACEs)
The Safer Farm Animal Contact Exhibits (Safer FACEs) training program can help you understand the risks of illness and injury from farm animals, and how to protect your visitors. Complete this free online training and the Minnesota Department of Health will provide certification that your venue has learned about these issues.


Turkey: Safe Thawing and Cooking
Food safety tips for handling, thawing, roasting, storing, and reheating turkey.

Cooking for Groups
Consumer information about preparing and serving food for large groups. Information to help volunteers prepare and serve food safely for large groups such as family reunions, church dinners, and community gatherings.


Foodworker Illness Awareness
Workers who prepare food while experiencing diarrhea and/or vomiting are frequently linked to foodborne illness outbreaks in restaurants and other retail food outlets. As a food manager or worker you have a responsibility to protect yourself and your guests from foodborne illness.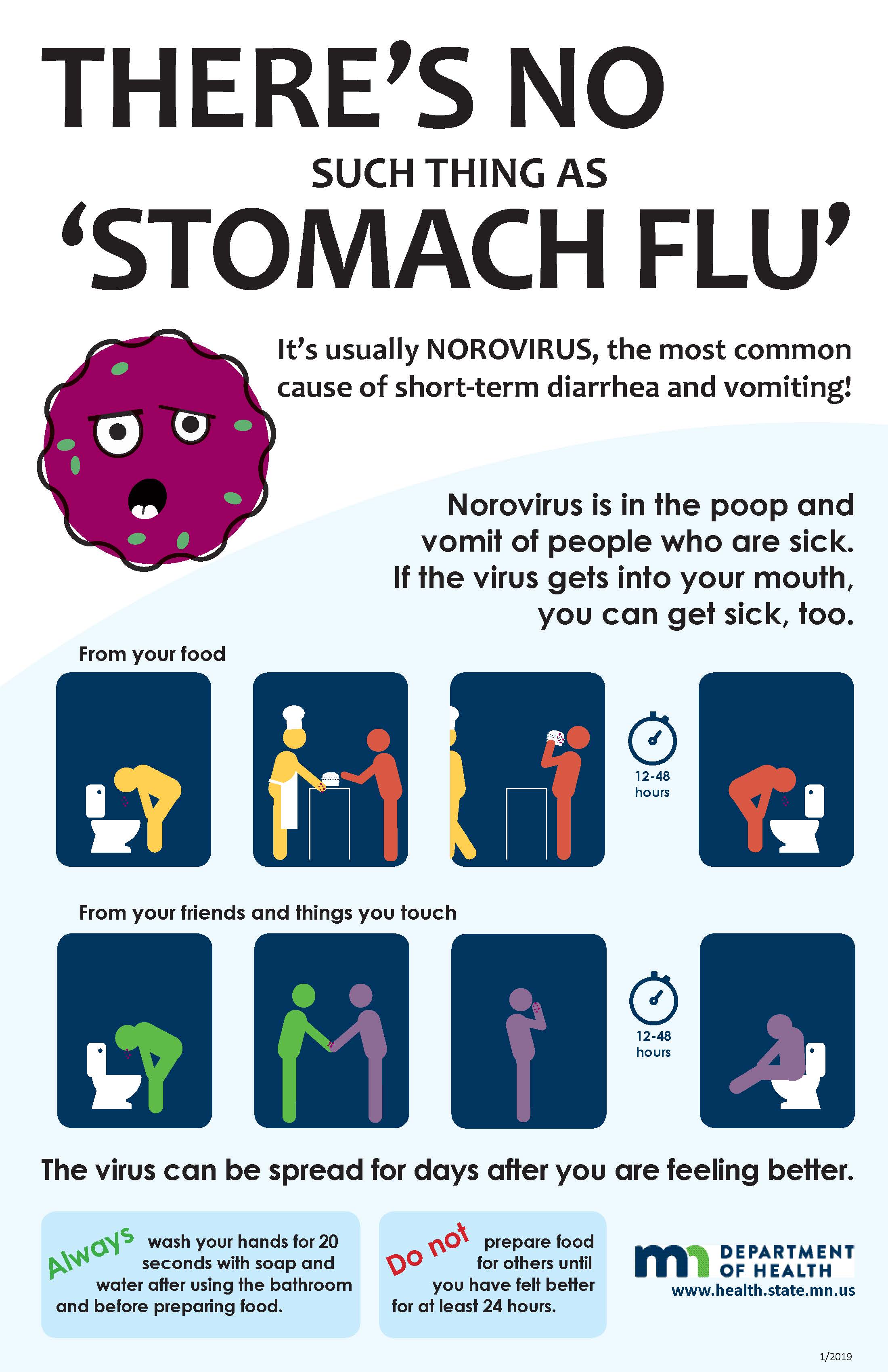 There's No Such Thing as "Stomach Flu" (PDF)
Complaints of "stomach flu" are usually norovirus, the most common cause of gastrointestinal illness.
Food Safety Basics: Preventing Foodborne Illness
There's a lot you can do to handle and prepare your food safely. Learn what you can do to prepare, serve and store food safely.
Protect others if you are experiencing diarrhea!
Anyone with a diarrheal illness should avoid swimming in public pools or lakes, sharing baths with others, and preparing food for others.
Young children (children in diapers) that are experiencing diarrhea should not be allowed to go swimming or attend daycare.
---
Contact us:
If you have questions or comments about this page, use our IDEPC Comment Form or call 651-201-5414 for the MDH Infectious Disease Epidemiology, Prevention and Control Division.