Contact Info
Health Policy Division
Prevention of Violence in Health Care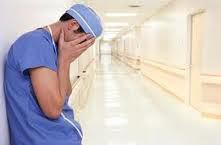 A survey conducted by the Minnesota Department of Health in late 2012 as part of the statewide Adverse Health Events reporting system found that patient/visitor violence toward staff was a concern at Minnesota health care facilities. Violence in health care refers to a broad range of behaviors including physical violence and threats that make employees, visitors, patients, and residents concerned for their personal safety.
Federal workplace injury data show that doctors, nurses and mental health workers are more likely than other workers to be assaulted on the job. The share of health care employees who missed work due to injuries caused intentionally by others was 6.5 per 10,000 workers in 2011 — four times the overall U.S. rate. Despite these numbers, it is likely that more incidents go unreported. Health care providers may not report incidents out of a sense of compassion for residents or patients. Or some workers may mistakenly believe that tolerating threats or physical violence from patients or residents is just "part of the job."
Incidents of workplace violence directed at health care workers can take a physical, emotional, and organizational toll. Employees can experience personal physical harm, need treatment or miss time at work because of injuries, or have feelings of anxiety or fear after a violent incident. To address this serious problem, a public-private coalition of Minnesota organizations has formed to prevent violence toward staff in health care settings, and to provide resources to hospitals, long-term care facilities, clinics and other facilities to help them identify risks for violence and put effective strategies in place to respond.
Through the webpages and links below, you will find access to a full toolkit of resources to help your organization to implement or sustain a violence prevention program, a list of organizations that have signed on to this work, and the gap analysis tool (in both paper and online format) for use by your organization to identify gaps and form an action plan for this work.
Through the work of this coalition and organizations around the state, we are confident that we can significantly improve the safety and security of Minnesota's health care facilities for employees, and create a culture in which violence in health care settings is no longer considered an expected part of daily life for health care professionals.
Violence Against Health Care Workers Law
Organizational Pledge - Form (PDF)
Centracare Conference Videos - May 2014
Gap Analysis - Paper Tool (PDF)
Online Survey Tool
Toolkit
Violence Prevention and Response Training Options (PDF)
Last Updated:
11/10/2022