Immunization Rule Proposed Revisions
Related Documents
Contact Info
Infectious Disease Epidemiology, Prevention and Control Division
Contact Info
Infectious Disease Epidemiology, Prevention and Control Division
Rulemaking Basics
Minnesota Immunization Rule Revision
The rulemaking process is governed by Minnesota Statutes, chapter 14, and Minnesota Rules, chapter 1400. This is a short summary of the main parts of the process, important documents, and time line for developing and adopting rules.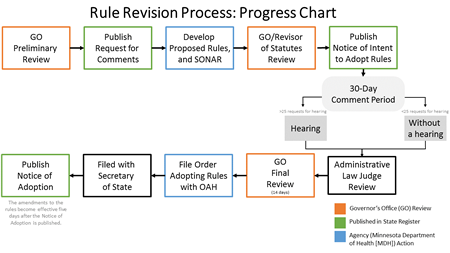 Request for Comments
The Request for Comments initiates the rulemaking process.
Statement of Need and Reasonableness (SONAR)
The Departments are required to justify that each rule requirement is needed and reasonable. "Needed" means that there are problems or a legislative directive that requires us to adopt or amend rules. "Reasonable" means that a proposed requirement is a reasonable solution to a problem. The justification will be in a document called the Statement of Need and Reasonableness (SONAR). Along with our analysis of each requirement in the rules, the SONAR also sets out our statutory authority for the rules and contains a modified cost/benefit analysis.
Review of Proposed Rules
The Revisor of Statutes will review the rules draft and edit, as necessary, for form and style.
Notice of Intent to Adopt Rules
When we have finished writing the rules, we will publish in the State Register a Notice of Intent to Adopt Rules, along with the proposed rules. We will also mail the Notice and proposed rules to interested persons and to certain legislative committees.
30-Day Comment Period
After the Notice of Intent to Adopt Rules is published, there is a 30-day comment period, during which persons may submit written comments on the proposed rules. Persons may also request a hearing on the rules during the 30-day comment period.
Rules Hearing
If there are 25 hearing requests, the department is required to hold a hearing on the rules before an Administrative Law Judge (ALJ).
Review by Administrative Law Judge
Whether or not there is a hearing, an ALJ review the proposed rules and all the documents from the rulemaking. The ALJ will approve the rules if the Departments have statutory authority for the rules, have shown the rules to be needed and reasonable, have given proper notice of the proposed rules, and has complied with all other rulemaking requirements.
Governor Final/Veto Review
After the rules are adopted by MDH and approved by the ALJ, the Governor has 14 days to review them. The Governor may veto the rule amendments or let them become effective.
Notice of Adoption
After the Governor's review period, MDH will publish a Notice of Adoption in the State Register.
Effective Date
The amendments to the rules become effective five days after the Notice of Adoption is published.
Timeline
This process of drafting amendments to the rules can be open-ended and we do not know when we will have a draft rule.
The formal part of the rulemaking process, from publishing the Notice of Intent to Adopt Rules until the date the rules become effective, takes about three months if there is no hearing and about five months if there is a hearing.
Last Updated:
10/26/2022