Biomonitoring
Related Sites
Environmental Health Division
Contact Info
Minnesota Tracking and Biomonitoring Program
PFAS Biomonitoring in the East Metro
Per- and Polyfluoroalkyl substances (PFAS) are also referred to as perfluorochemicals (PFCs).
Per- and polyfluoroalkyl substances or PFAS are chemicals that have been used for many years to make products that resist stains, grease, water and heat. In the early 2000s, some drinking water sources in the East Metro – a suburban area east of St. Paul– were found to be polluted with PFAS. A public health intervention in 2006, including installing filtration systems for polluted public and private wells, reduced PFCs in drinking water.
Since 2008, MDH has done three projects testing blood levels of PFAS in people who live in the East Metro as directed by the Minnesota Legislature. The most recent results are from MDH's third PFAS biomonitoring project, which tested blood levels of PFAS in over 300 residents of Oakdale, Lake Elmo and Cottage Grove, Minnesota in 2014.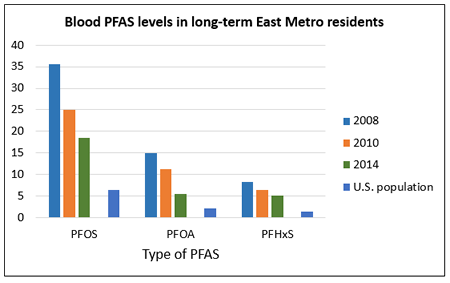 Results from these three studies found:
PFAS blood levels are going down in long-term residents who were exposed to PFAS in drinking water before the public health interventions in 2006 (see graph above). Blood levels in these residents are still higher than in the background U.S. population.
PFAS levels in newer residents are similar to levels seen elsewhere in the U.S. These people moved to Oakdale after the intervention.
For more information
These results have also been published in a scientific journal. The full article requires a subscription to read – contact us for access: health.biomonitoring@state.mn.us or 651-201-5900.
Related links
Last Updated:
12/06/2022