Center for Health Equity Bulletin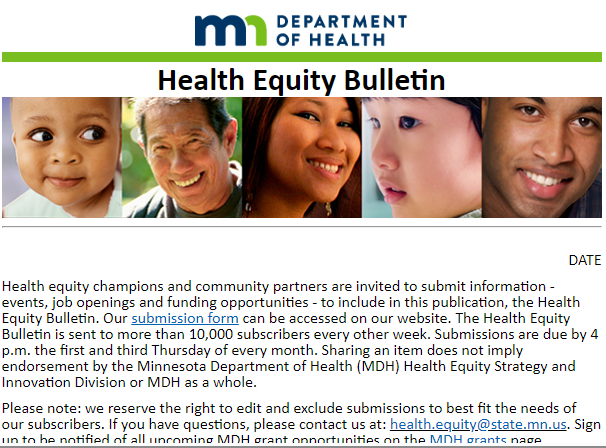 The CHE Biweekly Bulletin is a twice-monthly email summary of information submitted by and for partners working to advance health equity in Minnesota. It highlights upcoming events and learning opportunities; jobs and internships; and current funding opportunities. The Bulletin is a product of the Center for Health Equity, and represents one of the ways we work to achieve our mission to connect, strengthen and amplify health equity efforts in across the state of Minnesota.
Anyone can submit information for inclusion using our online submission form. The Bulletin is sent out to our more than 7,000 subscribers on the second and fourth Tuesday of the month. Submissions are due by 4 p.m. the first and third Thursday of every month. Sharing an item does not imply endorsement by the MDH Center for Health Equity or MDH as a whole.
Please note: We reserve the right to edit your submissions for length and content. We also reserve the right to exclude submissions.
If you have questions, please contact us at health.equity@state.mn.us
Last Updated:
08/03/2023