Mental Health Promotion
Related Topics
Reimagine Black Youth Mental Health
Demonstrating policies that improve Black Youth Mental Health (BYMH)
In the 2019 Statewide Minnesota Student Survey, Black students reported at least a 10% disparity compared to white students in the core components of overall mental well-being including social competency, a sense of belonging, peer relationships, parent relationships, empowerment, teacher relationships, and personal growth.
Table 1: 2019 Statewide MSS Mental Well-being Percentage by Race
| | | | | |
| --- | --- | --- | --- | --- |
| | Black | White | % Disparity | All Minnesota Youth |
| Sense of Belonging (Social Integration) | 48% | 62% | 14% | 57% |
| Social Competency | 44% | 57% | 13% | 53% |
| Peer Relationships | 74% | 86% | 12% | 83% |
| Parent Relationships | 78% | 90% | 12% | 87% |
| Empowerment | 48% | 58% | 10% | 54% |
| Teacher Relationships | 47% | 57% | 10% | 55% |
| Personal Growth | 62% | 72% | 10% | 69% |
| Community Relationships | 50% | 57% | 7% | 54% |
| Educational engagement | 65% | 69% | 4% | 67% |
| Positive Identity | 40% | 43% | 3% | 40% |
Black Youth in Minnesota
Black youth in Minnesota are at risk of experiencing toxic stress that contributes to depression and anxiety due to long-standing structural racism. While these impacts are not always felt directly by Black youth, these systemic inequities have resulted in negative, disproportionate outcomes for homeownership, income, incarceration, and physical and mental health in Black populations in Minnesota. This project will explore policies and practices to reimagine these realities for Black youth in the Brooklyns and for the rest of Minnesota
The Reimagine Black Youth Mental Health Initiative has three goals:
Improve Black youth mental health
Design a process that includes Black youth and communities in policy development
Implement a 'mental health in all policies' approach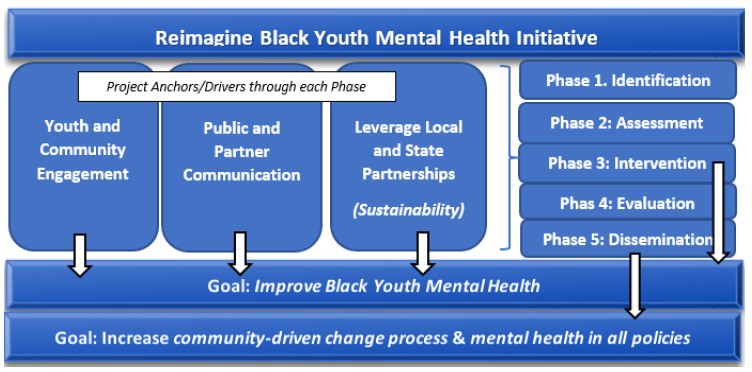 The Minnesota Department of Health, in collaboration with the Brooklyn Bridge Alliance for Youth, is facilitating a policy demonstration project to identify, assess, implement, and evaluate specific policies that will improve Black youth mental health in Brooklyn Center and Brooklyn Park, and use the results to implement policies across Minnesota.
Location
This community-driven process to Reimagine Black Youth Mental Health is in Brooklyn Park and Brooklyn Center, Minnesota. Collectively called the Brooklyns, Brooklyn Center and Brooklyn Park are the northwest suburbs of Minneapolis and are the two most diverse cities in the state. The total population in 2020 was 105,875, including 16,000 youth ages 10-19 years old. The combined population includes 51% BIPOC, including 27% Black (15% African American and 12% African). The four school districts that cover this area are Osseo Public Schools, Robbinsdale Public Schools, Brooklyn Center Public Schools, and Anoka-Hennepin Public Schools.
Brooklyn Center is the hometown of Daunte Wright, who was killed by Brooklyn Center police in April 2021, only eleven months after the police murder of George Floyd in neighboring Minneapolis.
Leadership
Reimagine Black Youth Mental Health Advisory Council
The Brooklyn Bridge Alliance for Youth (BBAY) will establish a multi-sector Black Youth Mental Health Advisory Council who will provide direction and ensure the successful implementation of Black youth mental health policies in the Brooklyns. They will represent African American youth ages 10-17 in the cities of Brooklyn Center and Brooklyn Park.
The BBAY is a joint-powers board between the Cities of Brooklyn Center and Brooklyn Park, Hennepin County, the school districts of Osseo, Brooklyn Center, Robbinsdale and Anoka-Hennepin, and the two community colleges of Hennepin Technical College & North Hennepin Community College.
State Resource Team on Black Youth Mental Health
The State Resource Team will be staffed by the Minnesota Department of Health to provide an infrastructure to implement policies and practices that improve outcomes for Black youth mental health across Minnesota. Although this project will primarily focus on Black youth in the Brooklyns, the policies and practices identified will be communicated and shared with the State Resource Team to inform the work that other state leaders are doing in mental health.
MDH has established partnerships across the state enterprise that can help leverage additional resources, contacts, and research to support effective policy implementation, amplify and promote effective policies from the demonstration project, and support sustainability by incorporating aspects of the process into existing programs and providing vehicles for systematically scaling the policy implementation in other community settings. The team will include a set of partners across a range of state agencies.
Health in all Policies Approach
Under the leadership of the Advisory Council, the community will develop a process to identify a range of policies that play a role in improving BYMH.
We recognize that all policies play a role in impacting BYMH, from education, healthcare, public recreation, to policing. Through this lens, the Advisory Council, in partnership with Black youth in the community, will identify and implement specific policies at the local level that are expected to have the greatest impact on BYMH.
Priority Policy Areas
Employment
Recreation
School Policies
City Policies
Policing
Healthcare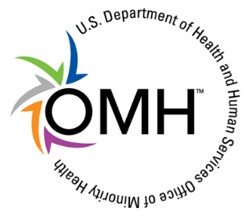 This project is funded by the U.S. Department of Health and Human Services Office of Minority Health.
Additional Resources
2022 Youth to Youth Survey Results (coming soon)
Questions
Email health.mch@state.mn.us or call 651-201-3650.
Last Updated:
02/09/2023