Minnesota Laboratory System (MLS)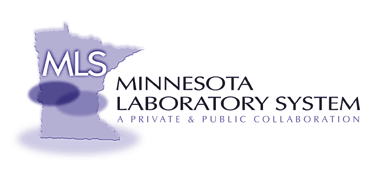 "An integrated network of public and private clinical laboratories working together to protect and improve the health of all Minnesotans."

On this page:
MLS Information
General Education and Training
CDC Links
MDH Links
Packaging and Shipping
Emergency Preparedness/Biothreat Agents
Biosafety
MLS Information:
General Education and Training Resources
APHL Laboratory Training APHL offers high-quality laboratory programs on critical topics in laboratory science. Find programs for P.A.C.E® and select from webinars, seminars and workshops. Unless otherwise noted, all trainings and webinars are free.
Public Health Foundation (PHF)
The PHF is a national, non-profit organization dedicated to achieving healthy communities through research, training, and technical assistance. To order free and/or inexpensive resources, please see the PHF Bookstore.
CDC Links
MDH Links
Packaging and Shipping
Emergency Preparedness/Biothreat Agents
Emergency Preparedness/Biothreat Agents
Biosafety
If you have additional education and training resources to post, please email health.mnlabsystem@state.mn.us