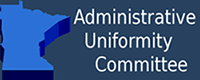 Minnesota AUC
Rules
Resources
Subscribe to AUC Updates
AUC Calendar
The AUC meetings below are open to anyone interested and in most cases can be accessed remotely via teleconference.
For more information about the group that is meeting, meeting agendas, locations, teleconference and related information, please click on the links below. Meetings shown in strikeout have been cancelled.
Due to the competing demands of the COVID pandemic, the AUC activities were suspended. Activites are slowly resuming. Meeting information will be added when available.
Last Updated:
04/20/2023