Stop! Help Protect Our Customers Poster
This poster is for use in any retail establishments, asking ill employees to stay home.
These materials were created for facilities to print and post. They can be printed in black and white (greyscale) or in color. This poster is available only in English at this time.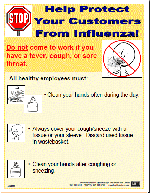 Download PDF version formatted for print:
Stop! Help Protect Our Customers, English (PDF)